How to Get Rid of Dry and Chapped Lips Forever
If you lick your lips every now and then, you are sure to suffer from dry and chapped lips. It is not only during the winter times that you have dry and chalky lips. You may have it in other seasons also. However, it is more severe during the dry winter months.
Some of the Reasons for Chapped Lips are:
Licking your lips every time.
Harmful effects of the sun.
Frequent smoking and drinking.
Dehydration of the body
The body being deficient in vitamins and fatty acids.
Taking certain medicines.
You can treat chapped lips by applying chap stick or lip balm. This will provide you instant relief from such problems. However, it does not provide you long term benefits.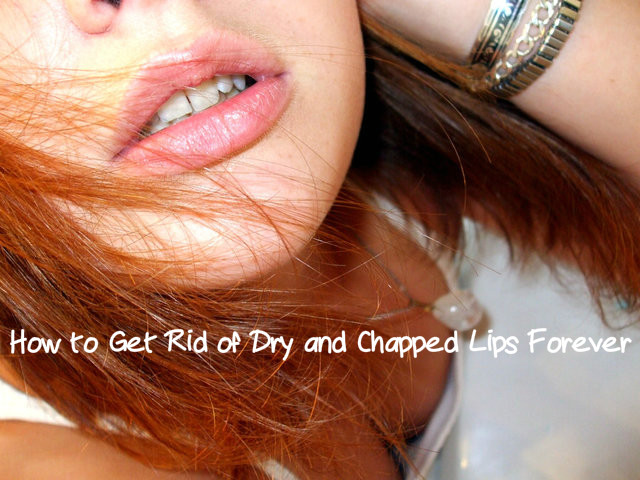 Best Home Remedies to Fix Chapped Lips:
Aloe Vera:
Akoe vera has great healing powers and heals chapped lips easily. It is also full of natural ingredients essential for your skin. It protects the thin oil layer on the lips and helps in healing chapped lips, thus giving you soft and supple lips.
Apply aloe vera daily on your lips before you go to bed. This has a cooling and soothing effect on your lips.
Cucumber:
Cucumber has cooling properties that are of great use during the summer months. It is a good remedy for treating chapped lips as well. The skin lightening properties of cucumber makes it beneficial for removing tan. So, if there are dark patches on your lips, cucumber helps in removing them.
Take a slice of cucumber and rub it gently on your lips.
Let it remain on your lips for about 15 minutes.
Now wash off with plain water. This will remove dark patches and also makes your lips soft and supple.
Flax seed oil:
The fatty acids present in flax seed oil help in nourishing your lips. They penetrate deep in to the tissues of the lips and make your lips soft and supple. Applying the flax seed oil on your lips directly will make your lips smooth instantly.
Honey and Vaseline:
Honey has great healing powers and heals your skin in a natural way. It is also anti-bacterial and keeps your skin well moisturized. Vaseline, which is petroleum jelly, nourishes your skin and keeps your skin soft. It protects your skin from drying. A combination of these two ingredients makes an excellent home remedy for chapped lips.
Take a generous amount of honey and apply it all over your lips.
Now you have to coat it with Vaseline. Wait for 10 to 15 minutes. The coating of Vaseline prevents the honey from getting dry and it also provides additional hydration to the lips.
After the stipulated time, wipe off the honey and Vaseline with a cotton cloth that is damp.
By treating your lips this way for a week you will start getting positive results.
Lip scrub:
Scrubbing your lips gently helps in exfoliating your lips and getting rid of the dead cells. This way you can retain the natural color of your lips and keep your lips supple and soft. Sugar scrub exfoliates your skin naturally and is very suitable for tender lips.
Take two teaspoons of brown sugar and add a few drops of olive oil to it.
Now add half a teaspoon of honey also to the mixture and mix well. Leave this for about 5 minutes, so that the sugar gets softer and you can apply it easily on your lips.
Apply on your lips and gently scrub your lips with it. Wash with lukewarm water to get soft and supple lips.
Lemon ointment:
Lemon and sugar are good remedies for dark and chapped lips. Lemon has bleaching properties and honey fights against the free radicals and protects your lips form their harmful actions.
Mix one teaspoon of lemon juice, honey and half a teaspoon of castor oil.
Apply this mixture on your lips before you go to sleep at night. Do this daily for 10 days to get positive results.
Oils:
Oils like castor oil and coconut oil are rich sources of fatty acids. These help in healing chapped lips in a short time. To get immediate results, apply these oils on your lips two times daily.
Olive oil:
Olive oil is an excellent lubricant and a natural moisturizer as well. The fatty acids in this oil are very beneficial for healing chapped and dry lips. Applying olive oil on your lips daily will provide you soft and supple lips. For getting the best results, it is recommended that you apply it on your lips twice daily.
Rose petals:
Rose petals keep your lips well hydrated and soft. It also has the property of making your skin lighter in complexion. By using rose petals on your lips, you can retain the natural color of your lips and keep the lips smooth and pink.
Take some rose petals and soak them in raw milk for some hours.
Mash the rose petals to get a smooth paste and then apply it on your lips.
Wait for 15 to 20 minutes and then wash your lips with cool water.
Water:
Water is essential for your body and skin. It is an unavoidable part of our beauty regime. It keeps your body well hydrated and healthy. If your body lacks water, you may suffer from chapped and dry lips. So make sure that you drink at least 10 to 12 glasses of water daily. This will ensure that you have smooth lips and a glowing skin.
So, if you are suffering from dry and chapped lips follow the tips given above and you will see the difference it makes to your lips and your skin.