How to Make Small Eyes Appear Bigger: Best Tips and Tricks
Eyes are the most important features of the face. It differs in color, shape, size and so on. Our genes determine the shape and size f our eyes. Some have large eyes while others have small eyes. The length of lashes also differs. By adopting special makeup techniques, you can make your eyes look small or big, as you wish. Here we will discuss about some ways by which women with small eyes can make their eyes look bigger.
Although the brightness and beauty of the eyes matter more than the size of the eyes, many prefer to have large eyes and try various methods to make their eyes look bigger in size. The tips given below are for such women. Practicing these makeup tips helps you to do it properly and make your eyes look bigger and more beautiful.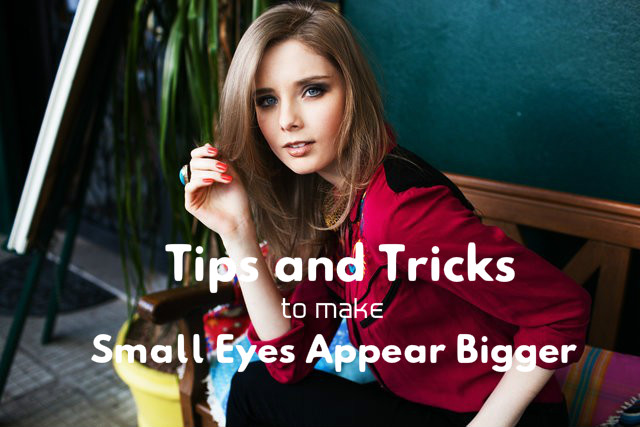 Ways to make Small Eyes look Bigger:
Start off by grooming eyebrows:
A shapely kept eyebrow adds beauty to your face. If the eye brows are not kept well, your face will not look well groomed and pretty. So, it is important that you visit the beauty salon frequently and shape your eyebrows. The shape of eyebrows should match the natural shape of your eyes.
Conceal under-eye dark circles:
Dark circles can spoil the look of your eyes. So you must use a concealer to cover your under-eye dark circles when you do eye makeup. This cannot make your eyes look bigger in size but it can divert the attention of the people from dark circles under the eyes when they look at your eyes. So always remember to conceal the dark circles before you put on any eye makeup.
False eye lashes and Mascara:
Mascara is a makeup item that most of the women use. Applying mascara helps in making your eyes look highlighted and bigger in size. Applying two three coats of mascara is needed. Mascara makes your eye lashes appear thicker, longer and darker. This adds more charm to your eyes. You get waterproof mascara also in the market. If your eye lashes are too thin and short, you can use false eye lashes. When you apply them, concentrate more on the outer two third of the lash line. Thus will make your eyes look bigger in size.
Never over-do the eyeliner:
Applying the eyeliner properly helps a lot in making your eyes look bigger than its original size. When you apply the eyeliner with a black one, do it carefully and remember not to apply it all around your eyes. When you apply it on the lower lash line, do not apply it on the inner rim, as this will make your eyes smaller in size. Apply it on the outer side of the lower lash line. Another thing to remember is that you must not apply it up to the tear duct. You can start from the outer corner of the lower lash line and then carry it up to about two third of the lash line. Leave the rest as it is, without applying the eye liner.
Nude Eye pencil for Eyes:
Have you watches the pictures of the film artist Rekha when she attends an award function or any other such important functions. If you watch carefully, you can see that she wears a white eye pencil on the lower lash line, on the inner rim of the eyes. White eye pencil do not go well with the Indian skin tone. So, instead of a white pencil, you can use a nude eye pencil for lining the inner rim of your eyes. This looks more natural and you can wear it during the day time also.  Some of the nude eye pencils that you can try are Bourjois Khol and Contour Eyeliner Pencil-08 Rose Fantaisiste, as well as Chromagraphic Pencil.
Shape your eyebrows bold:
You must take care to keep your eyebrows thickly shaped and bold in such a way that they go well with the shape of your face. You must use the space you have to the maximum, so that the eyebrows help in making your eyes look bigger than they really are. Well shaped and thick eye brows always compliment your eyes.
Take care of puffiness in the eyes:
You must always take care not to get puffy eyes. Lack of sleep and many other factors lead to puffy eyes. This makes the skin around the eyes get swollen and as a result, your eyes will look small. You can reduce puffy eyes by following the tips given below:
Sleep is very important to prevent puffy eyes. You must get at least 6 to 8 hours of sleep daily. If you sleep less, you are sure to get puffy eyes.
Washing your face with cold water every now and then is an easy way to prevent puffy eyes.
Used tea bags, if put on your eyes, can reduce puffiness. The tannins in tea can lighten the skin around the eyes as well. Put used tea bags in the refrigerator for a few minutes and then place them over your eyes.
Try to reduce the amount of salt that you take in daily. Salt can increase the puffiness of eyes by increasing the water retention under the eyes.
Doing exercise regularly is very beneficial for having a healthy and slim body as well as well as for reducing puffiness around the eyes.
Using white eye shadow is Better:
All makeup artists are of the opinion that you should use white or any light colored eye shadow to make your eyes look wide and bigger. By using white or light colored eye shadow or a white pencil on the inner corner of your eyes, near the tear duct, your eyes will look wide open and beautiful.