How to Safely Remove Makeup with Vaseline: 11 Useful Tips
Many people are aware of the large benefits of Vaseline. Major part of Vaseline consists of Petroleum Jelly. It is not at all expensive as other beauty products, but more effective than most of the products that you get in the market. It is an excellent remedy for healing wounds, minor cuts, burns and so on. If you have dry skin or sensitive skin, Vaseline is one of the best choices. It is also applied on lips to prevent drying of lips. Chapped lip is healed fast by applying Vaseline. It is a product that is found in most of the households because of its numerous uses.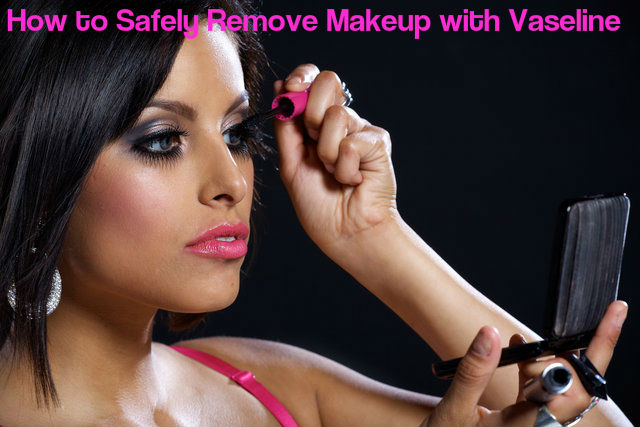 When your skin gets dry and cracked, applying Vaseline is an excellent way to repair it. Vaseline forms a barrier on the skin, preventing moisture from escaping from the skin. As a result, the skin recovers fast and in a natural way. Applying this in winter protects your skin from getting dry and cracked. Just put it on your whole body and face after you have a bath and before you go to bed at night. Nowadays you also get Vaseline body lotions, which promise to keep your skin soft and smooth during the winter months.
Petroleum jelly consists of many waxes and mineral oil. These melt at body temperature and helps in retaining the moisture in your skin. Vaseline is perfect for using as a gloss on your lips. It is natural and do not harm your lips as do other glosses that contain chemicals in them. For taming and keeping your unruly eyebrows in place there no other product better than Vaseline. When you apply hair dye on your hair, applying Vaseline on your face and neck protects them from the hair dye. You can also put it on your eye lashes to keep them in proper order. It is an excellent product for women who want to look good, but do not want to spend too much on beauty products.
In addition to Vaseline being an excellent remedy for dry skin and other problems of the skin, it is also a good eye makeup remover. The hydrating property of Vaseline is much better than any other beauty products. If you use it for removing your eye makeup, you will be surprised how efficient it is in removing all traces of eye makeup. It also keeps your skin well hydrated. In this article we will specifically discuss about how to use Vaseline to remove makeup from your eyes:
How to use Vaseline for removing your Eye Make-up:
If you make any mistake while you do makeup and want to correct it, you can easily correct it by taking a thin layer of Vaseline on cotton and wiping the makeup off.
If you want to remove your eye makeup fully, then all you have to do is to take some Vaseline on your fingers and apply it on the eye area. Massage it with your fingers till all the makeup comes out. Now you can clean up the mess with cotton or a clean tissue paper and then wash your face. You will see that all the makeup is removed.
If you want to hydrate your skin, Vaseline is the best product for you. It is not expensive and therefore affordable by all. It has the power to moisturize the eye and the eye area and also make it smooth and soft.
Vaseline is very beneficial for preventing ageing of the skin and helps in restoring the moisture in your eyes and the skin.
If you want to make your eyelashes thick and beautiful, apply Vaseline on your eye lashes daily. It is very effective.
When the water content is reduced naturally from your skin, applying Vaseline can help in protecting your eyes and retaining the moisture in your eyes.
Vaseline is perfect for removing all makeup from your eyes. Even those which are water proof can be removed by applying Vaseline.
Vaseline is always easy to get as it is very common and available in most of the stores. It is suitable for all types of skin types. Hardly any reaction takes place by applying Vaseline on your skin. It is good for sensitive skin also and do not cause any issues.
Even though Vaseline has moisturizing properties, it never clogs the pores of your skin nor does it cause any pimples or acne to appear on your skin. So you can use is without any fear of getting acne and pimples.
If you want to highlight your eyes, just take a little amount of Vaseline on your fingers and dab it on your eyelids.
For the wet eye makeup look, all you have to do is to apply some Vaseline before you put on your eye primer. If you want to make your powder eye shadow creamy, just mix it with a little of Vaseline and your creamy eye shadow is ready to apply.
Vaseline Side Effects:
Here are some precautions that you have to keep in mind when you use Vaseline for removing your eye makeup.
When you use Vaseline for eye makeup removal, remember that it should not get in to your eyes.
If it happens to enter your eyes, the oily nature of Vaseline makes you see things blurred for a short while.
In case it enters your eyes, wash your eyes with warm water. This will remove the Vaseline from your eyes.
Vaseline is considered as one of the best eye makeup removers as it is cheap and do not have much side effects. So, next time when you put o eye makeup and want to remove it, just apply Vaseline and see how fast it works to remove all traces of the makeup.