What is Ice Cream Diet Plan? Is it Healthy for Weight Loss?
Today we all lead a hectic life and everything is instant. There are ready to cook foods and junk foods which if taken regularly can cause various health problems. People hardly get time to do vigorous workouts and follow a strict diet. This has made many to put on weight. One of the latest ways to lose weight is lose it by consuming ice cream. Ice cream is considered a fad diet by many, but some say that it is a healthy weight loss option. So, let us see how you can lose weight with ice cream.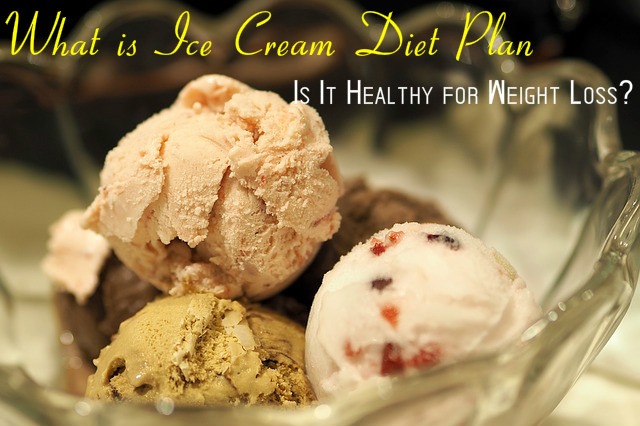 What is Ice Cream Diet?
To lose weight with ice cream you need to follow ice cream diet. It was Kippy's, an ice cream store in Venice, who introduced ice cream diet. The store provides five different varieties of raw coconut based ice creams for four days. Each serving was pint sized. The ice cream contained only 25 gm of sugar and contained 1000 to 1200 of calories and 70 gm fat.
Studies made say that you should not take more than 10% of the fat that come from saturated fat. Kippy's says that raw saturated fat is effective for losing weight. It is very beneficial for detoxifying your body. The proponents of this diet are of the opinion that it helps to improve digestion, repairs the gut, improves the functioning of the brain and gives a boost to the metabolism.
Participants are allowed to drink as much water as they want. It was said that one reporter and hid girl friend went on this diet and lost as much as 6 pounds. But when they got back to their regular diet, they regained the pounds they lost.
Is the Ice Cream Diet Healthy or Unhealthy?
Nutritionists and dieticians do not fully support this diet and are not very optimistic about this diet. This is because ice cream diet lacks all the nutrients needed for the body. It does not contain any essential proteins, fiber, minerals or vitamins. So, by following this diet, you will be losing all the nutrients you need. This can affect your health and can cause problems. Although this diet allows you to have avocados and fruits as snacks, they are not a part of the calorie-based plan and can add extra calories.
An Ice Cream in your Diet for Weight Loss – Fact or Fiction:
The only positive or healthy aspect of ice cream diet is the calcium. Calcium has an important role in helping you lose weight. When your body lacks calcium, your body can make the cells bigger and increase the storage of fat. So, make sure that you choose ice cream that contains less than 120 to 140 calories per serving. This way you can lose weight effectively.
Another benefit of ice cream diet is that it reduces your cravings. After about three or four days, your craving for sugar will be decreased. This is very useful when you start a long term det.
Eating Ice Cream for Weight Loss? Is It Really Healthy?
As you know, diets should be more of a lifestyle change. If you want to lose weight successfully and maintain your weight after you have lost the extra pounds, you must choose healthy foods. When you follow ice cream diet, your every day food intake is completely altered and compromised. As a result, your body is unable to get the necessary nutrients. This can seriously affect your overall health. Remember that you should always have a balanced food that contains the right amounts of proteins, minerals, carbohydrates, vitamins and fats.
Ice Cream only for Weight Loss – Important Tips to Remember:
Remember not to use any ketchup or condiments.
Take very little salt. You can use spices as much as you like. Use mint as this can curb your appetite.
Avoid drinking diet soda. You mat have sugar free mixed drinks.
Take care not to stay on this diet for more than 10 days. When you do it for 10 days, it is important that you take a break of four days after the first three days. During these four days, you can eat normally, but take in less than 2000 calories. Also make it a point not to eat sugar and white flour. After that you can again go on ice cream diet for another three days.
You should take a vitamin before you go to bed at night. If you take it in the morning, it may increase your appetite and make you eat more.
You can drink as much tea as you like to have, but be cautious when you drink coffee. Do not add any cream or milk to your tea and coffee. Green is best and it can help you lose weight.
Drink at least 10 glasses of water daily. If the water you drink is arm, it is more beneficial for losing weight. It is essential that your body is well hydrated. You also must take in enough salt. But too much of salt can bloat you when you are on ice cream diet.
Have a good sleep during these days and do light exercises. You can go for a walk, bike or swim. Cardio and aerobic exercises should be avoided. Avoid too much of exertion, but it does not mean that you do nothing.
Even after drinking enough water and sleeping properly, if you feel dizzy and suffer from headaches, cold sweats and a feeling that you are not well then stop the diet and eat food.