Indian Bridal (Dulhan) Makeup Tips: A Complete Guide
Your wedding day is one of the most important days of your life and you have to look your best on this day. So, here are some bridal makeup tips that will help you look gorgeous on your wedding day.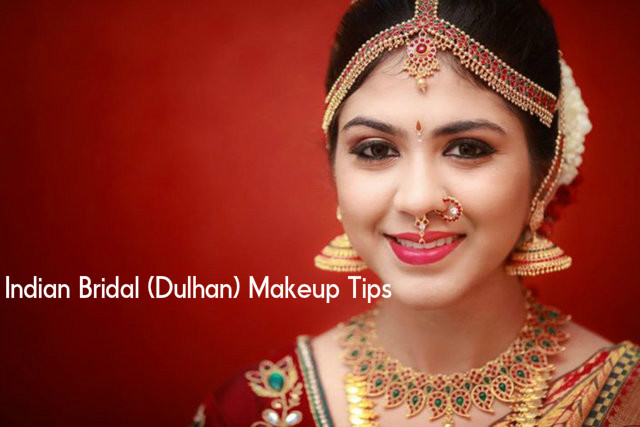 Makeup Essentials and Must-Haves:
Indian brides usually use bold and bright colours for marriage. Before applying the makeup, cleanse your face well and pat dry your face, so that no dirt or oil remains on your face.
Next you have to moisturize your face to make your skin look smooth and evenly toned. You can use tinted moisture if you want to give some colour top your skin.
Face fix up tips
Two minutes after applying the moisturizer, you can apply primer and bled it well. This will allow your concealer and foundation to stay in place and makes your makeup remain intact for a longer period of time. Sephora and MAC are two of the top brands of primers.
Use a concealer to cover any blemishes and spots that may be there on your face. Use a coloured concealer to brighten your skin tone.
Now apply a foundation that does not contain SPF because one with SPF can give a 'flash' effect on photographs. Blend it well with a brush.
Use a highlighter on the higher planes of your face, like the cheek bones, centre of the forehead, bridge of the nose and Cupid's bow, to get a glowing look.
4. Using a bronzer provides a sharp and chiselled look to your face. Apply it with an angular brush and add strokes to the sides of your chin and the sides of your forehead, as well as on the two sides along your nose bone. Now suck in your cheeks and apply the bronzer in light strokes on the top part of the contour, near the ears.
5. Next you have to take some blush using a blush brush and pat to remove the excess blush. Hold a steady smile and then apply it in circular motion, blending it upwards towards your ears.
6. Gold eye makeup goes well with the red bridal wear of Indian brides. You can use gold or peachy shade and some charcoal shadow to give a smokey effect. For the brows you can use an eyebrow pencil dipped in brow powder.
7. Instead of experimenting with brown or blue eyeliners, it is a better idea to use jet-black eyeliner, which is also waterproof. You can draw a thick line on the top and a heavy line on the lower eyelid with kajal.
Use a mascara to give a voluminous look to your eyelashes. Use mascara with curled brushes to curly lashes. You can put on false eyelashes to open up your eyes and for brighter look.
8. The lipstick you choose is also important. If you have thin lips, draw a line along natural line of your lips. The colour of the line should match well with your skin tone. If you have plumper lips, the line that you draw should be of a darker shade. Now wear a lipstick that matches well with your look.
Best Bridal Make Tips for Indian Brides:
Moderation is key:
The makeup you apply should highlight your best features and make you look simple but gorgeous.  Since Indian brides are decked with jewellery and heavy clothes, the makeup should be kept simple and natural.
Get glowing skin that truly radiates:
You should have a beautiful and glowing skin on your wedding day. You have to start taking special care of your skin at least six weeks before the wedding day. Go for skin treatments and facials prior to wedding, so that your skin gets time to work well.
Exfoliate every inch of your skin:
Exfoliating you skin helps in getting rid of dead skin cells. Do this two to three times a week. Do not overdo it as it can make your skin dry.
Protect your skin from the sun damage:
Never go out without applying a good sunscreen lotion. You have to apply it every 3 to 4 hours to protect your skin from any damage.
Get rid off stress hormones:
Stress can affect your skin. So, try to remain relaxed and stress free if you want to have a healthy and glowing skin.
Makeup Tips for Eyes:
If you have puffy eyes, place chamomile bags over your eyes to get rid of puffiness. Make sure that you get enough sleep. Getting god sleep gives time for your body to repair itself. If you wear contact lenses, make sure that you wear it before applying the makeup, as there can be chances of your eyes watering.
Makeup Tips for Hair:
Take proper care of your hair. Apply deep conditioning hair mask two or three times a month before your wedding. If you have dry hair, you can apply some homemade hair packs on your hair. Use a hair spray of good quality to keep your hair in place.
Makeup Tips for Acne:
Pick a good conceler to hide blemishes, spots and even under eye circles. It also hides discolouration. Try not to eat any fried foods at least one month before the wedding to prevent pimples from coming on your face. Keep oil blotting papers with you and blot oily areas to prevent shine. If you have oily skin, use a face cleanser with salicylic acid to keep your skin oil-free. If after all these steps a pimple is spotted, apply tea tree oil on your pimple. This will dry the pimple and make it less prominent.
Makeup Tips for Lips:
If you have thin lips, make them fuller by using a skin-coloured lip liner. Draw a line with it on the natural lip line. Pat a little shimmer at the centre of your lower lip. This will make your lip look fuller. If your lips are dry, apply a lip balm every time you feel your lips are getting dry.
The makeup you apply should match well your attire. Do not apply very heavy makeup. The weather, the time of the day-whether it is day time or night time, etc should also be kept in mind when you apply your makeup.