Jackfruit Seeds Benefits and Uses for Skin, Hair and Health
Jackfruit is delicious and we all love the taste of it. But most of us throw away the seeds without realizing the health benefits of these seeds. They are rich in proteins and other nutrients essential for the body. You can collect the seeds of jackfruit from ripe fruit and use them. By drying these seeds in the sun, you can store them and use then later. The benefits that you get from jackfruit seeds also known as Kathal Ke Beej in India are numerous. So, next time you eat jackfruit, do not throw the seeds. Here are some of the top benefits of jackfruit seeds.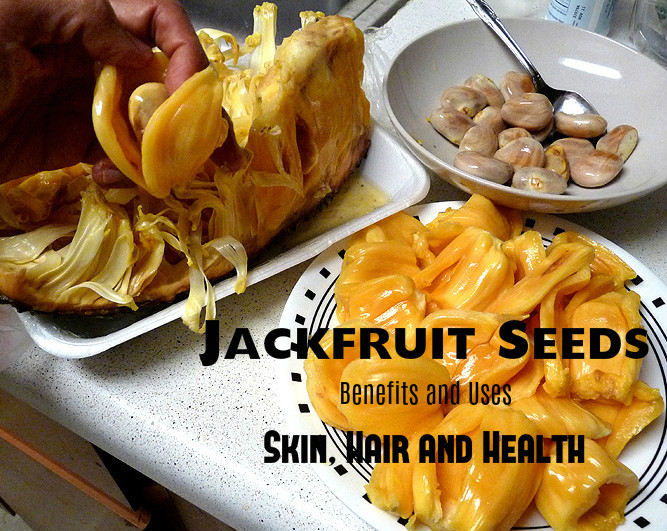 Image credits: wikimedia
Benefits of Jackfruit Seeds (Kathal Ke Beej) for Skin:
Consuming jackfruit seeds help in providing you healthy and beautiful skin.
Get perfect skin complexion:
You can consume jackfruit seeds directly. These seeds are rich sources of fiber and help in preventing constipation. As a result, all toxins will be flushed out from the body. A detoxified system means a clear and glowing complexion.
Jackfruit seeds are rich in Vitamin A, which helps in regeneration of the skin cells. This provides you radiant and rosy skin. You can use grounded jackfruit seeds for treating your skin. Boil afew seeds of jackfruit and mash them well to get a paste. Then add some milk to it. Mix them well and apply this paste on your face after cleansing your face. Wait for at least 15 minutes and then wash with tepid water. This helps in keeping your skin well hydrated and also reduces wrinkles.
Help Fights wrinkles:
Take a seed of jackfruit and soak it in cold milk for a few minutes. Grind the seed well to get a paste. Apply this paste gently on the wrinkles. By applying it regularly for four to five weeks, you will see your wrinkles fading gradually and you will look younger.
Have a Flawless skin:
You will get a flawless skin by using a face pack made of jackfruit seeds. Soak the dry seed in milk and honey for a while and then grind the seed to get a smooth paste. Apply this paste on your face and wait till it gets dry, say about 15 minutes. Then you can wash it off with water. This will provide you a flawless skin within minutes.
Benefits of Jackfruit Seeds (Kathal Ke Beej) for Hair:
Protein for hair:
Healthy digestion is needed for keeping your hair healthy and growing. If there is any problem with your digestive system, it can affect your liver and this in turn will lead to hair fall. Jack fruit and its seeds which are rich in proteins help in proper functioning of the digestive system and promote healthy digestion. As a result, your liver will stay healthy and this prevents hair fall.
Stimulate hair growth:
Jackfruit seeds help in increasing the blood circulation in the scalp. As you know, proper circulation of blood is essential for the hair to grow well. So, jackfruit seeds are very beneficial for promoting hair growth.
Vitamin A Rich Fruit:
Jackfruit seeds are rich sources of Vitamin A. Vitamin A is essential for maintaining healthy and strong hair. It helps in preventing dry and brittle hair. Vitamin A is also good for year eyes and prevents various diseases of the eyes including night blindness.
Health and Medicinal Benefits of Jackfruit Seeds:
Jackfruit seeds are very nutritious and good for treating various ailments. Some of the health benefits of this seed are as follows:
Anti-cancer nutrients:
The phytonutrients present in jackfruit seeds help in fighting cancer.
Comfort from indigestion:
You will get instant relief from constipation by consuming powdered jackfruit seeds. Dry jackfruit seeds in the sun and then grind these seeds to get the powder. Or else, you can use the powdered jackfruit seeds that you get in the market.
High in protein fruit:
Jackfruit seeds contain protein in high amounts. You can consume these seeds as they are or add them to various dishes that you make. It is a good substitute for lentils and you benefit a lot by including these seeds in your daily diet.
Healthy fruit snack:
Jackfruit seeds are a good option for a healthy snack. They are rich in proteins and also low in calories and fat. The carbohydrate present in them is good and of the non-fattening kind. So, next time you feel hungry and want to have some snacks, consume a handful of jackfruit seeds. It is filling and does not contain many calories.
Helps in Preventing anemia:
Jackfruit seeds are rich in iron and provide the body with sufficient iron. So, having jackfruit seeds regularly helps in preventing anemia, which is a condition caused due to deficiency of iron in the body.
Prevent infections and Relieve Stress:
Jackfruit seeds have antiviral and antibacterial properties and therefore very beneficial for reducing the risks of diseases and infections. The micronutrients and proteins present in jackfruit seeds keep you away from stress and various skin diseases.
To Builds muscles:
Consuming jack fruit seed is an excellent way to build up your muscles. This is because these seeds are full of high-quality protein. According to health experts, plant protein is better than the animal protein. Moreover, the protein that you get from jackfruit seeds is free from cholesterol.
Here is a Kerala style jackfruit seeds stir fry recipe that you can try ay home:
Ingredients Required:
3 cups of steamed jackfruit seeds
3 to 4 cloves of chopped garlic
1 large onion that is sliced thinly
1 teaspoon of red chilly powder
½ teaspoon of turmeric
½ teaspoon of coriander powder
½ teaspoon of cumin powder
½ teaspoon of mustard seeds
¼ cup of freshly grated coconut
2 tablespoons of cooking oil
Salt to taste
Preparation Method:
Remove the outer skin of the steamed jackfruit seeds and keep them aside after slicing them. Now heat oil in a heavy bottomed pan and add mustard seeds. Allow these seeds to crackle. Add onion and garlic and sauté for a few minutes, till they are tender. Now you can add the jackfruit seeds. Add salt, cumin powder, turmeric powder, chilly powder and coriander powder, and sprinkle a little water. Cover the pan. After the seeds absorb the flavor of masala, remove lid and check it the seeds are well cooked. Now add grated coconut and turn off the flame. Stir well and serve.