Jogging Plan for Weight Loss and Toning: Benefits & Tips
Jogging for 20 to 30 minutes per day is very beneficial for your health. But people hardly take it seriously and ignore it. You must find some time from your daily routine to do some jogging. With our days loaded with work, we hardly get any time to relax and be fresh. Many of you refrain from jogging by saying that you are too busy to get time enough to do it.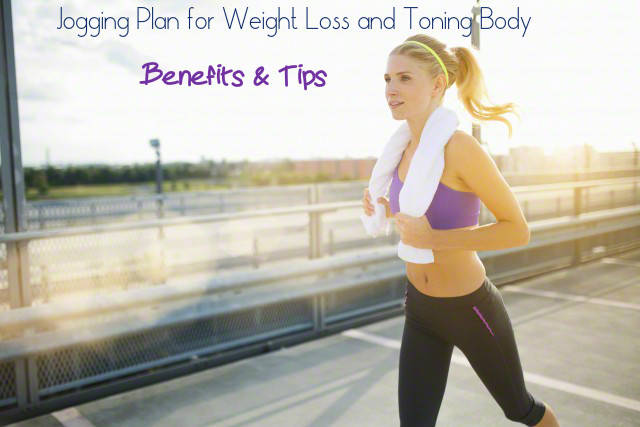 Jogging is an easy way to feel relaxed and rejuvenated. So, try to include it and enjoy it instead of doing it out of necessity in order to remain fit and in good shape. Jogging helps you lose weight effectively and keep you energetic throughout the day. Here we will discuss why jogging is one of the best ways to help you lose weight.
Benefits of Jogging for Weight Loss:
Burn Calories and Fat:
Another great advantage of jogging is that it helps you in burning the calories more effectively and faster than other cardio exercises that you do. So, those who are on a weight loss regime benefit a lot by doing this exercise.
Get Fit and in Shape:
This is an aerobic exercise and helps you make your body muscles strong and well toned, and also provides you a good figure. In addition, it is very beneficial for your cardiovascular muscles also.
Improves respiratory system:
Jogging daily makes your abdominal muscles strong and lean, so that you get a flat belly. It is also good for your respiratory system and prevents various problems of the respiratory system.
Jogging = Saves money + energy + Healthy living:
To do jogging you need not spend a huge sum of money on buying equipment's. In fact, no money is needed to be spent to learn jogging. You can start it today itself and start getting the benefits out of it. All that is required out of you is your time and energy.
Long term mortality:
Jogging keeps you in good health and energetic all through the day. Jogging just for a few days is not going to give you these results. You have to do it regularly, and slowly you will start getting positive results.
Start Jogging Today!
You need not spend too much time on jogging to achieve the above mentioned benefits. All you need to spend is about 20 minutes per day. So, start jogging from today itself.
Weight Loss:
One the most important benefits of jogging is that it helps you to lose weight. Jogging on a regular basis is sure to reduce your weight and that too in a natural way. You may not get the result immediately on the first day itself, but you will certainly lose weight gradually and become fit and healthy.
Schedule Tips on How to Go Jogging for Weight Loss:
Many of you are already weighed down with work and somehow manage to do jogging in the hope of losing weight. But once you start practicing it and carry it on regularly, you will see that jogging has lots more to it than you thought. It helps you to improve your lifestyle and makes you more energetic by burning the extra calories in your body.  So, try it and you will never say no to jogging in future.
Always have an aim when you start jogging. You must aim at losing a certain kilogram of weight by jogging and strive to achieve it. When you have a goal, you will work for it and be successful in achieving what you wanted. Jog regularly for the first week so that you can make it your habit. You have to jog at least 3 to5 times a week.
Once you start jogging seriously, keep a track of how much weight you lose per week. If you lose 0.5 to 1 kg per week, it means that you are losing weight in a healthy way. This way you are burning about 3500 calories of fat per week. 20 minutes of jogging will burn calories from the food that you have taken in earlier. After the 20 minutes of jogging, your body will start to burn the extra fat stored in your body. This way you will start losing weight.
The amount of calories that you burn per day depends on the speed with which you are jogging and also on your body weight. If you have never ran earlier on a regular basis, then it is recommended that you walk briskly first and then increase the walking rate slowly; because if you start jogging all at once, you may find it a difficult task and it may even injure you. By increasing the walking rate, you will finally find yourself running. You must keep a record on your running and this tells you how well you have done after each session.
Once you have learnt to run properly, try to increase your running rate, so that it adds more intensity to your running. This way you will be able to lose more calories. By jogging on stairs, n an inclined land or jogging up a hill, you will be able to increase the intensity of your jogging. This is very beneficial for burning the excess fat in your body and to keep you in good shape.
You can make changes in your jogging routine, so that it is not boring for you and you can do it with full concentration. You can vary the speed of your jogging and jog slowly or fast as you feel like. You may run fast for half the time and then run slow for the next half, so that you feel more comfortable. Similarly, some days, you may feel like jogging at a slow pace. Then you can do so and jog for a longer time. Instead of jogging on the same route, you can change your routes and jog along different routes on different days. This will make jogging more interesting for you.