Kajol Weight Loss, Diet, Workout and Fitness Secrets
Kajol is one of the popular stars in the Hindi Film Industry and she has amazed everyone with her new svelte and sexy look. She manages to keep her body trim and in good shape even after being the mother of two. She now shares the screen with the hottest actors of today and looks as gorgeous as ever.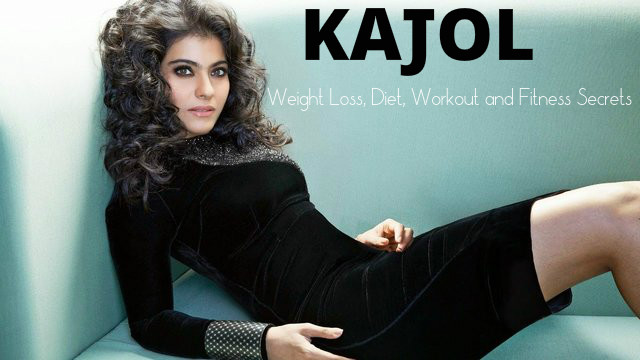 Every married woman looks up to Kajol as her role model because of her beauty and grace. Along with leading a good family life with her husband and two children, she also has time for herself by doing fun advertisements and engaging in other activities. She has a healthy and fit body and a beautiful and clear face. Here is a Look into the Fitness Mantra of Kajol.
Weight Loss Secrets of Kajol:
After the birth of her son Yug, she had gained weight, which she managed to shed within a short span of six months. Her husband Ajay Devgan and her close friends say that she follows a strict fitness regime and an extremely healthy diet plan to get in to shape.
Shereveer Vakil, initially the health consultant and fitness trainer of Kajol's husband Ajay Devgan, is now her trainer also and works with her. This has helped her to improve her stamina and boost her metabolism, and maintain a healthy weight and good physique.
It is her mindset that has made her achieve her excellent physique. Even when she was pregnant, she had made up her mind to shed fat quickly after her delivery. According to her, staying fit is like practicing a skill. If you gain weight, it is like losing a skill. You need to stay fit and healthy, and get back to practicing that skill as soon as possible. Kajol has a steely determination and is very strong at heart. She was determined to get back into shape. This has made her win half the battle.
Kajol Weight loss after Pregnancy:
Kajol is known for her realistic and practical look on life. This is one of the qualities she has, both as an individual and as an actor. She sets only those goals that are achievable and she is sure that she gets them. She has taken the same approach to losing weight. Like her son, she started from the first stage. When her son started crawling about the house, she took her first step towards the weight loss regimen. Slowly, with each passing week, she started increasing the duration and intensity of her workouts. She did it with determination and dedication to achieve the lean physique that she has today.
Kajol Workout Routine:
Kajol never skipped her workouts. She managed to lose as much as 18 kg during the first five months of her fitness programme. She works with her trainer, targeting the fat areas in her body and the core muscle. This helps her in strengthening the core muscle and burning the fat. It is a high intensity workout and every day she pushes hard to improve her performance and reach her goal without fail. The actress includes endurance training, yoga, lifts and squats as part of her fitness programme. She lifts weights and she can handle 150 pounds and more. This is known as the 'dead lift'. This is an intense, calorie burning exercise that can tone the muscles and make you fit and well toned. Kajol can easily do about 300 push-ups, which is a feat for most of the women.
Kajol Diet Plan:
Just as she is fully committed to her fitness programme, Kajol is equally strict about the food she eats. She follows a weight loss diet consisting of foods like paneer, fish, nuts, eggs, milk and lean chicken. She believes in eating right and healthy and also makes sure that her diet includes lots of fibre in it. This helps in providing her a fit body. Kajol never eats anything that is unhealthy. She totally avoids junk foods, and oily and sugary foods. She takes care to drink lots of water every day. This helps in keeping her body well hydrated and removing all toxins from her body. In addition to water, she also consumes fresh fruits, vegetables and health drinks. This aids in managing her hunger pangs and keeps her body healthy by providing all the necessary nutrients.
Kajol Fitness Secrets:
Kajol's fitness mantra is to stay focussed and stay disciplined. You can work out on your own if you can. If you find it hard to do so, then you can do it under the guidance of a good fitness trainer and dietician. They will help you to achieve a healthy and fit body. If you ask kajol what she has to say about working moms and their lack of time for themselves, she will say, 'You have to cook, clean, teach, manage and otherwise take care of the house. If you aren't fit, no one else is going to be able to cope! Carve out some time for yourself, at least an hour to make room for a fitness plan. And make sure you eat right, that is most of your battle won'.
So, now that you have seen how Kajol manages to look fit and beautiful with her eating habits and fitness regimen, take queue from her and try out for yourself. Like she has said, try to get some time for yourself from your busy schedule. You are never going to regret it.