Kim Kardashian Beauty, Makeup, Diet and Fitness Secrets
Kim Kardashian is a well-known TV artist as well as a popular fashion designer and model. She was born in Los Angeles, California, in the year 1980, on 21st October. She was the highest paid TV personality during the year 2010. She is fashionable and well-groomed and a role model to all in the fashion world. Whenever glamour is mentioned, her name is bound to appear. She has a perfect figure and looks gorgeous in whatever dress she wears, whether it is a full length evening gown or a pair of denims. If you are eager to know her beauty, makeup, fitness and diet secrets, read on.
Kim Kardashian Beauty and Makeup Secrets: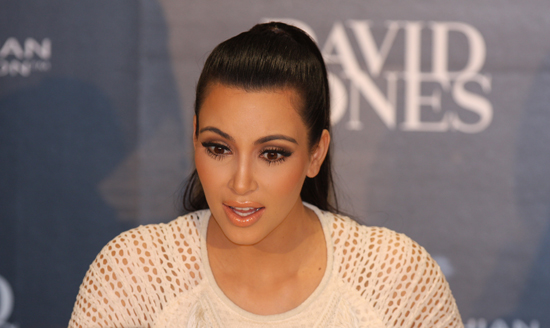 Image credits: wikimedia
Bio-oil for beautiful looks:
Kim says that the bio-oil that she uses keeps her skin looking young and beautiful. Applying the bio-oil on the body helps to keep away pigmentation marks and the stretch marks. It can also help you prevent the appearance of wrinkles around your eyes. So Kim uses bio-oil regularly and makes it a part of her beauty regime.
Eye shadows care:
Kim knows how to apply eye shadow perfectly. She says that she powders under her eyes before she put on the eye shadow. You can see the white powder and brush it off.
Keep your eyebrows in shape:
Kim pays a lot of attention to her eyebrows. According to her, you must never neglect your eyebrows. Even her makeup artist, Joyce Bonelli, said once that a large part of her time is spent on grooming Kim's eyebrows. Instead of pointed at the peak eyebrows, Kim likes it more rounded. well groomed eyebrows makes your face more attractive.
Mascaras for your lashes:
Grooming the lashes is also as important to Kim as grooming her eyebrows. She loves her lashes to be long and luscious. According to her, this gives your face a very appealing and seductive look. Use different mascaras and groom your lashes well, and this will give you thick lashes and beautiful eyes that attract everyone around you.
Matte bronzer is must:
Kim likes to use a matte bronzer instead of one that has shimmer in it. She says that shimmer bronzers make your skin look oily and patchy. She loves Smashbox Bronze lights in Sultan matte, which do not have any sparkle in it. She wears it regularly whenever she appears for an event.
Sunscreen while moving out in Sun:
Sunscreen is another important thing that she always carries with her. Once during an interview, she was asked what she would take with her if she goes to a deserted island. Her reply was 'sunscreen'. Sunscreen was not a very important part of her makeup kit before she went to Mexico on a holiday in 2009.. During her stay here, she got many severe sunburns. So, after visiting Mexico, she realized how important a sunscreen is. Now she cannot imagine going anywhere without her sunscreen. Sunscreen is a must if you are going to spend lots of time out in the sun.
Use makeup properly:
Kim is very particular about removing the makeup, especially when you go off to sleep. She says that this will allow your skin to breathe. So you must go to bed only after cleaning your face and removing all traces of makeup from your face. She always carries make-up wipes with her so that she can clean her face properly. She says that you must use wipes specially made for the face. This helps in removing all makeup, including the mascara, from the face. If you do not remove your makeup when you go to sleep, your skin will get clogged with the chemicals used in the makeup products, which may even cause skin reactions. This leads to dull, lifeless and unhealthy looking skin. Going to bed with a clean face can prevent the appearance of acne and wrinkles, and keep your skin youthful. This makeup tip is one of the most important tips and if you follow this, you will get a blemish free and glowing skin. After removing the makeup, you must clean the face well and use a moisturizer.
Kim Kardashian Diet and Fitness Secrets: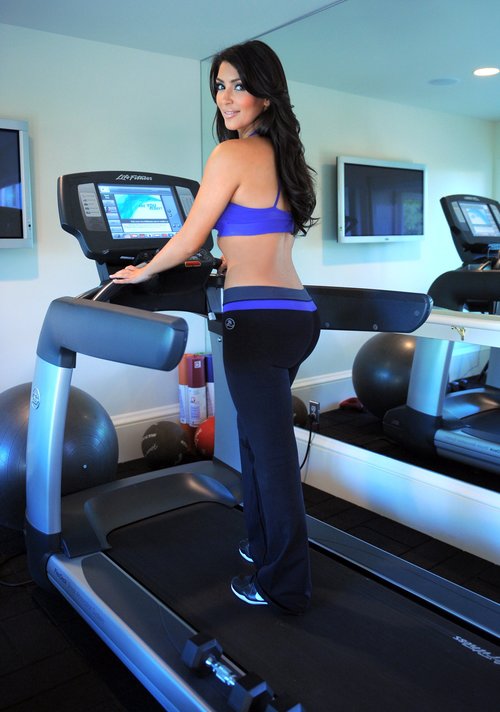 Image credits: jerseychaser
Balanced Food and Calorie counting:
Kim is very particular about the amount of calories she takes every day. Calorie counting has a very important role in her daily diet. She has a well balanced food, which is prepared by her personal chef. According to Star magazine, Kim is makes it a point to stick to 1200 calories a day. If she consumes more than 1200 calories, she does extra workout and burns off the extra calories she has taken in.
Along with her flawless beauty, she also has a very perfect and appealing figure that catches everyone's attention. To attain her superb figure, she undergoes fitness routines and a strict diet, which are discussed below.
Curves at Gym:
Kim loves her beautiful curves. But it is not that easy to get such perfect curves as you may think. You have to work hard for it and maintain your curves. Kim spends an hour everyday at the gym and does rigorous workout to keep up her curves. There is a personal trainer who trains her and guides her during her one hour workout session.
Fresh Juices and Chicken:
Kim prefers a well balanced diet. She includes fresh green juices made of celery, kale, spinach, cilantro and collard greens. She also loves to have low fat chicken and steamed veggies.
Now that she has given birth to a baby girl, she works very hard to maintain her beauty and figure. You can see that she is doing it really well and is looking as fabulous as ever. The beauty tips and fitness tips of Kim is an inspiration to anyone who wants to have a beautiful face and body like she has.