Korean Beauty Tips and Secrets for Glowing Skin
Korean woman are very pretty with radiant skin that is acne free and flawless. We all admire their clear and smooth skin with even-toned complexion. They have such perfect skin that one wonders whether they are born beautiful or it is their beauty regime that make their skin so lovely. We can also try to get such perfect skin by following some of their beauty regimes.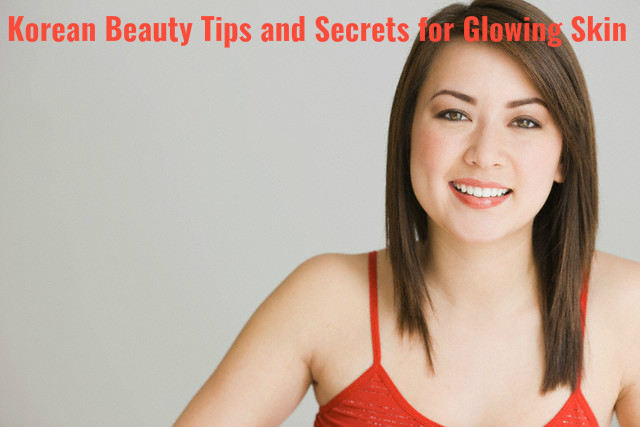 Korean Women Beauty and Skincare Routine:
Applying essence:
After cleansing and toning their skin, Koreans always make sure that they use as essence. Essence means an essential nourishing liquid. This liquid is lighter than lotions and helps in making your skin rejuvenated. They spray this essence on their face and the neck. This makes their skin firm and provides them a clear complexion and a perfect sculptured look.
Applying SPF:
Korean women never step out of their house without applying a sun-block lotion or cream on their skin. No matter what the season is, they always remember to apply a good quality sun-block on their skin. This helps in keeping their skin healthy, radiant as well as youthful, as SPF prevents wrinkles, aging and blemishes.
Consistency:
Consistency is very important in any beauty regime. Koreans are very consistent in their skin regime. No matter how busy you are, you must find some time to take care of your skin. If you are lazy and not consistent, you will not get a beautiful, flawless and firm skin. So, set up a beauty regime and follow it without fail.
Double cleansing:
Double cleansing is the method that Korean women follow to cleanse their skin. This helps in removing all traces of makeup as well as the dirt that may collect on your face during the day.
This is a process in which the makeup and traces of oil are removed by using a liquid cleanser. Next, you have to apply cleansing oil, which helps in removing bacteria, sebum and other impurities on the skin. After cleansing, you have to wash your face well with lukewarm water.
According to Koreans, cleansing is what makes your skin radiant. So, after pre-cleansing your skin, you have to clean your skin by applying a mild foaming cleanser. Apply this on your skin with your finger tips and massage in circular motions.
Exfoliating:
Cleansing and exfoliating the skin removes impurities from the skin and also help in opening the clogged pores. This way you get a smooth and refreshed skin. Exfoliating your skin is an excellent way to remove dead cells from the surface of the skin. Scrubbing the entire face daily may not be good for your skin. You need to scrub daily only those areas that really need it, like the cheeks and the blackheads that may form on the nose.
Moisturizing:
Koreans use a light moisturizer on their face and this helps in giving them a soft skin. They take it on the tips of their fingers and massage on the skin in gentle circular motions. This helps in increasing the blood circulation and allows the moisturizer to blend well into the skin, so that your skin is not left greasy.
Natural face masks:
Koreans always prefer to use natural ingredients to take care of their skin. They believe that they are the best and most effective. So, they use face masks made with natural ingredients. Fermented yeast, snail mucin and green tea are some of the common ingredients used for face masks. They apply this face mask two times in a week. This is followed with a facial massage. This helps in increasing blood circulation providing the skin a healthy glow.
Proper diet:
What you eat reflects on your skin. If you eat healthy, you will definitely have a healthy and glowing skin. Koreans make sure that they consume nutritious food.
Kimchi is one such nutritious food that they have. This is a fermented cabbage that is rich in Vitamin C and beta-carotene. This helps in boosting the health of your skin.
Makgeolli is another common ingredient in their diet. This is fermented rice wine rich in minerals and amino acids. This makes your skin bright and also maintains the elasticity of your skin.
Skin care:
One of the main differences between the skin care process of Korean women and other skin care regimes is that Korean women take care to look after their skin from their childhood itself. For them skin care is an important part of their daily routine and they regard this as their ultimate investment. They spend ample time to take care of their skin properly and they also follow the beauty regimes seriously. As you know, when you take good care of your skin, you can reduce the appearance of blemishes and other problems of the skin, and maintain a radiant skin that is healthy and flawless. So, it is important that you take care of your skin as early as possible.
Toning:
After you cleanse and exfoliate your skin, you have to tone your skin, so that your skin absorbs the moisturizer properly. Toning helps in nourishing and replenishing the skin. It also makes the pores of your skin shrink in size.  Koreans always use toners and refer to them as refreshers. Toners help in refreshing your skin and make it ready for the next skin care regime.
Using eye cream:
As you know, the area around your eyes is very delicate and the skin here gets affected very easily. So, you have to take extra care of the skin around your eyes. Koreans make sure that they keep this area super moisturized. They apply a good eye cream on the skin around their eyes before they go to sleep at night. This prevents wrinkles, puffiness of the eyes and dark circles under the eyes.