Korean Bridal Makeup: How to do, Tips, Secrets & Guidelines
Korean bridal makeup is wonderful and makes you look amazing. If you are looking for Korean makeup ideas, this post will be very useful for you. For Korean bridal makeup, you need the following things.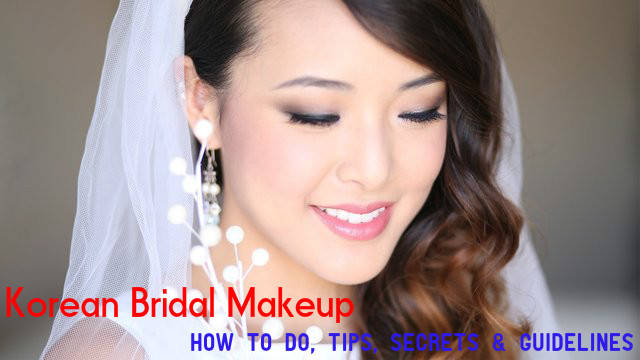 Image credits: Youtube
What all you need:
Regular makeup primer
Foundation
Concealer to cover blemishes and dark circles
Face powder
Brown eye shadow. You may use different shade of brown colour for this.
Mascara
Brush
Lip gloss, Lip liner and Lipstick
How to do Korean Bridal Makeup – Guidelines:
First you have to pick a liquid foundation or a makeup primer. It should contain sunscreen with 15 SPF. Take a little of the primer in your hand and dab it on your face using a brush. Blend it well all over your face.
Next apply the foundation on your face and blend it well on your skin. Make sure that you apply it on your neck also. You have to use it over your eyes as well. It takes time to blend well. So you should be patient and try to relax till it is blended properly.
Now you have to start applying the primer eye shadow on your eyelids.
Using pencil eyeliner, apply a few strokes and try to darken your eyelids. Now you can blend the colours using a brush. This will give a smudgy look to your eyes.
Next you should apply a brown eye shadow over it using a brush. On top of the brown eye shadow, apply a shimmery shade, and this will complete the look.
Now choose the darkest shade to cover the outer corner of your eyes. Blending the shades takes time and you have to remain patient till you get the desired result. Once it is complete, the result you get is amazing.
Once the eyelid makeup is complete, it is the time to use eyeliner. You can use kohl or kajal for it. You may also use liquid eyeliner. As you reach the end, try to thicken the line.
Take a nude pencil and use it to highlight your lower eye. Use black kajal on top of that.
Once you have completed it, it is time to highlight your eyelashes. Use dark mascara for this. This will make your eyelashes look long and thick.
You can use mascara to darken your eyebrows also.
If you want to highlight your eyes even more, then you can apply another coat of eyeliner. This will make your eyes look dark and beautiful.
Next is the blush. You have to begin applying it from the back of your cheeks. Slowly spread it all over your cheekbones. Apply the blush on both sides of your face.
For your lips, you can use a red lip liner. Use the lip liner and outline your lips. Next you can take any shade you prefer and apply it on your lips.
If you want, you can also take two shades of lipsticks and combine them. However, make sure that they are of the same colour, but of different shades. After you have applied the lipstick, take a tissue paper and blot your lips. Now you can apply a cream gloss on your lips. Again blot your lips. Apply lipstick and then blot. Apply lipstick once again and your lip makeup is over.
Korean Beauty Tips and Secrets for the Wedding Day:
Just as your throat feels dry at times, you skin can also get dry. So, make sure that you apply a face mask every alternate day to keep your skin hydrated and supple. This helps in improving the texture of your skin.
Cleansing, toning and moisturising the skin are very important. Do this every day. Ever skin these three things.
Make sure that you wash your face at least a couple of times a day. Korean women follow a 424 technique. Here you have to clean your face with cleansing oil for 4 minutes, followed by cleansing with a foaming face wash for about 2 minutes. Then you have to rinse your face first with lukewarm water and then with cold water for about 4 minutes. This not only helps in cleansing your face, but also helps in closing all the open pores on your skin.
Drink lots of green tea as it can detoxify your body and keep your skin healthy and glowing. You must also include foods rich in Vitamin B in your daily diet.
The way Korean women apply moisturizer is very different. They take a little of the moisturizer on their finger tips and rub it to make it warm. Then they apply this warm moisturizer on their face in downward direction.
Korean women use different day and night moisturizers. This is because during the day time you skin needs to be moisturized and also needs protection from the harmful rays of the sun. At night, your skin needs to be nourished and replenished. You can use essential oils for keeping your skin well nourished and rejuvenated at night.
Korean women never forget to drink a glass of water every now and then. They also eat healthy and take care to have foods with low sodium as this helps in maintaining the water levels in their body. They also splash their face with water frequently and never forget to have their beauty sleep.
Korean women apply the toner on year skin by tapping it with their finger tips. They say that this helps in better absorption of the toner into the skin.