Makeup Tips for Small Eyes to make them look bigger
Do you have small eyes? There are many ways to emphasize your small eyes, like using colourful eyeliner, mascara, having defined eyebrows, and so on. The right eye makeup can enhance your features in no time.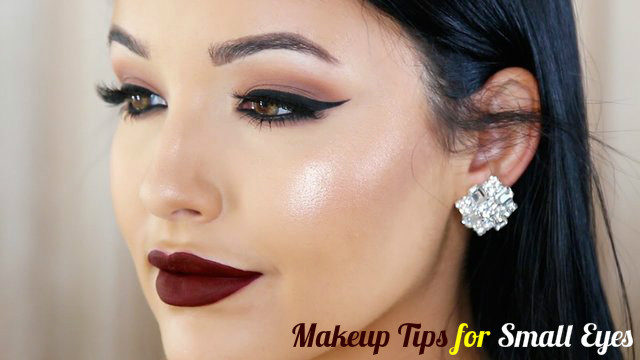 Image credits: Youtube
How to Make Small Eyes Look Bigger?
Well Groomed eyebrows:
Having a well groomed pair of eyebrows can greatly help in making your small eyes look bigger. Your eyebrows should not be too thick nor too thin, so as to draw attention from your eyes. Try to make them a little elongated at the outside corners. So, the first step in your eye makeup up should be grooming of the eyebrows. For this, you have to pluck any stray hair from between or around the brows. Then brush your eyebrows and trim them to remove unwanted hair and to get a neat and tidy look. Once you have finished tidying your eyebrows, you can shape your eyebrows by using an eyebrow pencil. Set them using clear brow mascara or a dab of Vaseline. Great Lash Clear Mascara is a good product you can use.
Prepping your eyelids:
Add a small amount of Bobbi Brown's Long-Wear Eye Base or MAC Prep + Prime Lash on your entire lash. This helps in moisturizing, filling lines and softening your looks, and also keeps your makeup looking smooth. Apply this just before you apply the eye shadow. An eye shadow primer is great for filling the fine lines around your eyes. It also helps in keeps your makeup stay for a longer time, without creasing, smudging or transferring on the eyebrow.
Brighten dark circles:
This cannot make your eyes look bigger, but when you have dark circles under your eyes your eyes look less youthful, even if your eyes are big and beautiful. So, make sure that you cover the dark circles and avoid puffiness under your eyes.  Use an illuminating concealer under your eyes. Maybelline Dream Lumi Touch Concealer and creamy versatile Lancome Teint Miracle Concealer are great for covering the dark circles. They are smooth and long lasting, and can hide any imperfections on your face.
Enhance your eyelid with contouring:
Like contouring your cheekbones and your nose to make then appear well shaped, you can also contour your eyelids. This helps in giving your eyelids definition and creates an illusion of natural crease. When you contour your eyelids, you should take care not to contour the entire crease. You can start from the inner corner of your eyes and stop at the sides of your nose. This will give you perfect big eyes.
Coloured eye shadow gives better looks:
One of the basic rules on makeup is that dark colours recede, while light colours help in emphasizing your features, as well as make them look sharper. So, for opening up your eyes and making them look bigger, pick a light shade liner instead of black eyeliner, and apply it on your waterline. You can choose shimmery, pearly light or neutral hues. The colour you choose should match well with your skin tone and the colour of your eyes. It doesn't matter whether you choose shimmery or matte- as long as it is a light shade. Urban Decay's Naked PaletteandBare – Minerals is a good option for you. It takes only a few minutes, but the result you get is fantastic.
Colourful hues:
Now you can apply black liquid eyeliner on your eyelids to frame your eyes and make them look more defined and beautiful. Over this line, you may apply colourful eyeliner for full-on definition look. Draw on a straight winged-eye instead of the typical line that sweeps up at the ends. You can use deep red or any other coloured liquid eyeliner for this. Drag your coloured liner along the base of your upper lashes and then extend it out, to the end of your brow bones. Urban Decay 24/7 Liquid Liner Woodstock is a good choice.
One effective makeup trick that you can use to make your eyes pop is to contour your upper lash line with blue eyeliner pencil. This can make your eye look more awake and also colour correct the redness of your eyes. Ladies with brown eyes look best with blue eyeliner lining their lash line. Just apply a thin, subtle line and slightly smudge it with a brush.
If you have no time to hide the dark circles under your eyes, you should avoid using blue eyeliner, because this will make your dark circles even more noticeable.
Avoid thick eyeliner lines:
If your eyelids are small, you should avoid drawing thick solid line with your eyeliner. Try to draw fine, delicate, winged line, as this makes your eye look bigger. Get as close to the lash line as possible.
Curling your eyelashes:
Perfect curling is an important step for the makeup of small eyes. You can curl your lashes with the help of an eyelash curler. This is considered as one of the most important and essential tools that should be present in the makeup kit of a woman, especially those who have small eyes. By using the curler, you can separate the lashes and also add fold to the ends of the lashes. For getting those big, impressive eyes, you have to make sure that you cup the lashes fully in the curler, closer to the roots. Shiseido Eyelash Curler and Uemura Eyelash Curler can give you perfect 'U' shaped lashes instead of a 'V'.
Check out Lash mania:
Apply a single coat of mascara on your lashes. This can make your eyes look bigger and rounder. When you apply the second coat, make sure that you apply it only in the middle of the lid. This will make your small eyes look thicker and larger. You can use a thin wand, lengthening mascara like Sonia Kashuk Lashify Mascara or Maybelline Define-A-Lash Lengthening Mascara for your eyes. This will surely make your eyes look beautiful and bigger, and prevents clumping.