Monoi Oil Benefits and Uses for Skin and Hair
When you choose various herbal oils often you have to buy one for your hair and another for your body. But have you thought of how wonderful it would have been to choose oil that can nourish your scalp as well as keep your body hydrated? You may think that there are no such products. But in real, there are such products and it not very hard to find them. Monoi oil is one such product that can take care of your skin as well as your hair. It has been used by the Polynesians for centuries.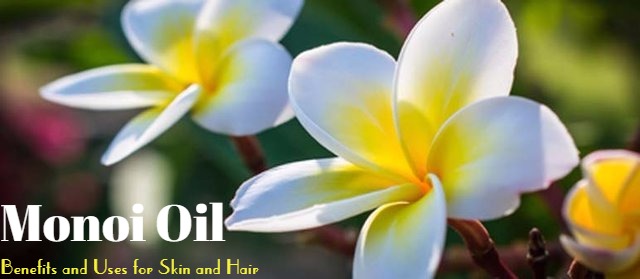 Monoi Oil – What is its origin?
Its origin can be traced back to the beginning of Christianity according to folklores. It was used widely in the present New Zealand. Polynesians used this oil to anoint the newborn babies in worship ceremonies. James cook, the legendary explorer of the 18th century, noticed the use of this oil when he explored New Zealand. That was the first time the western countries got news about monoi oil. The commercial production of monoi oil began in 1942.
Monoi oil preparation:
The Tahitians manufactured monoi oil in a natural way, without involving much machinery. At first they collect locally harvested coconuts. They collected only the mature coconuts that fall from the coconut tree. The coconuts were then split and allowed to dry in the sun. When it gets dry, the coconut kernels lose moisture. After sun drying they are ready for the extraction of oil. Now the kernels are crushed and pressed, and the oil is extracted. After the oil is extracted, it is filtered and left to become matured.
Then they soak Tahitian gardenia flowers in the coconut oil. They soak these flowers in this way for more than a month. The manufacturers make sure that only fresh gardenia flowers and organic coconut oil are used. After that the prepared monoi oil is stored in glass bottles.
Where to get monoi oil?
Nowadays you buy monoi oil in the market in many forms. There are some brands that sell monoi oil-infused hair care products including shampoos, conditioners and masks. You can buy whatever you prefer. Whether you but monoi oil or products containing this oil, one thing you have to make sure is to see that it is made of authentic ingredients. You can search for such products online and buy, or in natural food stores. When you buy them online, make sure that you read the reviews and confirm that they are good.
Monoi oil Benefits for Skin:
Aromatherapy massage oil:
The aromatic smell of this oil makes it excellent as aromatherapy oil. All you have to do is to pour a few drops of this oil in a bathtub with warm water. Soak your body in it for 20 minutes. This can rejuvenate your body and get rid of all tiredness.
Anti-inflammatory agent:
Monoi oil has anti-inflammatory properties. This is because of the presence of natural methyl salicylate in tiare flowers used to make this oil. This has anti-inflammatory properties.
Protects you from colds:
Monoi oil can protect you from cold, cough, water and weather elements. Deep-sea divers apply this oil even now to protect the skin from salt water.
Protects you from sunburn:
If you are planning to go to the beach this summer, keep a bottle of monoi oil in your bag. Apply this on your skin before taking sunbath or playing on the beach. This will protect your skin from the harsh rays of the sun and also from sand and the wind.
Skin moisturizer:
Coconut oil is a perfect skin moisturizer and monoi oil enhances the benefit. It is lighter in texture and therefore gets absorbed easily in to the skin. It does not make our skin sticky and also leaves your skin lightly perfumed. Instead of using the creams and lotions you buy from the market, you can use this oil. It is suitable for all skin types, including the sensitive skin. It nourishes you skin and keeps your skin healthy.
Skin damage reliever:
Monoi oil is rich in vitamin E, which is a powerful antioxidant. When you massage your skin with this oil, it helps in keeping your skin hydrated and soft, and also reverses the damages done by the free radicals in the body. It also reduces the signs of aging and gives a glow to your skin.
Monoi oil Benefits for Hair:
Anti hair frizz solution:
You can use this oil as an anti hair frizz solution to tame hair frizz. This is because of the presence of lauric acid in this oil. It seeps in the hair roots and makes your hair soft.
Hair nourisher:
Monoi oil, being lighter than coconut oil, helps in keeping your scalp and hair well nourished without leaving your hair sticky. Massage this oil on your scalp and then wash it off with shampoo. Applying it overnight is also good.
Hair conditioner:
It is important that you condition your hair from time to time. Instead of buying the expensive conditioners, you can use monoi oil on your hair. Mix it with your existing hair conditioner and apply it on your hair. Wash it off after a few minutes.
Hair repair solution:
Your hair can be exposed to various environmental conditions, which leave your hair dull, damaged and lifeless. Using of hair colours, gels and dyes, and exposure to the sunlight can also damage your hair. The best treatment for this condition is to use monoi oil. It reverses the damage done on your hair and scalp and also restores the shine to your dull hair.