Natural Looking Bridal/Wedding Makeup Tips and Ideas
Wedding is once in a lifetime occasion and the main center of attraction in a wedding is the bride, and next comes the bride groom. So the bride needs to look at her best during her wedding day but not overdone. The makeup she uses must look natural and highlight her plus points and hide her minus points. She should look beautiful and simple. All the cameras are focused on her for most of the time. So the makeup she uses must be such that she should look perfect in the photographs and the videos taken on the special day. Some of the tips for brides who want to look best in a natural way are: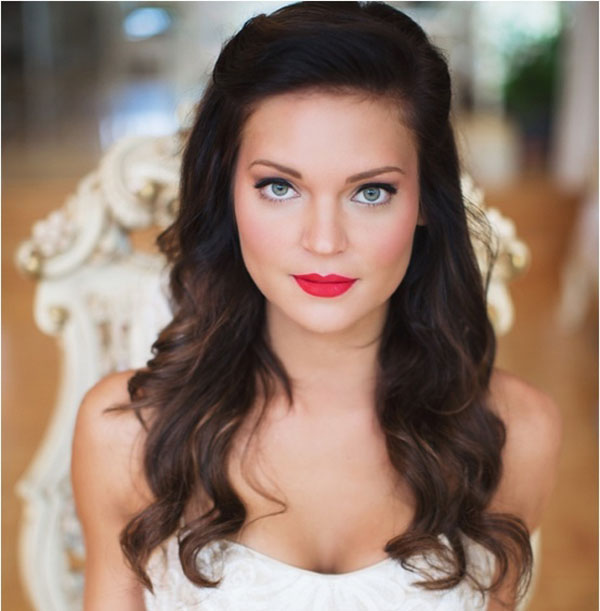 Bridal Cheeks: Blush up the cheeks
Pick a rosy brown shade that is slightly darker than the natural color of your skin will be the best. This blush should be in the form of a cream.
You also have to keep another blush, pinkish in color and in pressed powder form.
You have to apply the rosy blush diagonally, with an angular blush. Apply the cream blusher on the apple of the cheeks and then blend it upwards and towards the hair line.
If you have an oily skin, you can use waterproof liquid cheek stains that are silicon based. They provide the same effect as does the cream blushers.
Apply the powder blush on the cheek bones.
Now dab a compact on the blush and the makeup of the cheek is completed.
Bridal Eyes Makeup: lining the eyes and making them look pretty
As a bride, your eyes must look stunning and beautiful. So you must not only apply the eye liner on top of your upper lashes, but also beneath the upper lash. This is known as tight lining of the upper lash and will enhance the beauty of your eyes, making your eyes black and thick.
On the lower lash you need to apply only a slight lining.
You may also use mascara that makes your eyes more bright and beautiful.
Bridal Lips Makeup: For Natural Pink Lips
For lips you may use lipstick one shade brighter than the natural color of your lips, instead of using very dark lipsticks.
You can use pastels or light shades like pink.
This will look beautiful and natural. First use the lip liner and shapeup the lips and then apply the color inside it.
Another thing to remember is that the lipstick you use must not make your teeth look yellow. The color of the lipstick must match well with your complexion and the color of the dress you wear.
Bridal Face Makeup: Get the natural glow
Makeup of the face should b done with utmost care and patience.
Try not to use compact on your whole face. Let the glow on your face be due to the natural oils present on your face as well.
However, if your face is very oily, then you will have to use the compact on your entire face. But it should not be too thick. Just dabbing it slightly will be enough.
If your skin is dry, you have to apply fine silver glitter on your forehead, chin, apples of the cheeks and on the nose bones.
In addition to the makeup, you may also keep a small makeup box with a few makeup items with you. This you can use in between, so that your face looks fresh and beautiful throughout the ceremony. This box must contain the following items:
Concealer – This should be kept along with a wand so that you can easily dot under your eyes and pat it in place with your fingers.
Compact – using compact makes your face fresh and removes tiredness and fatigue.
Eye drops – It a common that a bride cries during her wedding. So, keeping an eye drop is useful especially when the eyes turn red due to crying. You can also use waterproof eyeliners to prevent smudging.
Lip liner, lip gloss and lipstick – you will have to reapply these when they are removed from the lips after a while.
Makeup remover pen – Smudges may form under your eyes at times. Then it is necessary that you remove the makeup under your eyes using makeup remover pen.
Oil blotting tissues – This is very useful if you have an oily skin. Even if your skin is normal, it tends to become slightly oily after sometime. A slight touch of the skin with the oil blotting tissues will remove the oil. So you need not apply the compact again.
A few other tips to follow:
The makeup you use also depends on the dress you wear. If your dress is soft and romantic, the markup should also be light. Similarly, choosing the right primer is also important. It makes your markup perfect and allows it to stay that way for a longer time. The primer also helps in costing open pores and smoothing wrinkles and fine lines. The primer you use must suit your skin. Apply it on your face before applying the foundation.
The foundation you choose is also very important. It should be perfect for your skin type and look natural. The concealer must be applied after foundation and never before it. The powder may be used only slightly. Powder helps in setting your makeup and preventing your face from looking greasy in the photos. Applying too much of powder will make your skin look dry as well as old. So, use it as less as possible. Try not to use eye shadows, highlighters and too much of sparkles. Instead, try to look more sophisticated.
You must take good care of your skin long before the day of the wedding. Sleep well and have healthy food and proper exercise, so that your skin remains healthy and glowing. Also drink lots of water.