Nigerian Bridal Makeup: Complete Tips and Tutorial Guide
Are you going to make your Nigerian friend look glamorous on her wedding day? Here are some fun ideas to highlight her features and help her stand out. You will come to know some of the best secrets of Nigerian bridal makeup in this article.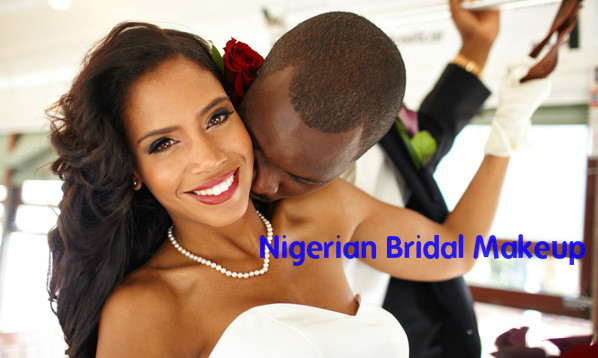 Nigerian Beauties are just astounding!
Nigerian women look great and they know how to make themselves look beautiful without spending a fortune in the beauty parlours. Styling and makeup are well known to them and they have a number tricks that will surprise you.
Nigerian Bridal Makeup Tutorial:
Eye liner
Foundation
Face powder
Pink lip gloss
Pink lip stick
Red lip liner
Smudge free kajal
Thick brush
Thin brush
Steps to Follow:
Before you start putting on the makeup, you have to cleanse your face properly and make yourself ready for the makeup.
When you do makeup, remember to always start with your eyes. So, apply white shadow on both your eye lids followed by brown eye shadow. Try to blend both the colours. Make sure that the colours are light.
Next you have to choose a dark shade of purple and apply it on your eyelids. Then choose a dark blue and apply it on the outer corner of the eye. Next you can pick a pink eye shadow and apply it on the other side of your eyes. Now you have to blend the colours together. You can use a thick brush for blending the colours. Use pink glitter to add some shine to your eyelids. Now apply white shadow on the inner corners of your eyes.
Once you have completed applying of the eye shadow on your eyelids, you can continue your eye makeup with the eyeliner. Choose good brand eyeliner and crate a few strokes on your eyes. For the lower eyelids, you can use a kajal. Apply some mascara at the end to make your eye look more beautiful. To enhance the beauty of your eyes, you can curl your lashes with the help of a good eyelash curler and apply volumizing mascara. This will make your lashes look thick and long. With this, your eye makeup is over. Next is your face.
Apply a skin-friendly primer and moisturizer on your face, and then you can apply the foundation on top of that. Use a foundation that matches your skin tone and complexion. To find out which shade of foundation is right for you, take a little of it and apply it to the centre of your jaw line. If it vanishes, it means that it is the right shade for you. You can blend it using a sponge. Be careful when you blend beneath the jaw and your neckline, as you do not want to leave any visible lines. Do not apply too much of foundation so as to give a cakey appearance. Primer helps in improving the texture of your skin for the proper application of foundation.
Pick a concealer and apply it on your face. This helps in covering all blemishes on your face, including dark circles. Use a brush to blend the colour and to give your skin an even and smooth look. Concealer helps in setting the makeup properly and allows it to stay for a long time. As you know, the ceremony may last for about 12 hours. So your makeup should stay for a long time. Concealer also covers open pores, and smoothen fine lines and wrinkles on the face.
If you like to use face powder, you can apply it also. Use a regular thick brush for dusting it on your face. Applying the face powder helps in making the bride look light and radiant.
Now for the lip makeup. Just as you use moisturizer to keep your skin moisturized, you should do the same for your lips also. If your lips are not moisturized, it may get dry and crack. When you apply the lipstick, the crack becomes even more obvious. So apply a lip hydrator on your lips. Wait for a couple of minutes so that your lips can absorb it. Then you can apply the colour.
For the lips, you can use a red lip liner and outline your lips. Then use a light pink lipstick and colour your lips. Apply a pink lip gloss also to make your lips look beautiful.
Nigerian Women Wedding Makeup Tips:
When you do your lips, remember to choose colours that are neutral, dark, earthy or burgundy. Make sure that you apply some lip gloss also. The lip liner that you choose should match the colour of the lipstick that you apply.
Using metallic eye shadow can make Nigerian Women look wonderful. The darker your skin is, the brighter colours you can opt for, and you are sure to look amazing. Black mascara on your eyes can make you look sexy and attractive. For a better look, you can try using false eyelashes.
When you have dark skin, yellow based foundation can make you look more attractive and radiant. For highlighting you can always use shimmer.
Make sure that the products you use for you bridal makeup is of high quality brands. Look for oil free products and pigment rich shadows and blush. Most important is never to skip cleansing of your skin and preparing your skin for the makeup. This is essential for a gorgeous finished look.
Follow these tips and it is sure to make the bride look gorgeous. Make sure that your makeup perfectly matches your hair and dress. You can approach a makeup artist for doing your makeup or you can decide that you will do the makeup on your own. If you have a model or a look that you want to recreate on yourself, you can try so.