Oil Pulling for Acne: How does it Work? Benefits for Skin
Are you tired of acne breakout on your skin? If you are looking for an effective treatment for acne, you can try oil pulling. This is an ancient practice and helps in removing excess oil from your skin, thus preventing acne.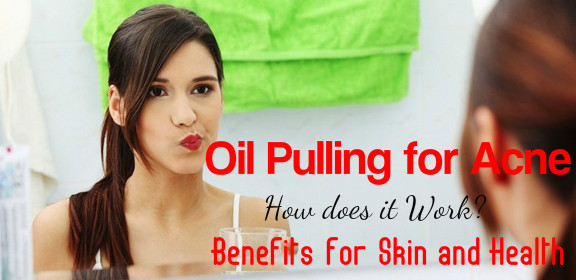 How Does Oil Pulling Actually Work?
Oil pulling is a technique in which you swish oil in your mouth to remove toxins. Experts say that the best oil you can use is cold-pressed organic oils like unrefined sesame oil and virgin coconut oil. You may also use organic olive oil and sunflower oil. Here you put oil in your mouth and swish it for as long as it is possible for you. You must swish it at least for 20 minutes. The longer you swish oil in your mouth, more effective is the treatment.
Oil pulling helps in detoxifying the oral cavity by removing the impurities collected in it. This treatment prevents these toxins or impurities from spreading to other parts of the body as they are drawn out and removed right from where they enter the body. As a result, all the organs of the body function properly.
Oil Pulling for Acne Treatment Process:
During the oil pulling process, bacteria and other toxins that are harmful for the body are pulled out from the body. As a result, other parts of the body are kept free from these harmful organisms. This in turn helps in clearing the acne on your skin. Problems with gut play an important role in the formation of acne. These problems take place when there is an imbalance of bacteria in the gut. Your body contains millions of bacteria, some of which are good for your body, while the rest are harmful for the body. The good ones are needed for keeping your body healthy. So, a balance in the number of good and bad bacteria is essential. Bacterial balance is very important for providing you healthy body and skin.
Oil pulling removes most of the bacteria from the mouth, and only a few bacteria enter the gut. As a result, you will have a healthy body and skin. So, this technique is good for giving you a clear skin and preventing breakout of acne.
It is also said that excessive stress on different organs of the body can trigger acne formation. If your kidney or liver has to work a lot to remove toxins from your body, this can lead to acne breakouts. Oil pulling helps in reducing the stress on these organs by removing a large amount of toxins before they enter these organs. This way you can get rid of acne and have a clear and radiant skin.
How to Use Oil Pulling for Acne:
The technique of oil pulling is very simple and you can do it very easily. You need high-quality cold-pressed organic oil like coconut oil or sesame oil for it. Take it in your mouth and swish it around your mouth. Below are given steps to oil pulling:
Before you start the process, you have to first clean your palate by drinking a glass of water.
Take a teaspoon of coconut oil or sesame oil, according to your choice.
Swish it in your mouth for 10 to 20 minutes. You can do it longer, as much s you can. The longer you do it, the better it is for removing toxins.
Once swishing is over, spit it out immediately. Never swallow it as it is now full of bacteria, toxins and other impurities.
Now take warm water in your mouth and rinse your mouth well, and then. Brush your teeth thoroughly.
You can see that it is very simple. In the beginning you may find it difficult to do it because of the flavor and texture of the oil. You can also mix coconut oil with other oils like sunflower oil or sesame oil, so that it is easier to use. It also helps in better removal of toxins.
Benefits of Oil Pulling for Health and Skin:
Many people make oil pulling a part of their daily routine as it has lots of health benefits. It can protect you from various diseases ad ailments and it is also excellent for your skin. By removing toxins and impurities from your body, it cleanses your body and provides you healthy and glowing skin. People who have used this technique have reported that it has helped them a lot in treating acne.
Oil pulling plays an important part in boosting your immune system and helps it to function normally. This makes your body strong enough to fight against various health issues, including problems of the skin. Experts say that this practice can also keep your skin moisturized, particularly when you use coconut oil. As a result, you can also reduce signs of aging like the appearance of wrinkles and fine lines, as well as age spots. You will get a healthy skin with a natural glow.
Now you can see that oil pulling can do wonders for your skin. It ensures that you remain healthy and you have a clear and beautiful skin, by removing all bacteria, toxins, viruses and so on from your body. Your body gets relived from any extra stress, and this is great for getting rid of acne as stress is one of the main reasons for acne breakout.
Lots of people across the world are using this technique and have benefited a lot from it. For some people it has even helped in removing marks left by acne and other blemishes that may be there on the skin. This is an ayurvedic and natural treatment and it has lots of health benefits. So if you suffer from acne breakout, you should certainly give it a try.