Benefits of Onion Juice for Hair ReGrowth and Reversing Grey
Along with being a really healthy vegetable, onions are also great for increasing hair growth and reversing grey hair by application on the scalp. It provides nourishment and circulation to hair follicles and also kills germs and parasites. It also treats fungal infections. Onions contain sulfur, which aids in regenerating hair follicles.
Recent studies showed great results for the effectiveness of onions on hair. According to these results, grey and thinning hair is caused by building up hydrogen peroxide and reduction in catalase, the natural antioxidant. Buildup of hydrogen peroxide causes oxidative stress, which results in graying and thinning of hair. Results from application of onion juice could be seen within a few weeks itself. A study showed 74% of the individuals to have had significant hair growth with this treatment within four weeks.
How to Make Onion Juice: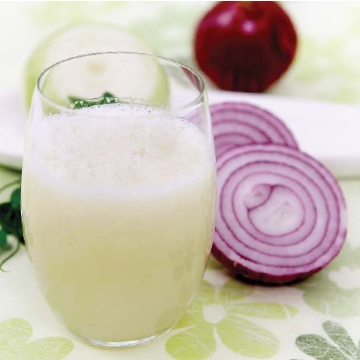 You need to get some fresh onions to get the juice. Fresh juice is more potent, and it is better you make it in small amounts so that it does not need to be stored for long. You have 3 ways to make onion juice:
1) Juicer:
This is the easiest way you can get your onion juice. You just need to peel the onion and cut it in half to put it in the juicer. It gets your juice ready in seconds.
2) Blender/Food Processor:
Peel your onion and cut it in 4 parts. Put them in your blender or food processor and start blending. Strain the mixture to get the juice only.
3) Grater:
Peel your onion and cut into half. Grate the 2 halves over a dish. Strain the mixture to take only the juice.
How to Use on your Hair: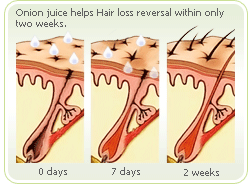 Image source
Before applying it, first you must test it on a small area to assure that you are not allergic to it. It is natural, but too strong. It is better to be careful
Every day, apply the juice to your scalp and massage it lightly in to your hair. This will help it get absorbed by stimulating the hair follicles.
Leave it on for about 30 minutes to 1 hour.
You may find the smell to be too strong, but the effects are amazing. You could leave it on at night and wash off before going to bed to avoid smelling onions all day. This method will help your hair loss reversal in just 2 weeks itself.
In case you are allergic to onions, or need any other option, ginseng is another common remedy for thinning air.