Pears Fruit (Nashpati) Benefits / Uses for Skin, Hair and Health
Pears Fruit also known as Nashpati are rich in fiber and antioxidants, and protects you from various diseases. It is juicy and tasty to eat. In summer it makes your body cool. It is good for your health as well as skin and hair.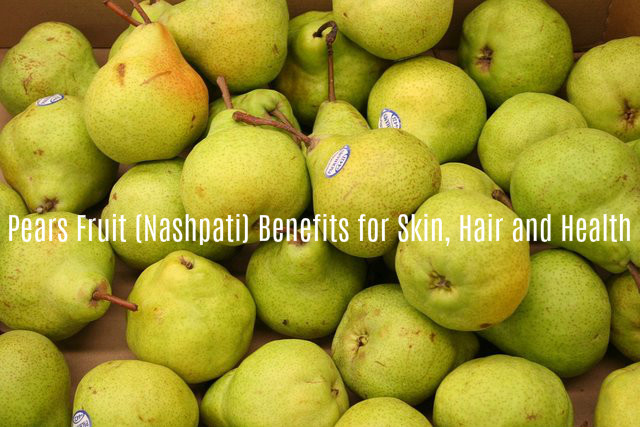 Benefits of Pears Fruit for Skin:
Effective natural scrub:
You can use this fruit as a good scrub because of the natural enzymes present in this fruit. Add mashed pear to your facial face pack and use it to exfoliate your skin. It helps in removing the dead skin cells and expose the fresh skin beneath. You can also use it as a peel and get glowing skin.
Get acne free skin:
The presence of essential minerals and vitamins in pears enhance immunity and make your skin stronger from inside. As   a result, your skin will be able to fight against pimples, acne and other problems of the skin from inside.
Good moisturizer:
Pears are rich in natural humectants, which help in keeping your skin naturally moisturized. So, the extract of this fruit is used in making moisturizing lotions. By consuming pear juice daily, you will get a smooth skin that is evenly toned.
Keeps away wrinkles:
Consuming pears daily is an easy way to prevent aging of the skin. This is because this fruit is rich in antioxidants, Vitamin K and copper. These fight against the free radicals and prevent any damage that may be caused to your skin. This way it keeps your skin well toned and prevents fine lines from appearing near your eyes and lips.
Soft and Smooth Skin:
Pears are rich in dietary fibers and these help in providing you soft and smooth skin. These fibers reduce the discharge of sugar in the bloodstream and prevent any damage to the skin collagen. As a result, you will get a skin that is soft and plump.
Treat oily skin:
Pears are great for those who have oily skin. Smash one pear and add honey and fresh cream to it. Apply this on your face regularly and it helps in reducing the over secretion of sebaceous glands.
Benefits of Pears Fruit for Hair:
Healthy and nourished hair:
Ripe pear contains a natural sugar alcohol called 'sorbitol' or 'glucitol', which provide nourishment to the hair roots and the scalp. This keeps the hair well moisturized and makes your hair healthy and strong.
Maintain curly and colored locks:
Using hair pack made with pears helps in maintaining the curls and shades of your hair. Peel a pear and mash it to get a smooth paste. Add soya bean oil to it and mix well. Apply this paste on your hair evenly and wait for an hour. Wash off with a mild shampoo. You will be able to see the difference it makes to your hair.
Reduces hair dryness:
You can prevent dryness by using pears because of the moisturizing properties of this fruit. Vitamin C present in this fruit keeps your strands well-conditioned and healthy.
Restore the loss shine:
You can make your dull hair look beautiful and shiny with pears. Mix the extract of a ripe pear with 2 tablespoons of apple cider vinegar and water. Use this as a hair mask and you will soon get healthy and lustrous hair.
Health and Medicinal Benefits of Pears Fruit:
Boosts immune system:
Pears are rich in antioxidants like Vitamin C and copper. These help in making your immune system stronger and help your body fight against various diseases.
Blood pressure:
You can control blood pressure by consuming pears daily because of the presence of anti-carcinogen glutathione and antioxidants in them.
Controls blood sugar levels:
Pears are slightly sweet to taste, but they have low glycemic index and high contents of fiber. So they are very beneficial for controlling the levels of sugar in the blood and preventing diabetes.
Digestion:
By consuming a medium sized pear you will get about 2- to 25% of the fiber that you need per day. This fiber is insoluble and passes easily through the colon, thus preventing colon polyps. The fiber also helps in proper digestion of the food you have consumed.
Fights against free radicals:
Pears have the power to fight against free radicals in the body because of the presence of Vitamin C, Vitamin K and copper in them.
Fever:
Because of the cooling effects of pears, this fruit is good for curing fever as well.
For weaning children:
Pear is an excellent food for weaning children because of the hypo-allergic and low acidic properties of the fruit. So, your child will not suffer from any digestive problems by consuming this fruit.
Increases energy levels:
The presence of glucose in pears provides you instant energy when you consume pears.
No allergic reactions:
You can reduce allergic reactions by combining pears with other fruits. So, it is an ideal fruit for infants as well.
Prevents heart diseases:
Pears are rich in fiber, which can decrease the cholesterol in the body. Hence, it is great for protecting you from heart diseases. By consuming foods rich in fiber daily you can reduce the risk of heart stroke by about 50%.
Prevents cancer:
Because of the high content of fiber in pears, you can prevent colon cancer by consuming pears regularly. The fiber helps in removing carcinogenic cells from the body and protests your body from cancer. It is said that women can reduce the breast cancer by about 34% by consuming one pear daily.
Prevents osteoporosis:
To prevent osteoporosis and have healthy and strong bones, you have to maintain the pH of the body by taking in adequate amounts of calcium. This you can ensure by consuming vegetables and fruits daily. Boron present in pears helps the body to easily absorb the calcium you have consumed.
Pregnancy:
Pears contain folic acid, which is essential for the baby to keep him/her from various birth defects. So, pregnant women benefit a lot by consuming pears.
Shortness of breath:
In summer many people suffer from shortness of breath because of the heat. By consuming pears, you can get relief from this problem.
Throat problems:
Take a pear daily or drink a glass of its juice everyday to prevent throat problems in summer.