Penelope Cruz Beauty, Makeup, Diet and Fitness Secrets
The Oscar winning talented actress Penelope Cruz is sexy, with smoky eyes, flawless skin and defined lips set in a beautiful smile. She was born on 29 October 1974 and is a Spanish actress and model. She made her acting debut at the age of 16 on television. Her first feature film was 'Jamon' in 1992. She is also ambassador to the Lancôme. Her childhood was in Madrid, around her parent's beauty salon. So, she was always surrounded by beauty. This helped her develop a deep appreciation for women for their strong, independent and confident nature. Her performance as Maria Elena in Vicky Cristina Barcelona has won her the Academy Award.
If you want to know about her beauty secrets, her insight on fitness, fragrance, holiday, food and style, read on.
Penelope Cruz Beauty Tips and Secrets: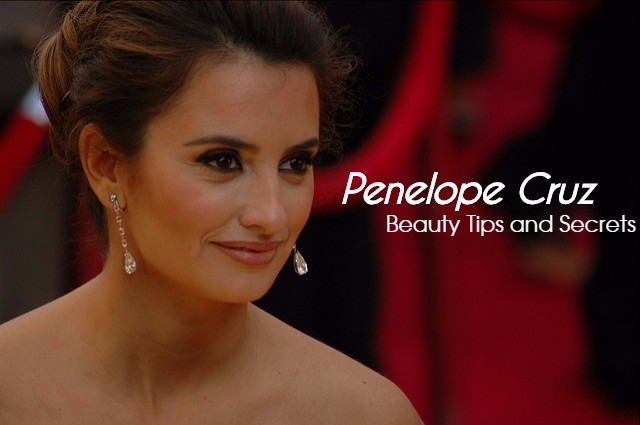 Image credits: Flickr
She prefers to have Mediterranean diet, but goes easy with fruits and veggies to avoid feeling gassy. She believes in following a balanced diet. In addition to fruits and vegetables, her diet consists of rice, cheese, yogurt, chicken, fish, nuts, eggs, cereals and pasta. She makes sure that she includes one source of protein and whole starch in every meal.
She says that she feels most beautiful when she gets a massage. She suggests that everyone should get a massage occasionally.
Penelope is perfect in every way. But her eyebrows make her look divine. Her eyebrows are long, thick and fabulous. They frame her face perfectly and make her look gorgeous. She loves to keep her eye bros thicker than usual. She shapes her eyebrows with regular tweezing. She is a fan of Espresso's tinted brow gel. She loves to get her eyes smoky. This helps in giving her a sensual look. She keeps mascara with her and loves to apply it on her lashes to make them look long and beautiful.
According to her, if you love your life, and are happy from within, then this will surely reflect on your face.
Penelope believes that natural hair colour is flattering enough to look good. She has naturally brown hair which she keeps well with caramel highlights around the crown. This gives her bombshell look. She applies hydrating oils and conditioning masks and keeps her hair healthy and beautiful. She always gets the expert advice from her stylist to keep her hair well maintained.
She makes sure that she cleanses her face constantly. She is a great fan of Christine Chin Retinol Smoothing Fluid.
The evening routine of Penelope includes washing her face with soap and water, applying cleansing milk and exfoliating her skin. She completes it by using a hydrating mask and an eye wrinkle cream. She avoids smoking and drinking as she thinks that it can damage her skin. She makes sure that she takes proper care of her health.
Penelope also confesses that she loves beauty products. When she has to spend much time on airports, she cannot resist buying something for the stores. Penelope says that Lancôme makes the most beautiful red, pink and brown lipsticks. When she is not working, she prefers to use nude-coloured lipsticks or light pink lipstick. She looks good in natural trendy and berry shades like Clinique Moisture Surge lipstick in Wearable Red or Estee Lauder Rhubarb Pure Color Gloss. Her favourites are Lancôme Color Design Lipcolor in trendy Mauve and L'absolu Rouge hydrating lipsticks.
She is not one who likes to be dressy all the time. She is usually seen in jeans and t-shirts, in which she feels she is most comfortable. On special events she calls up het stylist and gets her dress and makeup ready within a couple of hours. She loves pieces of Isabel Marant.
She keeps herself ft by going to the gym everyday for at least one hour. She also loves her classical ballet, Pilates and yoga. She has been a professional ballet dancer before she became an actress. It is her dancing routine that helps in keeping her fit. For her, dance is always one of the stress busters. Nowadays she also practices Pilates, which includes control of breathing, stretching etc. It increases concentration and tones up the muscles.
Penelope regards Food as her friend rather than her enemy. She has a diet that is low in salt, sugar and alcohol. She prefers to have whole grain diet containing complex carbohydrates. This helps in giving her a leaner body. Penelope has been a vegetarian since 2000. This is regarded as one of the main reasons for her perfect figure. She has been able to maintain her weight and slender figure because of her diet. Bread with olive oil, pasta and fried are some of the foods she loves, but tries to resist. She has a glass of red wine daily and uses herbs and spices instead of salt.
She makes sure that she sleeps for at least 6 hours. This helps in maintaining her sexy look and to distress herself.
Penelope's Beauty Must-Haves:
Kerastase Nutritive Masquintense:
This is hair mask and she says that it is the best one. Her mother always had it in her salon as she knew a lot about healthy hair.
Lancome Tresor Eau De Parfum Spray:
She says that this perfume is her life. She has been wearing it since her teens and now she is the face of it.
Lancôme Grandiose Mascara:
The wand has a special design. This helps you in reaching every single lash. You can reach even the tricky ones at the corners with this wand.
Nuance Blue Agave Wave Enhancing Styling Swirl:
She says that this product is really great. It was sent to her by Salma Hayek.
Santa Maria Novella Soap in Rose and Pomegranate:
These are old Italian soaps and some of them smell like baby powder. She says that these soaps reminded her of her of the soaps her grandmother always used.
Vitamix 5200:
She uses this to make juices and gazpacho. In Spain people eat gazpacho almost every day. This way you get a lot of vegetables.