Perfect Makeup Ideas When you are Wearing Gold Dress
If you are planning to pick a golden gown for your prom but not sure how to match it the right makeup, don't worry. All your doubts will be answered here.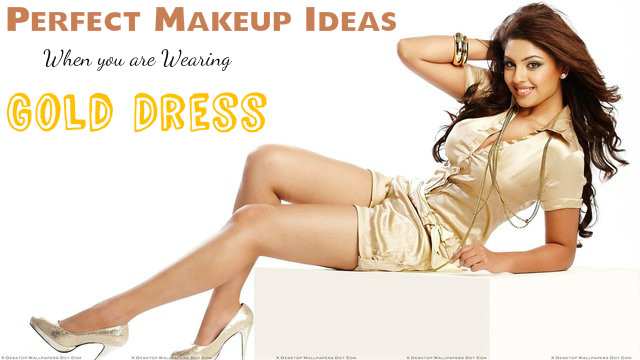 Shimmer and Shine:
Shimmering makeup is great for white and gold dress. Start with a sheer foundation. You can use pale green, silver-grey cream or lilac for your eyes. Use a metallic pencil to line your upper and lower lash lines. Add mascara on your lashes and nude or light pink lipstick on your lips. You can add extra sparkle to your appearance by using a liquid highlighter, which is pink or white, to highlight your cheekbones instead of using blush.
Sun-kissed Bronzer:
Opting for a golden bronze makeup style can make you look breathtaking when you wear gold dress. By using a tinted moisturizer, you will get a sun-kissed warm look. Apply sheer coral or cinnamon blush on your cheekbones. For the eyes, you can use bronze or gold cream shadow and black mascara. Finish your makeup with a metallic gloss. You may also use a tinted lip balm with coral or bronze shades.
All Natural Makeup is Good:
If you prefer a natural look, use a subdued makeup palette for getting the look. Use concealer but kip foundation. Brush some mineral powder on your skin and nude powder on the apples of your cheeks. For your eyes, use pink or nude eye shadow, brown liner and mascara. A sheer or pink lip gloss completes your look.
Darker and Edgier is what you need:
For the edgy and dark look, follow dark makeup style. This contrasts well with your gold dress. Try to keep your makeup a bit smudgy and imperfect to avoid looking too contrasting. Use a matte foundation without any shine to it. Do not use a blush. For the eyes, use a metallic eye shadow in bronze, charcoal or copper. Use a chunky eye pencil to line your lash lines. Apply black mascara and red brown lipstick, and your makeup is complete.
Gold Dress Makeup Ideas:
Look 1: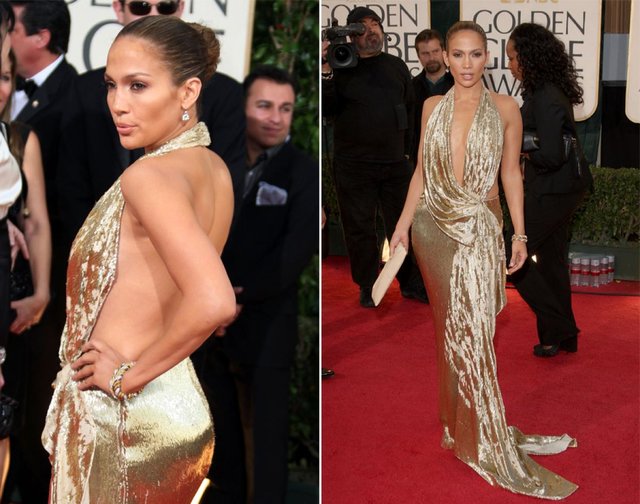 At the 66th Annual Golden Globe Awards, Singer Jennifer Lopez looked gorgeous in a golden, plunging Marchesa dress. She matched her dress with a neat bun, lush lashes, and a blush that is creamy pink. If you loved her red carpet look, you can try it and be the centre of attraction.
Step 1:
Apply a smooth and dewy base on your skin before you start with your makeup. Cleanse your face thoroughly and then moisturize your skin well. For a glowing base, you can apply a good primer. This helps in covering the fine lines and large pores on your skin.
Step 2:
Next step is to even out your skin tone. You can pick a natural or a light coverage foundation instead of choosing a heavy coverage foundation. Revlon PhotoReady Makeup is a good option. To apply the foundation, you can use a good flat brush. Blend the foundation with the brush to get a smouldering look.
Step 3:
After applying the foundation, you have to apply a concealer to cover the blemishes. You can use Chantecaille Total Concealer for this purpose.
Step 4:
Dust Glam Bronze Duo 102 Brunette Harmony over the outer planes of your face. This will help in giving a sun-kissed glow to your face. Apply a peachy blush to the apples of your cheeks to get the perfect look. Try Josies Maran Cream Blush in Sunset and you are sure to look gorgeous.
Step 5:
Next you can do your eye makeup. Line your lower and upper lash lines with Shum Uemura Calligraph Ink Liquid Eyeliner to get a dramatic look.
Step 6:
Try to make your lashes longer by using Dolace & Gabbana Passion Eyes Mascara. Apply two coats of this mascara on your lashes.
Step 7:
Next is your lip makeup. Apply a nude lip colour to your lips. Colour Riche Collection Exclusive Nudes Hint of Pink By Doutzen is perfect for your lip makeup.
Look 2: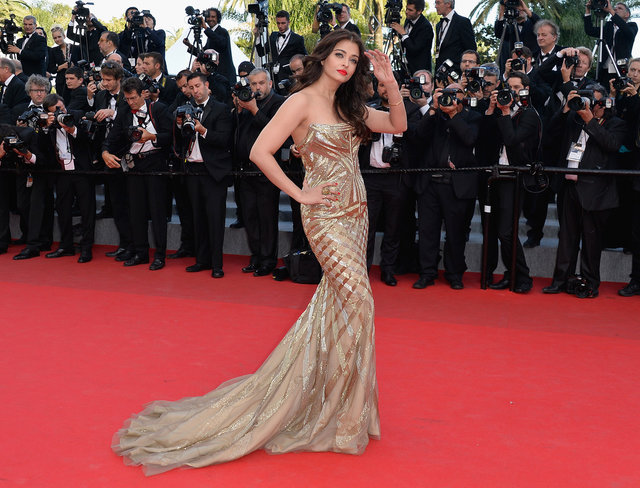 Actress Aishwarya Rai Bachchan walked down the red carpet at Cannes in a golden Roberto Cavalli gown. She looked gorgeous in her stunning fishtail gown, matching it with bold red lip and flawless skin. Here is how you can get the look of Aishwarya.
Step 1:
First of all, apply a primer. You can try Hourglass Veil Mineral Primer SPF 15. This gives a smooth finish to your skin and helps in keeping your makeup intact for a long time.
Step 2:
Now take a stippling brush and apply a fully coverage foundation on the top of your cheekbones, chin, nose and forehead. Stippling brush helps in creating a flawless effect. Laura Mercier Oil-free Supreme Foundation is a good choice.
Step 3:
After you have finished applying the foundation, contour your face with Sephora Collection Contouring 101 Face Palette. Take care to apply a darker shade on your chin and cheekbones, and a lighter shade on your forehead, cheeks and across the bridge of your nose. Blend it well.
Step 4:
To create Aishwarya's mesmerising eyes, use Superliner Gel Eyeliner-Super Liner 24th Waterproof Gel Eyeliner and define your upper and lower lash lines.
Step 5:
Next you have to apply two coats of mascara to your lower and upper lashes to open up your eyes. You may use L'Oreal Volume Million Lashes Mascara for this.
Step 6:
Make your lips bold red as Aishwrya did. This helps in making your refined makeup look tamed. Line and fill in your lips with Lancome Le Crayon in Berry. After filling your lips, take your favourite deep red shade with a small lip brush and swipe it across your lips. Lancome Rouge in Love Lipstick is an excellent option.
Now that you have seen looks suitable for gold dress, try these two looks and see which look suits you the best.