Perfect Makeup for Red Dress That's Sure to Grab Eyeballs
When going for a party, most women prefer to wear red dress as it can bring out as alluring as well as a bold look in all women. But along with your red dress, it is important that you wear the correct accessories. It can often be tricky. One wrong move can spoil the whole look. So, here are some ideas that you can try with red dress to look stunning.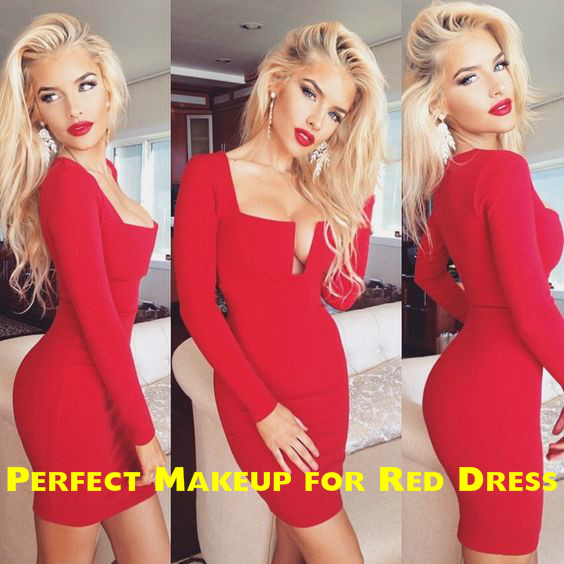 Red Dress Makeup Tutorial to look Stunning:
Dress for glam look:
Here you can capture the old school Hollywood glamour with your red dress. First of all, apply concealer and foundation on your face evenly, and blend them well. Then you can seal it by applying a translucent powder. Use a cream eye shadow for your eyes. Rub it over your eyelids. Now line your eyes starting thin from the inner corner of your eye and ending thick and wing-tipped on the pouter edge. Now apply the mascara to give more volume to your eyelashes. Apply red colour on your lips. You can choose bold red lipsticks. You may also apply sheer red gloss or lip tint instead of the lipstick.
Full red all over:
Applying a red lipstick with red dress can make you look classy, but you have to be confident to pull it off. You can try this bold look if you are going for a night party. Start with a foundation and then apply a light blush on the apples of your cheeks. Use bolder eyeliner for your eyes. Winged eyeliner and fluffy, fake eyelashes goes well with this look. Remember not to apply   dark eye shadow. You may even avoid applying the eye shadow, or make sure that you apply a natural, shimmer shadow. The lipstick should be of the same red colour as your dress or at least it should be from the same family. Any other red can clash with your dress and mar your looks. Apply a lip gloss also.
For the day time you can use soft brown pencil eyeliner instead of the gel liner to tone down your look. Apply rosy blush powder and avoid the shimmer eye shadow. The lipstick should be of the same colour as your dress.
How about Red Lips and nails?
Red lipstick can make you look glamorous, but it is best to wear lighter shades that make you look natural. The best option is to apply a tinted lip gloss. Just a French manicure is all that is needed for your nails. If you want to wear nail polish, choose nude colours.
Its good to Highlight eyes or lips but never both:
When you wear a red dress, take care not to apply a heavy makeup. If you do so, you will look overdone and cheap. But applying no makeup at all can make you look dull and washed out. The best way to look gorgeous is to highlight either your eyes or your lips. This will give you an elegant and classy look.
Nude Glowing Makeup:
As you know, red dress itself is flashy and bright. So, you need to highlight one point from the rest of your looks. If you try to highlight every feature, you will end up looking gaudy. One look that most of the celebrities adopt with red dress on red carpet events is the nude glow. This means that you do not apply any embellishments on your face. Your skin itself serves as the focal point, exuding a nude, bronzed glow. To get this look, you need to apply tinted moisturizer on your face instead of a foundation. Foundation cannot give your skin the fresh and natural look as does the moisturizer. Apply a mineral glow powder also. For bringing a glow to your cheeks, apply powder blush shimmer, and then the bronzing powder on the apples of your cheek instead of the area under the cheekbones. For your eyes, use natural matte eye shadow, kohl pencil and black mascara. For your lips, use a sheer lip gloss or nude lipstick. This completes you look.
Sexy and Hot eyes:
Smokey eyes go well with your red dress if you create it carefully. It is a look that is great for night time events. However, make sure to keep your face and lips in the back seat as it is your eyes that you are going to highlight. Just a thin coat of BB cream and a peach, pink shimmer on the apples of your cheek is all that is needed. For your eyes, apply a concealer on your lids and trace thick lines around your eyes with a pencil liner. Add volume to your lashes by applying mascara. On your eyelids you can apply metallic eye shadow. Use two coats of powder shadow instead of cream-based shadow. A nude shade or a lip gloss is all that is needed for your lips.
Want some Flirty looks?
You can also go for fun look with red dress. For this look, first you have to apply a tinted moisturizer on your face and then apply eye shadow of neutral colour. Draw a thin line above your eyes with a pencil liner and blend it with the eye shadow. Keep your eye makeup minimal. However you have to put false eyelashes for this look. Curl the false lashes and apply mascara. Apply a little colour to your cheekbones but remember not to highlight your cheeks. Apply a tinted lip gloss on your lips. You can also opt for sheer, pink lipstick or shimmer.
Your Hair:
Keep your hair simple. Slightly curled tresses that frame you face and fall on your shoulders look best.
Your Skin:
Red dress can emphasis the ruddiness and other imperfections on your skin. So, make sure that you use a high quality colour correcting foundation to cover the blemishes on your skin. If your skin is already clear, all you have to do is to apply a tinted moisturizer.
So, never hesitate to wear red dress for the next party and stun everyone with your gorgeous look.