Perfect Makeup Tips from Makeup Magician Mickey Contractor
Mickey Contractor is the makeup maestro who has played a vital role in making most of our Bollywood heroines look gorgeous and beautiful. He knows the art of makeup well and uses it to highlight the prominent features of the heroines. Applying the makeup correctly is very important and if you want some tips on how to apply makeup properly, here you are.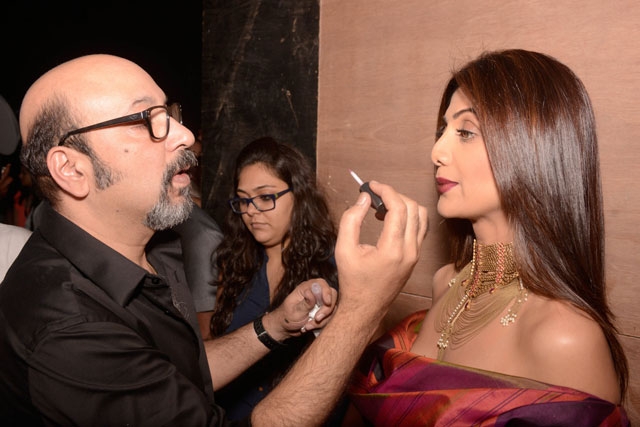 Makeup Tips from Mickey Contractor:
According to Mickey Contractor, you have to moisturize you skin before you apply makeup on your face. Never do makeup without applying moisturizer first, as this helps in applying the foundation and concealer smoothly. He says that the foundation you select should be such that it matches your natural skin tone. If you are going for a dewy look, you should reverse your makeup application, so that the foundation is used at last. This will provide the look that you prefer. Use very little of powder and that too in the T zone.
The eye makeup you choose depends on the size of your eyes. So, if you have small eyes, you must apply mascara liberally and apply the highlighter in the middle. Make sure that you blend the highlighter you have put on. According to his opinion, if you put just a dot of highlighter in the middle of your eyes and do not blend it well, you will look terrible. So, always remember to blend it well, so that your eyes will look large and wide.
A.C products are the ones that Mickey Contractor loves to use for makeup. He is very fond of using MAC fluidine, Studio fix fluid foundation, Viva Glam lip gloss and so on. According to him these makeup products are the best ones that suit the Indian skin tones.
Mickey Contractor is of the opinion that girls should wear hot pink lipstick, if they love color. This lipstick, with no other makeup, looks really striking. He says that if you use rosie brown hued Blush in Sur for contouring and then highlight your cheekbones with white gold Blush in Gana, it can greatly help in giving your complexion the radiance you need.
Mickey Contractor says that men also must be conscious about their skin and makeup. They must use skin care products regularly and it is good idea if they apply bronzer also. According to him, men must also use a concealer under their eyes, as this will make their eyes look fresh and well rested.
Huffington post quotes him as saying that the eyes are the most prominent of the features on face and attracts attention as they speak volumes. In Bollywood, eyes have an important part as we draw a lot from tradition and our culture. So, according to him, 'for generations it's always been about eyes'.
He says that Indian women hardly use any makeup on their face, except for kohl and bindi. These help in adding some color to their face. Kohl is worn by majority of Indian women and so it is the one product that is sold most in the Indian market. So, as he says, people in India give most importance to their eyes.
According to Mickey, in India women always prefer to look fair. If they have dark skin, they are not very happy and try to do all possible ways to make their skin lighter. According to his advice, you should stick to the natural color of your skin and be happy with the skin color that you have got. The foundation that you use must not be more than two shades lighter than your skin tone. Try to choose shades that are closest to your skin color.
Mickey Contractor says that for bridal makeup you can choose a blush having pink or peach shade. When you apply this on your cheeks, make sure that you apply it on the apple of the cheeks and then blend it upwards and outwards. This will give a natural look to your face.
When you apply lipstick on your lips, first line your lips with a lip liner. Then apply the color inside and blend the lip liner with the lipstick you have applied. Make sure that no sharp lines are left.
To get naturally looking eyebrows, Mickey Contractor advises women to use MAC brow finisher. According to him, eyebrows frame the face. So, you must take proper care of your eyebrows and keep them in good shape, so that they suit your face.
Do not try to match your makeup with your attire. Always choose makeup that looks good on you instead of selecting colors that match your outfit.
Applying eyeliner makes your eyes look charming. But use it only if you can do it well. Never apply it if you are in a hurry. This will mar the look of your eyes.
If you have a deep skin tone, you can use an eye shadow of lighter shade and apply dark color on the crease. This will enhance the depthness of your eyes.
Makeup Tips during Rainy Days:
If you are going out on a rainy day and cannot avoid foundation on your face, then you have the option to choose M.A.C. Face and Body Foundation. This foundation is waterproof and lasts for a long time. This provides a natural coverage to your face and also the body. There are also waterproof eye makeup products like M.A.C. Power point eye pencils and MAC Splash proof Lash Mascara. They are ideal for using in the rainy season and worth the money you spend on them. For your lips you can use MAC tinted lip glosses. This is also waterproof and makes you look good.
So, now that you have seen some of the makeup tips of Mickey Contractor, try them out when you go out next time for an evening out.