How to Be Photogenic: Makeup Tips to Look Good in Pictures
Do you often feel that you do not look good in photographs? Do you notice blemishes, flaws, shadow or white casts that make you look dreadful? If yes, you can correct these flaws through a few makeup tricks. These makeup tricks will make you look best in your photographs.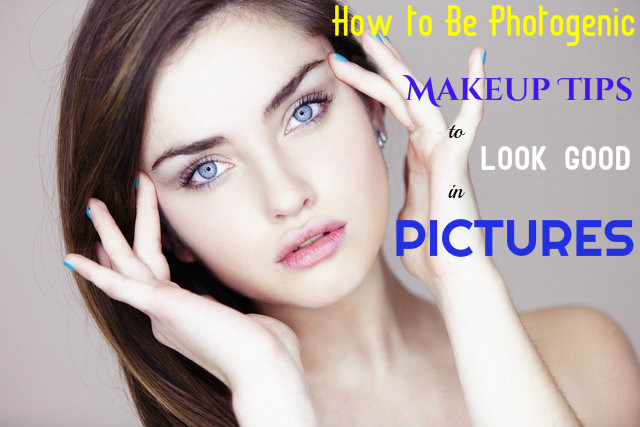 Makeup Tips for Looking Good in Photographs:
Applying lip liner is all well and good:
Even if you do not use lip liner, make sure that you apply it on the upper and outer corners of your lip when your photograph is taken. This will give more definition to your lips without making your lips look harsh or severe.
Blush-n-Brighten your complexion:
Soft rosy cheeks make you look healthy. So, try a bright pink or peach blush for your cheeks. After applying the blush, blend it softly with your fingers or a brush, and get a seamless finish. This helps in avoiding streaky lines on your cheeks in the photographs. Powder blushes are better than cream blushes in photographs. You can apply a powder blush that has a soft satin texture. Try to avoid too much of sparkles. The satin texture of the blush helps in making you appear glowing and radiant when the flashlight falls on your skin.
Bronzer for your face:
Photographs often add extra kilos to your face, so that you look plump and flat in them. You can prevent it by dusting a warm bronzer to the hollows of your cheek bone. This will bring definition and depth to your face. This helps in highlighting your facial features and makes you look very slim and chiselled. So, next time when your photograph is taken, try this makeup trick and see how good you will look in the photograph!
Elevate your eyebrows:
Eyebrows are very important parts of your face. It helps in giving definition and structure to your face. So, if your eyebrows are not well defined, subtly sketch them and fill them with brow powder to give it dimension. You can also use dark matte pencil instead of the brow powder. You must certainly follow this step, especially if you have thin eyebrows. Otherwise you will see that your eyebrows are hardly visible in your photographs. It is as if they have vanished in to the thin air.
Foundation on your neck:
Most of us give lots of care to our face and try to make it flawless and radiant. But we often neglect our neck area and do not apply any makeup on our neck. As a result, two different skin tones are seen on the photograph. So, when you apply foundation, do not stop at the jaw line. Apply it further down your neck and blend it properly. Even if you will not be able to see any contrast in your mirror, you can see it in the photograph. So make sure that you apply foundation on your neck as well.
Good oil free face Powder:
If you have an oily T-zone, then your photograph will show it clearly. The shine and oiliness will be badly reflected in your photographs. Your skin will appear oily and unflattering. So, in order to prevent looking greasy, apply a good quality oil free powder on your face and set your makeup. You can also carry blotting paper or oil absorbing sheets with you. Use these sheets to remove oiliness and shine from your face without doing any harm to your makeup.
Liquid eyeliner is good:
Apply liquid eye liner on your eyes. This will define your eyes better and also makes your eyes look brighter in the photographs. If you do not use liquid eye products, then use a gel or pencil at first and then run a liquid eye liner over it to make your eyes defined and pop out in the photographs.
No More Raccoon Eyes!
It is always recommended that you take care of your skin from within rather than depending completely on makeup. So, make it a habit to drink at least 8 to 10 glasses of water every day and sleep for 7 to 8 hours at night. You must also use face natural masks on your face and pamper your skin every now and then. This way you will be able to have fresh and healthy skin. As a result, your makeup will glide and adhere better on your skin. Apply foundation and concealer on your skin, which should matches well with your skin tone. Use an orange corrector to conceal your dark circles. Now fully cover the under eye area with the concealer to avoid raccoon-like effect on your eyes.
Use makeup primer first:
Always remember to start your makeup with a primer. The primer has the same role as the wall paint primer. It helps in hiding the natural imperfections on your skin and makes your skin ready for the makeup. It has the role of a barrier between your skin and the makeup, and controls oil and shine, thereby making your skin look healthy. The camera can highlight every single blemish, pores and the unevenness on your skin. Primer helps in controlling and minimizing the size of the pores, and makes your skin look flawless and radiant.
"What's next", just Relax and feel beautiful:
Have a beautiful smile on your face when your photograph is taken. This will brighten your face and make you look pretty. It is much better than makeup such as lip gloss or lipstick. Look confident and smile. This will certainly make you look pretty in your photograph.
So, follow the tips given above and try out some the makeup tricks on your face. This will surely make you look beautiful in your photograph.