Preity Zinta Beauty, Makeup, Diet and Fitness Secrets
Preeti Zinta was born on 31 January 1975 and is a popular actress in India. She has acted manly in /Hindi films. She has also appeared in Telugu, Punjabi and English language films. She made her acting debut in Dil Se and this was followed by the film Soldier. These films have helped in earning her the Filmfare Award for Best Debut.
In addition to acting in films, Preity has also written a series of columns for BBC News Online South India. She is also a social activist, a regular stage performer and a television presenter. She is known for publicly speaking her mind and openly expressing her opinions. She has also won the Godfrey Philips National Bravery Award.
She is a beautify actress and admired by her fans for her good looks. Her dimples and gorgeous skin are most notable features of her personality. The mantra that she follows is 'less is more'. So, she takes care to avoid anything that is in excess. This has made her look beautiful and fit.
Preity Zinta Beauty and Makeup Tips or Secrets: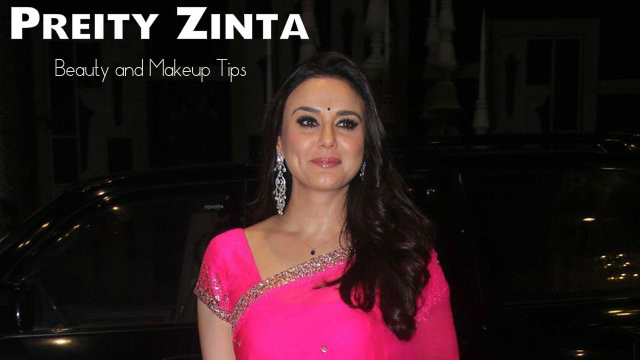 Drinks lots of water:
Another important thing that Zinta keeps in mind is to drink lots of water. She is well aware of the importance of water. Water helps in getting rid of all toxins from the body and keeps your skin well hydrated. Drinking lots of water has helped in keeping her skin look young and glowing. Looking at her no one will believe that she is on the other side of thirty. This is because she makes sure that her system is kept fresh and rehydrated after a long day's work.
Follows sleep guidelines:
Preity also knows the importance of sleep and makes sure that she gets ample sleep. Moreover, she makes sure that she drinks lots of fruit juices. The glow on her face, according to her, is due to adequate rest. Although she loves parties, she makes sure that she returns home at a suitable hour. She knows that she belongs to a profession that needs her to look like a diva all the time. So she never compromises with her sleep.
Loves eating carrots:
Preity love carrots. She loves to have carrot halwa and says that she prepares this as often as she can. It is a well known fact that carrots are healthy and excellent for the skin and eyes. But its popularity among the Bollywood actors is not well known. Preity tries to go the natural way instead of going to the expensive parlours and undergoing complicated parlour procedures.
Carrots are loaded with Vitamins A and C as well as carotene. All these help in providing you a beautiful and glowing skin, and great eye sight. She uses it in such a way and with full dedication that she is able to maintain her gorgeous looks forever. She says that she uses carrot seed oil in her night facial serum and it has done all good for her skin.
Sans Makeup Look:
Preity Zinta is known and admired for her natural look. She tries to avoid makeup as far as possible. But she loves her kajal and blush-on, as well as pastel lip glosses. According to her opinion, these should be an important part of any woman's makeup kit.
Says 'Enjoy your food':
Preity says that you can eat whatever you want one day a week. Make this day your cheat day. This helps you to maintain your diet for the rest of the week. Another thing she says is to eat slowly. Sit down and enjoy your food, and eat slowly. If you eat fast, you will eat more food and get less satisfaction.
Says Its 'All in your mind':
Preity Zinta says that you should always feel happy and smile a lot. Being happy and appreciating all the things and people around you is the best way to remain healthy and positive.
Preity Zinta Diet and Fitness Secrets: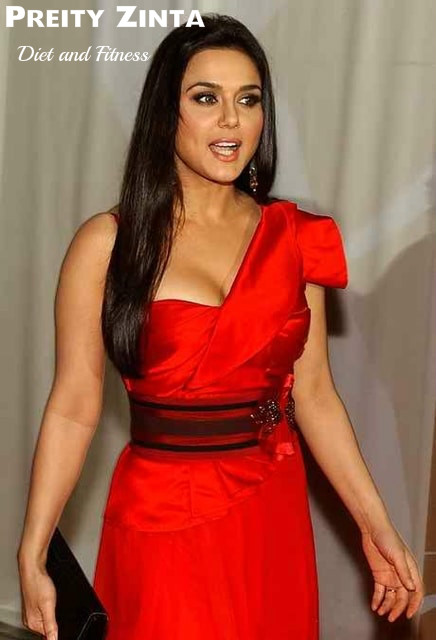 Love to dance:
Dancing is another thing that she does with dedication. It is not only for the film but it also helps in keeping your fit and well toned. She takes her dancing sessions very seriously, like most of the actresses. She believes that rigorous training and practice sessions help her in losing weight effectively and also keeps her body well toned and beautiful. Moreover, dancing is great for increasing the flexibility of your body.
Bungee jumping:
She says that she was a tomboy from childhood, and lives up to her tomboy image by going to bungee jumping in New Zealand. She goes there quite often. She loves to experience the thrill it gives her and the adrenaline rush. She has engaged herself in sports from her childhood and loves perusing adventure sports even though she has a busy schedule and hardly gets time to indulge in such activities. Sports has helped in keeping her strong and fit.
Yes to Yoga:
The hourglass shape of Preity Zinta is proof enough that she does not favour crash diets. She does yoga regularly and says that it has great healing power. Yoga not only helps in toning your body and giving your body the flexibility needed, but it also helps in keeping you calm and relaxed, and improves your concentration.
She says that you should try exercising in the morning on an empty stomach. If you cannot do any excise at that time, you can at least go for a brisk walk.
She believes in the power of motivation, from outside as well as from the inside. She keeps asking herself questions regarding her career and life and strives to perform better with each role. This kind of pushing oneself without developing a sense of complacency has helped her very much in her career and life. This is something not achieved by all.