Princess Charlotte Casiraghi of Monaco: Beauty, Makeup & Fitness Tips
Charlotte Casiraghi of Monaco is one of the most talked about beautiful royals. She looks exactly the way a princess should look: delicate features, bee-stung pout and eyes that are blue as the Mediterranean. She inherited all these from her maternal grandmother, Princess Grace of Monacco, who was known for her classic beauty. Grace Kelley was also a well known actress. Princes Charlotte is very composed and wears all kinds of dresses, and is very sophisticated.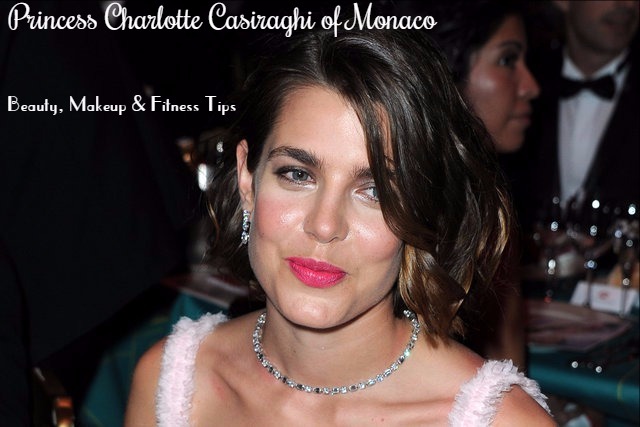 She is the daughter of Princess Caroline. She was born on August 3, in the year 1986. She is named after her paternal great grandmother, Princess Charlotte, Duchess of Velentinois.  She is very talented and is adept in horse riding, modelling, skiing and magazine editing. She is highly regarded among the elite social circle in Europe. Her immensely good looks has made her one of the riding models of the world-famous brand, Gucci. If you are eager o know about her beauty, makeup and fitness secrets, read on.
Beauty, makeup and hairstyle:
Princess Charlotte Casiraghi Of Monaco is bronze-skinned and is known for her bold eyebrows and natural long locks. She still has her thick eyebrows, but she has let herself go when it comes to her looks.
She is quite adventurous and likes to experiment with various looks. Sometimes you can see her with an aqua liner, and at other times she prefers to use darker shades of pink and red. She is never reluctant to use bold colures.
She hardly has any scars or deformities to hide. So, she need very light base coat. She is blessed with healthy skin. She visits the beauty salons and takes good care of her skin.
She has got classy and shapely lips. She uses extravagant colours on her lips and flaunts her lips to the best. She chooses from nude gloss to pink and glossy reds. With thick and long hair, she knows very well how to play it along.
Sometimes you can see her with plain school-girl type braids, while at other times you may see her with a fancy hairstyle. Now she is the new face of Gucci cosmetics. According to her, you should use makeup in a way that suits your face.
Physical Fitness Secrets of Princess Charlotte Casiraghi Of Monaco:
This royal beauty is not only stylish, but is very fond of her physical appearance. She is engaged in several sports activities. This has helped her maintain her stamina and slim figure.
She is super athletic. She is passionate about horse riding. This she does every week. She started horse riding when she was about 3 or 4 years old. Recently she has started competing seriously. Now she has several horses. She says that riding is a good workout and it uses so many muscles. She rides 2 to 3 horses every day except when she is travelling or working. You use your legs, arms and back when riding a horse. It is almost a complete sport and helps her stay in shape. She also loves other activities like swimming, skiing and snowboarding.
Eat Right to be bright:
The Charlotte princess of Monaco makes sure that she follows a healthy and balanced diet. This she has been following from her teenage years.
She takes 5 meals a day. This has helped her to maintain her weight even after she has given birth to her first son, Raphael. This is what helps her not to put on any extra pounds.
She always reads the label on the food bottles carefully and checks how many calories are there in it. This way she makes sure that she does not consume extra calories. In an interview she has said that there is no such thing as good food or bad food. What we have to keep in mind is to eat only when needed. This way you can prevent consuming too much food and gaining extra calories.
Staying busy:
Princess Charlotte knows very well how to maintain her mental and physical balance. She makes sure that she keeps herself busy with personal events, work, fashion shows and charity events.
Being a philosophical graduate from Paris, she is also a writer and editor. She publishes bi-annual magazine, which mainly deals with endangered environment.
She also helps in raising funds for Princess Grace Foundation. This foundation helps upcoming talent in dance, theatre and films, by means of scholarships.
According to her, the mantra for maintaining her inner and outer beauty is to keep herself busy and also spending some quality time for herself.
Her Style Statement:
Princess Charlotte Casiraghi has been a favourite of the media, which is something most of her counterparts have failed to achieve. The fresh and enchanting style of her dressing makes her stand out from others.
She knows how to dress perfectly for every occasion. She can fit easily into every type of attire. This includes suits, formals, cocktail dresses and even a dazzling evening gown.
This clever and trendy beauty knows very well how to turn the heads around whenever she makes an appearance. People adore the sense of humour, fashion sense and exquisite looks of this gorgeous princess.
Now that you have seen how the princess manages to look beautiful and stylish, you can also try some of these tips and manage to look amazing like her.