How to put or apply eyeliner perfectly? Tips and Ways
Without the eye liner, no makeup is ever complete. This one step must be done very carefully. You can create a number of different kinds of looks depending on the way you accentuate your eyes. Here are a few tips to help you out in applying your eye liner and giving your eyes the much deserved attention.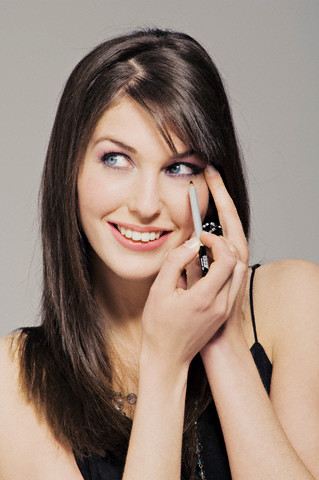 How to Choose the Right Color of Eyeliner for yourself?
Choosing the color for your liner is a tedious task, and the most important one. You must always choose a liner that compliments the color of your eye. The liner should bring out your eyes in the perfect way. A wrong color will spoil your complete makeup. So, first of all, look in to the mirror and determine the correct shade of your eye. Did you get that right? Then, read on to know the color to choose.
Black: Those with black eyes have a reason to rejoice. You can choose any color you want. All shades are sure to look great on you. You can choose your favorite color matching the occasion, your attire, or whatever you please.
Brown: those with brown eyes have very limited options to try out. The best color to suit will be the usual black. Gray is also something you can go for, as it will look moderately decent with your brown eyes. You must always remember to stay away from all shades of brown. Using brown will not look good with brown eyes. In case our eyes are extremely dark brown, may be you can go for any of the lighter shades of brown. It is a common misconception that using brown brings out your eyes. But, actually, it makes your eyes look dull and sick.
Blue: For blue eyes, be really careful while picking your color. Even in this case, black would be the best for the light blue eyes.. It makes your pupils look brighter. For dark blue eyes, black must be avoided. Use he gray to make your eyes look slightly lighter. The gray tones of your eyes are highlighted when you use the gray.
Green: Green eyes, if worked well, would give you a perfect look. Though your options are limited, you must keep in mind to use them well. In case your eyes are light green, use black. It highlights your pupils and gives brightness to your eyes. As for the dark green eyes, it will not work this way. An earthy shade of brown would be the correct pick. If you do not like brown, you can go for a gray.
Hazel: this is a mixture of both, the brown and green. You need to choose whether you want your eyes to appear brown or green.  If you choose green, use a green liner. For brown, use a brown liner. Black is a shade which will look really good on this color.
Types of Liners available in market:
You need to choose the correct type of eye liner to use for any given occasion. Here are the types:
Gel Liner: This one stays for long, is very easy to use, and has a bit of dramatic look too. This one can be used for any occasion and any time of the day.
Liquid Liner: This one is for the dramatic look. You can use it for the party night. These are very hard to use, so you must be careful in this matter.
Pencil Liner: This one gives you a simple look, and is very easy to use. Just drag the tip all along your lashes, and your lining is complete. They are matte and do not stay for long hours. It will not smudge for sure.
Steps to follow in applying the Eyeliner:
Now comes the final part. Here is a step by step instruction to apply the eye liner.
Step 1:
Take your concealer and apply it after cleaning your eyelid. Using this ensures that you eye makeup stays for a long time. With one finger tip, hold your eyelid and drag it a little. Keep the other eye open and apply.
Step 2:
Now, use the liquid liner. Start dragging it from the inner corner of your eyelid. Follow the rim line and do a thin line. Slowly and steadily, make it broader.
Step 3:
After lining the upper rim, move on to the lower one. Make sure you keep your eye open as you start lining from either the exterior or interior end.
Step 4:
Once you finish the lining, you need to complete your look by adding a kajal or kohl.
You have a number of ways to create a good look using a liner:
Look 1: An option is to create a tail by extending the upper line.
Look 2: If you are used to applying the liquid liner, you could try extending the ends on both the lower and upper lids and join the tails of both. A winged lining for your eyes will look good.
You must be careful when you use liquid liners to avoid any disaster.
Precautions to follow:
Check the applicator before you buy the liner. Take one in which the brush is thin. It must not be very chunky, even if it is sponge, brush, or felt. Since liquid liners are really tough to apply, a thin line is impossible to achieve if the applicator is bad.
The next thing you must check is the consistency of the liner. It should be slightly runny, but not too much. In that case you will find it too difficult to apply, and your eyes will turn to raccoon eyes.
Your eyes must be kept closed while applying. Be careful not to blink at all.
Let the liner dry out completely before opening your eyes. Opening in between will make all your effort go waste.
All these ideas are sure to give a good look to your eyes and make them as attractive and beautiful as possible. Try out these tips to know how well they actually work.