How to Do Rave Makeup? – Best Tips and Ideas
Rave is a large dance party in which there are performances by DJs. There may also be live performers playing electric music and so on. Laser light shows, projected images, fog machines and visual effects accompany the music. It is full of fun and outlandish styles. Planning rave makeup is also very fun. If you are planning to attend a rave party, follow the tips given below to look stunning.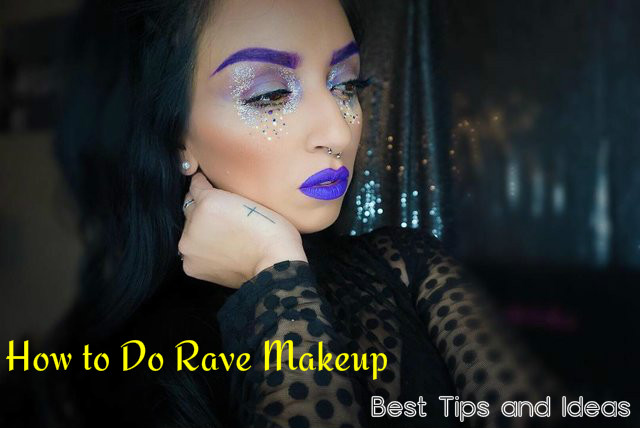 Image credits: designtrends
Rave Makeup Tips and Tutorial:
Face:
To get a matte finish skin, follow the tutorial given below.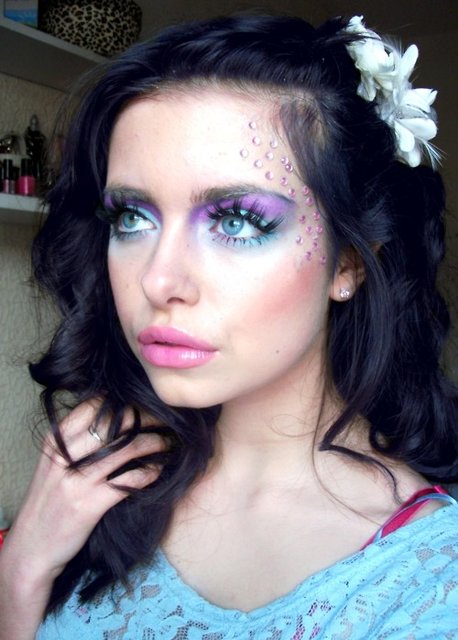 Image credits: Pinterest
Blush:
Blush helps in giving warmth and colour to your face. Apply the sexy flushed hue of Everyday Minerals Blush in Girl Friday to the apples of your cheeks. You will look gorgeous and natural in it.
Cleansing:
To achieve the matte finish skin, you have to first cleanse your skin properly. Use a deep cleanser for this purpose. Mario Badescu Glycolic Foaming Cleanser is recommended for dull and congested skin. The glycolic cleanser can reduce minor discolouration and provide you smooth and radiant skin.
Concealer:
After applying the foundation, you can apply the concealer. It helps you hide blemishes, dark circles and redness under the eye circles. You can try Clinique Advanced Concealer. Just dab it on your face after applying the foundation. It helps you get a natural and matte, powder-like finish.
Exfoliate:
Exfoliating the skin helps in providing you healthy skin with a natural glow. Get the right exfoliant for your skin type. Supper Facialist by Una Brennan Rose Hydrate Brighten & Refine Facial Scrub is a good choice. This scrub is gentle on the skin and is loaded with natural moisturizers. It has the ability to remove dull dead skin cells, burst breakouts and reduce dark spots and scars on the skin.
Foundation:
Foundation is the tricky and essential part of your makeup. It is needed for getting a flawless skin. Chanel Perfection Lumiere gives a flawless, yet natural and matte finish to your skin. It can improve the clarity of your skin without making it shiny. It is suitable for people with all skin types. Take care not to apply layer after layer of foundation on your face.
Moisturize:
Once you have exfoliated your skin, you can apply a good moisturizer on your skin. However, before you moisturize your skin, you have to apply a serum. OZ Naturals Vitamin C Serum is a good product you can use.
After applying the serum, you can moisturize your skin. Use Mary Kay Intense Moisturizing Cream for moisturizing your skin. This will keep your skin soft throughput the day and never leaves your skin greasy.
Primer:
Apply a face primer. You can apply it with your finger tips or by using a brush. This helps in preventing faux pas, like redness and puffiness around your eyes, and noticeable pores and makeup lines. A perfect primer for your skin is Benefit The Professional. It has the ability to hold your makeup in place throughout the day, without creasing. Another benefit of this primer is that it is oil-free and can make the large pores less noticeable. As a result, your skin will look fresh and get an instant glow.
Eyes:
Eye makeup for rave parries is always fun and vibrant. Lots of colours are used to make your eye makeup look stunning.
You can begin with applying an eye primer. It is a must when you are going to have a colourful eye makeup. Bobbi Brown's new Long-Wear Eye Base is a good eye primer that you can try. Across the brow bone, you can apply MAC Vivid orange and Maybelline Colour Tattoo Pure Pigments in Pink Rebel.
Next, you have to apply a yellow eyeshadow on the inner corners of your eyes. For this you can use Shiseido Luminizing Satin Eye Colour in Solaris. Once you have applied this eyeshadow, you can apply YSL Ombre Solo Smoothing Effect Eyeshadow in Topaz Blue. Apply it in the middle of the eye. Now blend the colours well. Once you have finished applying it, take Giorgio Armani Maestro Eyeshadow in 21 and apply it all the way across your lid, towards e temples. End it at the lower lash line.
Finish your rave eye makeup look by sticking artificial lashes. You can choose Andrea Strip Lashes. Follow this with Black 45 and swiping of double coats of Clinique Lash Power Feathering Mascara over the lashes.
For getting thicker and super long lashes you may apply the mascara before you apply the false lashes.
Lips:
Bright lip colour helps in enhancing your rave makeup. It creates an illusion of fuller lips and makes you look younger.
As you did for your skin, you have to first exfoliate you lips and moisturize your lips by applying a lip balm. LaRocca Shield Multi-Active Lip Balm is a good product that you can try. After applying the lip balm, you have to take a tissue paper and blot it out. Apply your lipstick only 15 minutes after blotting your lips. Next you have to take a lip liner and use it to fill your entire lips. Try Colorbar Definer Lip Liner 003 Summer Pink. Lining your lips helps in defining a fading lip and it also helps in holding your lip colour for a longer time. Next, apply M. A. C. lipstick in Flat Out Fabulous on your lips with the help of a thin brush. Once again you have to blot your lips. Apply another layer of lipstick and line your lips.
If you have any facial adhesives, such as stickers, rhinestones, sequins or glitter, put them on your face. You can also draw cute designs on your face, on the outer corner of an eye.  If you feel that your makeup may smudge or run, then make sure that you keep an eyeliner pencil or a tube of lipstick with you.