Rekha Ganesan Beauty, Makeup, Diet and Fitness Secrets
Rekha is the ageless beauty of the Bollywood. Her original name is Bhanurekha Ganeshan and she came into the film industry in the late 70s. Initially she was not well approved because of her looks. Later on, she totally transformed into one of the most beautiful women in India. Her transition from an ugly duckling to a beautiful swan has inspired many. She has great acting talents, but along with this she is also an epitome of beauty. She is very glamorous and works very hard to maintain her beauty even at this age. Everyone is eager to follow her beauty and fitness secrets, so that they too can become glamorous and stunning like Rekha.
Rekha Ganesan's Beauty Secrets: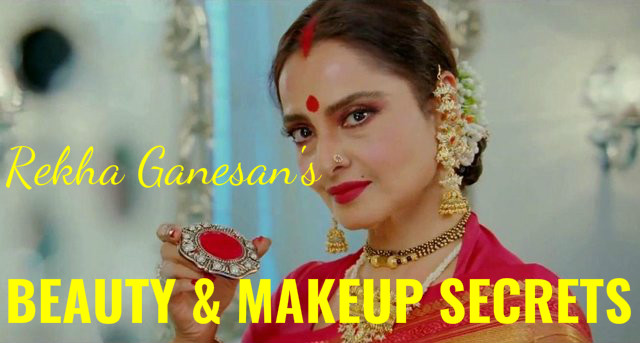 Aromatherapy and ayurveda for health:
Rekha has full faith in ancient ayurveda and aromatherapy, and their role in enhancing and maintaining your beauty. So, she includes them in her spa session at home.
Disciplined life for success:
Rekha leads a well disciplined life. She always tries to stay happy and stress free. All these have contributed in her success, personality and pulchritude.
Develop Healthy eating habits:
Rekha knows very well the importance of consuming nutritious and healthy food. So, she always makes sure that the food she eats is full of all the essential nutrients needed for the body. This has helped her to stay beautiful. She avoids consuming junk food as well as fried, overcooked and unhealthy food.
Good night's sleep:
Rekha makes sure that she sleeps early. Her never attends any late night events because she does not want to upset her sleeping schedule. She sleeps early and gets up early, and makes sure that she gets a good sleep every night. This has helped her to stay fit, healthy, beautiful and energetic throughout the day.
Natural Hair packs:
Rekha uses natural products to take care of her hair. She has great faith in the natural goodness of shikakai, amla or gooseberry, coconut oil and fenugreek seeds. So, she makes use of these products to maintain healthy and beautiful hair. Once in a week, she puts on a hair pack, which is made of curd, honey and the white of egg. This hair pack helps in providing her long, beautiful and lustrous tresses. She never combs her hair when her hair is wet, as it can break her hair. She also avoids using hair dryers to dry her hair. Instead, she allows her hair to dry naturally. She tries not to use any fancy hair products on her hair.
Water consumption per day:
Drinking the right quantity of water is very essential for keeping your skin well hydrated and to flush out all toxins from your body. So, Rekha makes sure that she drinks about 10 to 12 glasses of water throughout the day. This is one of her beauty secrets that you can follow to get a beautiful skin.
Rekha's Makeup Secrets:
Cleansing, toning and moisturizing steps:
She follows a regular cleansing, toning and moisturizing routine to keep her skin clean, hydrated and healthy. She always removes all traces of makeup from her face before she goes to bed at night.
Eye Makeup:
Rekha's eyes are bold, expressive and natural. She uses quite a good amount of eye liner and eye shadow on her eyes to make them look attractive and shapely. She also applies some mascara on her lashes to lift them up and make them look beautiful.
Makeup and cosmetics addiction:
Rekha loves to put on makeup and she looks very beautiful in her makeup. It was she who introduced oil-based makeup in Bollywood, when other actresses in those times used talc-based dry makeup. Most often she does her own makeup for her movies and she looks stunning, using bold lip colors and eye makeup.
Rekha's Fitness Secrets:
Dance and household chores:
Rekha is a good dancer and loves dancing. She practices dancing regularly. She is also a cleanliness fanatic. So, she does a lot of home chores. The home chores, dancing and gardening provide a great workout for her body.
Exercise for health and fitness:
Rekha makes it a habit to exercise daily for about 10 to 15 minutes. This has helped in making her remain fit and healthy.
Yoga and meditation classes daily:
Rekha has been practicing yoga and meditation for years. She practices yoga and meditation regularly and with full dedication. According to her, these practices have helped a lot in maintaining her beauty, her personality and her svelte body. Even now she looks as beautiful as ever.
Rekha's Dietary Secrets:
Drinks More liquids:
She believes that you have to take lots of liquids to stay beautiful and healthy. So, she drinks lots of water and consumes a generous amount of curd every day to maintain her beauty and health.
Early dinner time routine:
Rekha prefers to have her dinner before 7.30 pm. She believes that it is not only what you eat is important, but how, where and when you eat is also equally important.
Healthy meals for lunch and dinner:
Rekha always has healthy, balanced and tasty meals that are highly nutritious. The meek she takes includes a bowl of vegetables, curd, salad and hot chapattis. She feels that these are responsible for her blemish-free and clear skin, well toned body and youthful looks.
Vegan diet benefits her:
Rekha has been a vegetarian for the major part of her life. She has great faith in the spices that are used for making Indian food and believes that these spices have great healing powers. She supports consumption of fruits like pomegranate and blueberries, nuts like walnuts and pistachios, and vegetables like asparagus, broccoli and avocado. These foods help in providing you a healthy body, hair and skin.