How to Remove Makeup or Lipstick Stains from Clothes?
When you apply lipstick on your lips, it makes your lips look beautiful. But the same thing when gets smeared on your new dress or any other clothes, it can be very annoying. However, there are various ways to get rid of lipstick stains. Below are given some effective ways to get rid of stains caused by lipstick.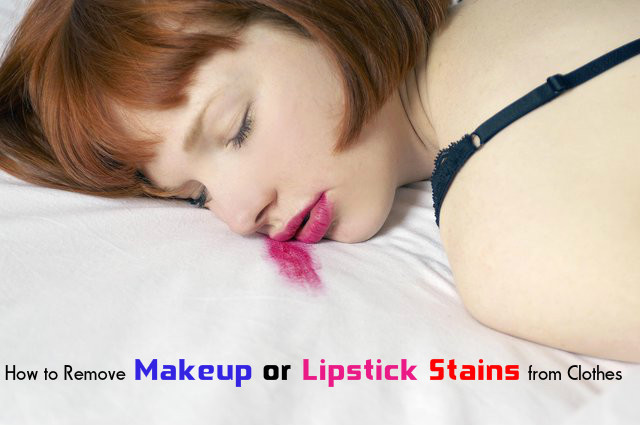 Lipstick may contain various ingredients. Usually they fall into the following basic groups.
So, you need different types of cleaners for each stain. Oil comes out with degreasers. To remove wax, you need solvents. Pigments present in the lipstick remains even after you use degreasers and solvents. They require oxidizers to get removed completely.
One of the problems with lipstick stains is that you will not notice it immediately. It takes time to set in. So, it is all the more difficult to remove it. You should try to remove the stain as soon as possible to get best results.
How to Remove Lipsticks Stains?
Removing Fabric Stains:
You can remove lipstick stains form clothes like cotton, nylon, linen, polyester and other such fabrics quite easily. Just follow the steps given below:
Take a stain removing lotion and apply it directly on the stained part. Now wash the cloth with hot water. If it remains, keep it in hot water for one hour.
Lander the stained cloth. If it is still visible, you can use solvents for removing the visible stain.
After applying the solvent, blot the stained part using an absorbent pad.
If the stain spreads, you have to apply the stain remover immediately. This process is called 'flushing'.
Let the solvent evaporate fully. You can also use dry cleaning solvents. If you can still see the stain, you can sponge the area with water and then put wet spotter with a little of ammonia.
Tamp the stained area and blot the area frequently with an absorbent pad.
Now flush it with water and then launder immediately.
This process helps in removing stains completely from the cloth.
Removing Carpet Stains (Non-washable fibres):
The method of removing lipstick stain from the carpet is same whether it is synthetic or made up of wool. You can use the same method for removing lipstick stains form rayon, wool and silk.
Take a sponge with a dry-cleaning solvent and apply it lightly in an outward motion on the part that is stained.
Once you have finished sponging, you can apply a dry spotter. Blot the part immediately by using any absorbent pad.
If you find that the stain is spreading, you can flush the stained area with a dry-cleaning solvent.
Let the solvent evaporate completely and then sponge the part with water.
Next you have to put dry spotter on the stained part and a few drops of ammonia. You should not use ammonia on silk and wool materials.
Blot the part with as absorbent pad and then flush out the ammonia.
If needed, you can apply a wet spotter with white vinegar on the blot.
Now you can flush with water and then allow it o dry.
Removing special fabric stains:
Special fabrics like fur, leather or suede may also get stained with lipstick. Removing these stains from special fabrics is not a difficult task. Just follow the tips given below:
Use a tool (dull ones) for removing the excess of lipstick stain. This is called scrapping. Scrap off the excess lipstick from the fabric.
Take a cloth and dip it in water to which mild detergent is added. Use this cloth to wipe off the lipstick mark on the fabric.
Now you have to take a clean dry cloth and use it to wipe the stained part.
If the stain still remains, you can use absorbent like cornmeal over the part.
Now get hold of a stiff brush and sweep off the staining material with it. Repeat the process if needed.
Dip a piece of cloth in dry-cleaning solvent and dab it on the stain. Make sure that you do not rub it on the stain.
Now you can use special cleaners made for the fabric and clean it.
Lipstick Stains – Best Home Remedies:
Ammonia:
Ammonia is very effective for removing lipstick stains. Start by blotting off as much of the stain as it is possible by using water. Then take a cotton swab, dip in ammonia and dab on the stain. When the stain fades, you can wash with warm soapy water.
Alcohol:
Alcohol is effective for removing lipstick stains. Do not rub it because rubbing can spread the mark. Just take a clean cloth and dip it in alcohol. Then blot the stained part with it.
Hairspray:
Hairspray also can help you remove lipstick stains on clothes. This is an old trick used by women for years. You can use it if the fabric permits it. Spray it right on the stain and leave it for 10 to 15 minutes. Then wash with water and mild soap.
Liquid dishwashing detergent:
Mild liquid dishwashing detergent can remove grease present in lipstick. Dab a little of the liquid on the stained area and wait for about 10 minutes. Then work on the stain from the outside edges to inward. You can also use laundry detergent, shampoo or any other such cleanser but make sure that they do not contain any lighteners, bleach or brighteners.
In most cases, all that you need to remove stains is to wipe on them with a clean cloth moistened with warm water. If the stain persists, you can try other methods of stain removal.