Rihanna's Beauty, Makeup, Diet and Fitness Secrets
Rihanna, or Robyn Rihanna Fenty, is a Barbadian singer, songwriter, actress and style icon, who has millions of fans across the world. She rose to fame with the launch of her debut album in 2005. Her fiery and bold personality has made girls adore her. She is known to change her style and image frequently. The way she dresses, her makeup and her appearance is followed by youth all over the world. Her mesmerizing voice, personality, stunning beauty, style, all is admired by the young generation. No wonder she is known as one of the most influential and charismatic person in the world.
Rihanna Beauty Tips and Secrets:
Disciplined day-to-day life: – Rihanna takes care to lead a systematic and disciplined life. She never compromise on her workout schedule and diet program even when she goes out of the country on tour. She is always very much focused on her work and works hard to excel in everything that she does. This has led her to attain professional success. She is now hailed as one of the most powerful women in the world. Her beauty is also unmatched.
Healthy eating: – She always has healthy and well balanced diet. This helps in keeping her fit and looking beautiful. She never eats unhealthy, spicy or junk food.
Hairstyles: – Rihanna experiments with various hairstyles. The hairstyle of this style icon ranges from sober ones to radial ones. She has also tried a number of hair colors to achieve a completely different look. As a result, she is often called trendy, fresh and stunning.
Water consumption per day: – Rihanna knew very well that drinking lots of water and sugar-free drinks is very beneficial for the skin. So, she drinks lots of water in a day. It helps in flushing out all the toxins from the body and also keeps the body well hydrated. This helps her in maintaining her skin in good condition and keeping it healthy and glowing.
Rihanna Makeup Routine Secrets: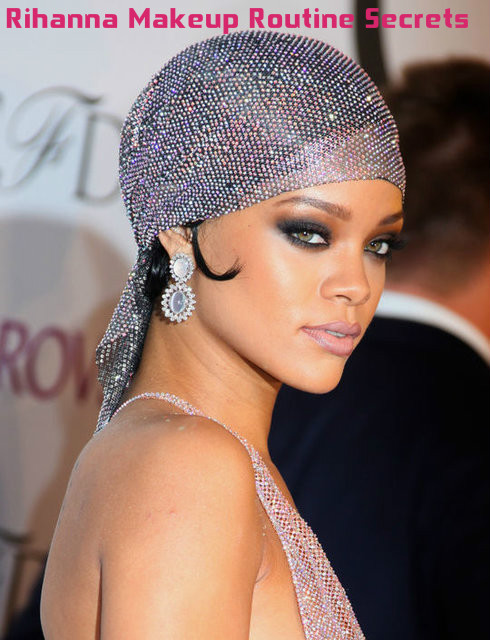 Bold and beautiful Girl: – Rihanna is a fashion queen and a trend setter among the girls. She likes to experiment a lot with her makeup, so that she looks different every time she appears in front of the public. She chooses makeup ranging from colorful, vibrant and radical ones to neutral and basic makeup. She also appears with no makeup on her face. She looks absolutely glamorous and stunning with her Smokey eyes that are highlighted, perfect color on her lips and amazing even-toned skin. She has a bronze colored flawless skin, which makes her look radiant.
Perfect skin care: – Rihanna is of the opinion that if you want to look perfect when you apply makeup on your face, you need to have a glowing and flawless skin that is evenly toned. So, she takes care of her skin by cleansing and toning her skin daily. She also takes care to moisturize her skin after cleansing and toning her skin. This keeps her skin clean and hydrated, so that she can maintain the youthful look of her skin. The foundations that she uses on her skin are light and enriched with vitamins and minerals. She uses foundations, concealers, primers etc. on her face and make her face look flawless and radiant. Rihanna prefers to use Per-fekt beauty products on her skin to attain a radiant look.
Rihanna Diet Secrets:
Balanced diet: – Rihanna does not like to eat vegetables, but sometimes she has to eat vegetables throughout the day to balance her diet and remain healthy. This way she manages to maintain the shape of her body and remain healthy and energetic. She also takes hot lemon water in the morning, which cleanses her body and helps in balancing the sugar levels in her body.
5 Factor diet: – Rihanna follows a 5 factor diet, which was planned by her trainer, Harley Pasternak. This diet allows her to consume five components, which are carbohydrates, fats, fiber, proteins and sugar free drinks.  These 5 components are incorporated in to 5 small meals a day. She is also allowed 5 cheats a week, which means that 5 times a week she can have anything that she loves to have, without any worries about the calories.
For breakfast she likes to have green smoothies, salads or Geek berries with yogurt if she is in a hurry. For dinner she prefers to have grilled chicken or fish with steamed vegetables. She takes fruits or organic guacamole as snack. She consumes about 1200 to 1500 calories per day. This, along with rigorous workouts, makes her remain fit and healthy.
Rihanna Workout Routine and Fitness Secrets: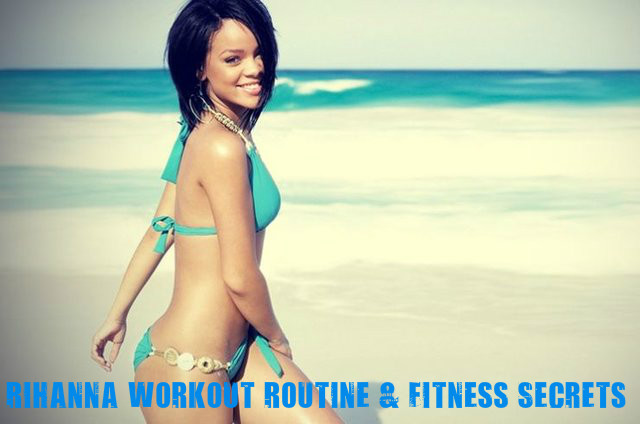 Image credits: Pinterest
Cardio routine: – she does cardio workout regularly. Biking, rope jumping, cycling, stationary jogging and jumping sacks are cardio workouts practiced by Rihanna. These exercises help her to burn her calories. It is also very effective for cutting down the extra flab and to get a well toned body that is in good shape. During her holidays, she works on a cross trainer and treadmills. She also swims and surfs regularly, which has helped her in achieving a well sculptured body.
Diet plan: – Instead of having large meals, Rihanna takes 5 small meals a day. These meals contain all the necessary criteria to complement her workout routine. It also allows 5 cheats per week.
Workouts: – Rihanna makes sure that she works out for about 25 minutes a day for 3 days a week when she is travelling. Once she settles in a location, she increases 3 days to 5 days a week and the time she works out is increased from 25 minutes per day to 30 minutes a day. She does it with full concentration and tries never to miss her workouts. This has helped in giving her a slim and graceful body.