Simple and Effortless Updos for Medium Hair to do Yourself
Most women love to have long hair. But all are not lucky enough to have it and some find it difficult to maintain long hair. They are happy with their medium length hair. You can create various hairstyles with medium length hair that will make you look stunning and stylish. So, let us find out some easy updo hairstyles for beautiful women with medium length hair.
Updo Hairstyles Tutorial for Women with Medium Length Hair:
Cinnamon roll updo:
If you are planning a hairstyle for attending a wedding or any other such important events, this hairstyle is suitable for you. It gives you a polished look, without adding too much shine. Twisted chignon matches well with any dress you wear. To make it low-key, try not to add any hair embellishments.
French knot or twist: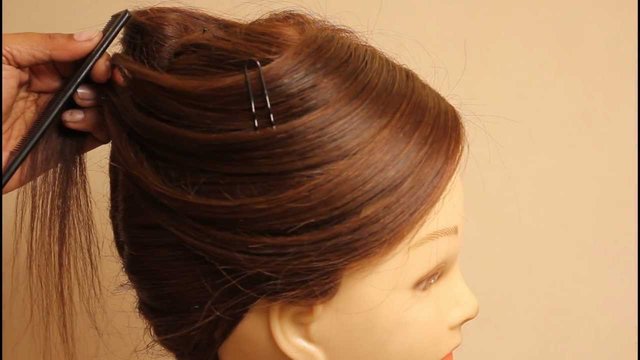 This is a classy hairstyle with a no-mess look. It is a perfect hairstyle for medium length hair that is not cut into steps. To create this hairstyle, you have to first part your hair from one side. Now sweep your hair to the back of your head and twist them to form a neat outer edge. It should have a rolled-inwards look from the other side. This is a very neat hairstyle that looks professional and elegant. It is also very easy to do. This is a suitable hairstyle for working women as it is neat and takes only a few minutes to do. One thing to be cautious about this hairstyle is that it can add or subtract a few years to your face. It depends on the outfit you pair with this hairdo. So, choose your dress carefully when you sport this hairstyle. This style may not suit very young girls.
High bun: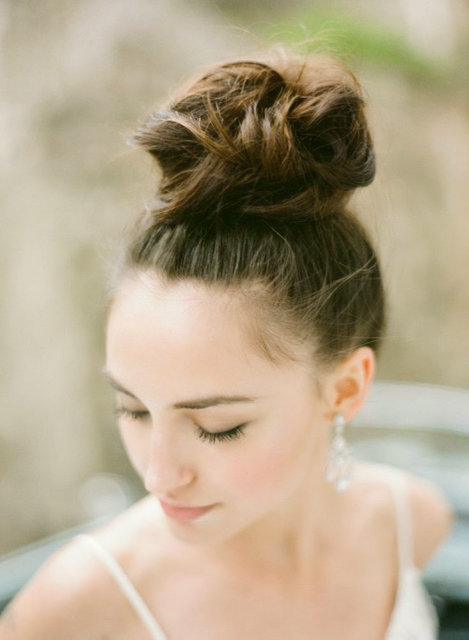 High bun is very much in vogue and many women prefer this over other updo hairstyles. This hairdo is perfect for giving you a professional look. Women with medium length hair find it easy to create and look gorgeous in this hairstyle. To create this hairstyle, grab your hair in a puff pony and then twist the hair to form a bun. Secure your bun with an elastic band. That is all. You are ready to go out. You need not apply any hairspray when you sport this hairstyle. Hair accessories are also not needed for high bun, as it is perfect on its own. This hairstyle is a good option for working women as it helps in keeping the hair away from your face, so that you can do your work without any distractions created by your hair strands.
Loose waves with bangs: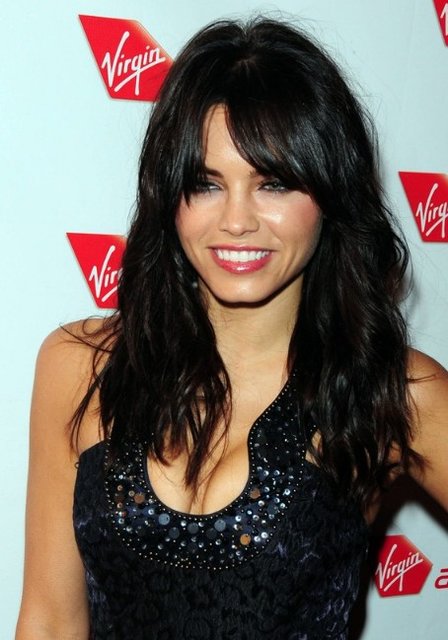 You cannot say that it is a perfect updo, but this hairstyle is regarded as one of the best hairstyles for women with medium length hair. It is an all-time favorite hairstyle for medium length hair. When your hair is slightly damp, apply some mousse on your hair. Let your hair air dry and then sweep the bangs to one side. You are ready. If you want to add some more style to your hairdo, take a section of your hair around the crown and back-comb it to create a puff, or an updo. You can change from day to evening look by taking your whole hair to one side and then creating a messy bun. To get a more glamorous look, you can add some stylish hair accessories. This hairstyle matches well with all outfits and adds elegance and grace to your look.
Low key loose updo: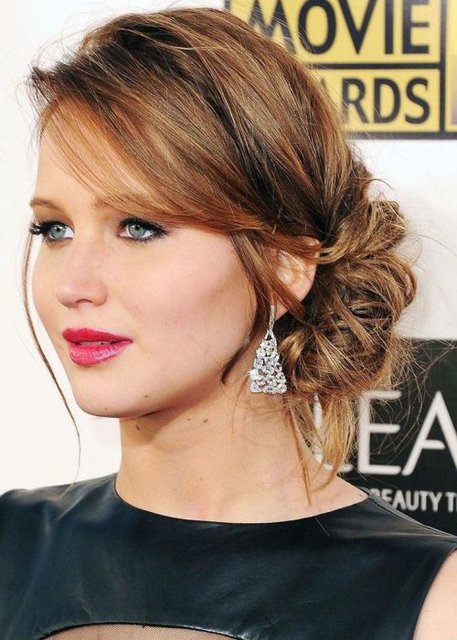 This updo is ideal for medium length hair and suitable for those who want to look formal, but do not prefer a polished and sleek look. This hairdo is also good for everyday wear. This is an easy hairstyle and does not take much time.
Messy bun updo with bangs: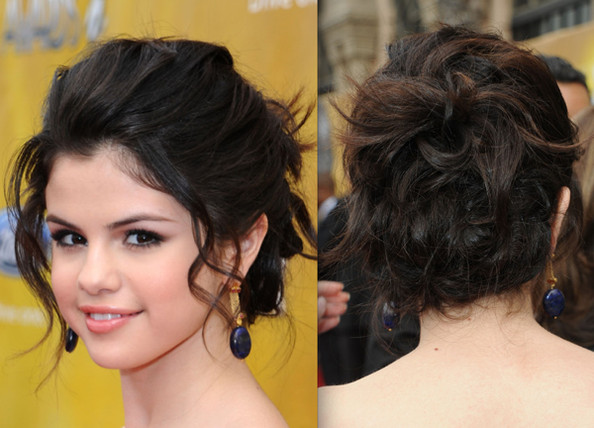 This is a hairstyle that is very much in fashion now. You can match this hairstyle with any outfit and you will look perfect. To create this hairstyle, first you have to apply a volumising mousse in your hair to give enough volume to your hair. Now make a ponytail by gathering your hair, and wrap the remaining hair around the base of the ponytail. Take care not to give your ponytail a sleek look. Secure the hair at the base with the help of bobby pins. Next you have to take a tail comb and try to gently lift some sections of hair around the crown area. This will make your hair look more dramatic. Remember to leave a few curls loose, framing your face. This will add more femininity to your face and also highlights your facial features. Finally you can use a medium hold spray on your hair to keep the style intact for a longer period of time. Try this hair when you go out next time and you are sure to turn all heads towards you!
Rosette side updo: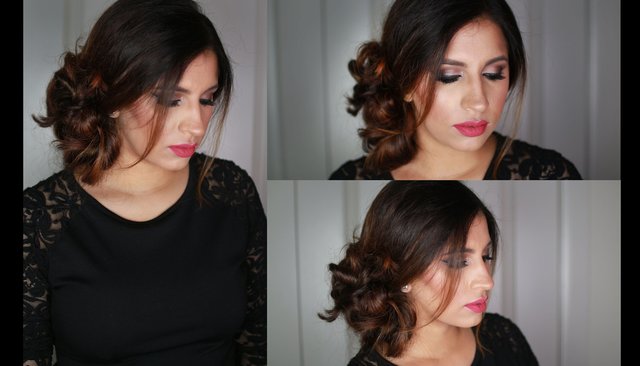 This hairstyle looks best when you do it with medium length hair. This looks simple, but on close inspection it resembles the petals of a bud that is about to bloom. Rosette side updo can be casual or classy and you can wear it at your work as well as for casual outings.
Side braid/fishtail side braid: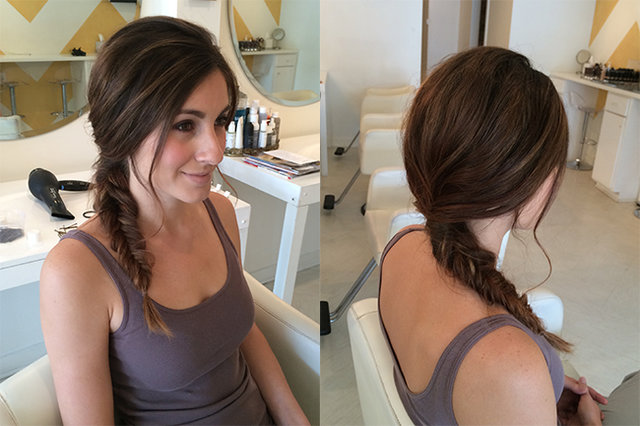 This is a hairstyle that is very popular among the celebrities these days. This hairstyle is perfect for women with medium length hair. Take your hair around the crown and backcomb the hair to add some volume to your hair. Once done, make a messy braid or a fish-tail braid, whatever you feel you are comfortable with. Now take some hair spray and apply it on your hair to keep your hair in place. This is a simple and stylish hairstyle that will make you look sexy and gorgeous.