Simple South Indian Hairstyles for a Gracious Look
South Indian beauties are known for their long hair that is thick and black in color. Girls in south India are more traditional and hardly have short hair. Most of them braid their hair rather than try any other style. However, some changes are now apparent in South India also, and they are now willing to try new hairstyles without losing the traditional touch.
Engagement and Marriage Hairstyles for South Indian Girls:
Braid and Flower wrap hairstyle:
This hairstyle provides you a traditional look. You can try this on for any special occasion and you are sure to look gorgeous in it. First you have to braid your hair to its entire length. At the end of the braid you can add tassels to make it look attractive. Now you have to take floral strands and wrap it on your braid in such a way that there is no gap between the strands. You may or may not use a hair accessory when you use this hairstyle.
Braid with 'maang tikka' and floral accessories:
This hairstyle makes you look traditional and beautiful, especially with the 'maang tikka'. Maang tikka is a hair accessory that adorns the hair. Put some strands of jasmine flowers, which adorns the hair as well as hides the knot from where the braid is made. This hairstyle is the best one for a south Indian bride with long hair.
Bun hairstyle for Indian wedding: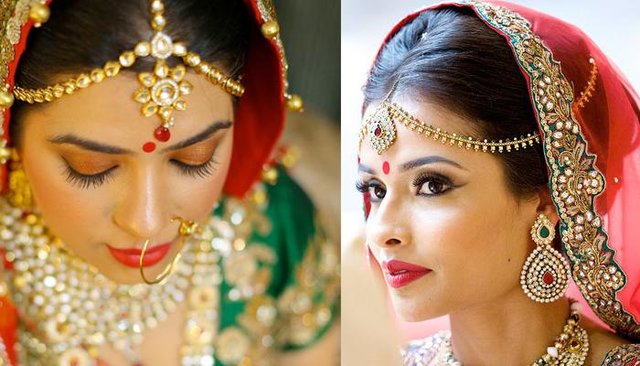 This hairstyle is different from the traditional bun that is worn by the elderly women at the nape of their neck. You can make a teased back bun. It need not be made at the top. You can make your hairstyle more attractive by adorning the front of your head with an appealing hair accessory that is in line with the 'maang tikka' but does not have a parting in the middle.
Braids, Twists and Bun hairstyle: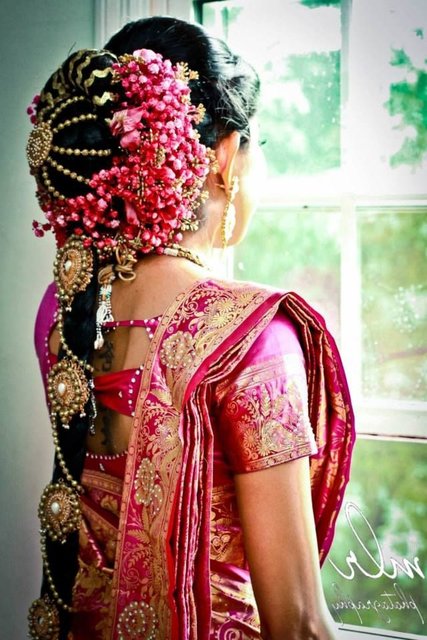 This is an attractive hairstyle with braids and a bun. This will give you a traditional look with a modern touch to it. Put on fresh flowers in your hair to complete the look. You can use flowers of two contrasting colors on your hair. Place the flower strands in a twisted fashion around your braid. You can also decorate your hair with jewels to make it more beautiful. Adorn your bun also with flowers and jewels.
Bridal Flower crown look: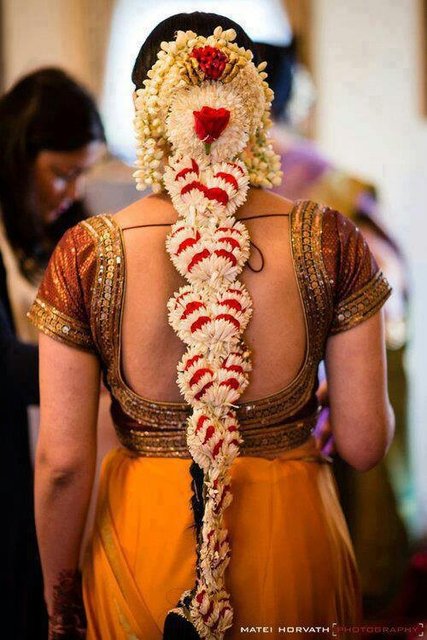 Crowned and garland look makes you traditional and beautiful. It is not complete without using bold hair accessories. Here also you need long hair to get the look. Braid your hair from the nape of your neck to the end and then adorn your braid with lots of flowers and hair accessories. At the very top of your head, put a small crown to impart a celestial look. This hairstyle looks best width lots flowers. If you do not have enough flowers, you may not get the perfect look.
Full length floral look hairstyle: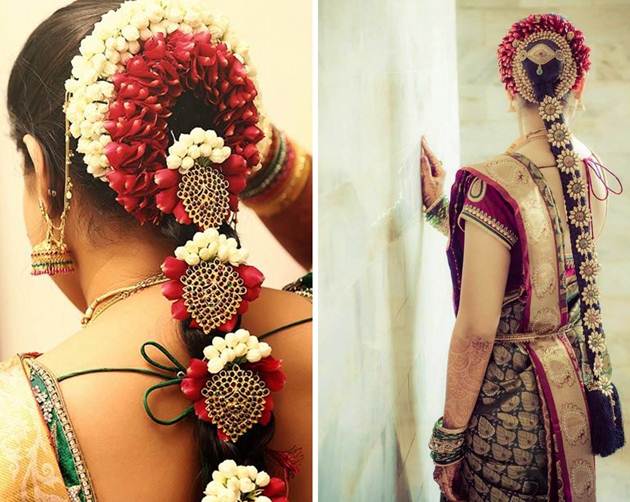 This is another braided hairstyle that you will love to try. Here the entire length of your hair is covered with flowers. You have to take a middle parting before you braid your hair. Put on a heavy 'maangtika' on the middle parting and this completes your look. Brides are often seen wearing this hairstyle. You can also try it on other important functions and look graceful and pretty.
Gorgeous Jewelled look:
This is a very simple hairstyle, but it can provide you a glamorous look. South Indian girls often prefer this hairstyle for special occasions like weddings, festivals, parties and other such events. It is very simple to style and does not take much time. Try it only if you have tight kind of accessories. If your hair is not long enough, you can achieve this look by using hair extensions and making your hair look long.
Messy bun hairstyle for Indian wedding:
Messy bun is also now turning out to be a trend among girls in south India. You can do a coiled bun, a movable bun, braided bun, a side swept bun or any other type of bun you prefer. Adorn your bun with hair accessories to give it a festive look.
'Maang tikka' on hair with black pleats:
To crate this hairstyle, you have to first part your hair in the middle at the crown. The 'maang tikka' is placed on this parting, tightly at the back from where the pleats are made. Adorning your hair with jasmine strands gives you a regal look.
Natural and Elegant black bun:
This hairstyle is perfect for elderly women going for a party or a get-together. They will look elegant and graceful in this hairstyle. If your hair is not very voluminous, you can use a false hair accessory like a bun to provide extra volume to your hair. Decorating your bun with beads, semiprecious stones and floral accessories make you bun even more attractive.
Soft style pleats:
You can achieve retro style hairstyle by first doing a bouffant to add some more volume to your hair. After that you can tie your hair in a neat pleat running on one side. Once you put the bouffant in place, you can brush the remaining hair to one side. Then you can braid it so that the braid stays on one side only. If your hair is not long enough to give you this look, you can make use of hair extensions and achieve the look. Now put a big flower on your hair, and this completes the retro look.
South Indian wedding hairstyles for girls include beautifying the hair with flowers and decorating it with hair accessories. So, buy the right kind of accessories before you try on this hairstyle. A beautiful hairstyle will make you more glamorous.
Image credits: 1, 2, 3, 4, 5, 6, 7, 8, 9, 10, 11