Sonam Kapoor Weight Loss, Diet Plan, Workout & Fitness Secrets
Sonam Kapoor is the right person if you are looking for inspiration to lose weight. Presently she is one of the trend setters in the fashion world. She has worked hard to get the fit body that she has today.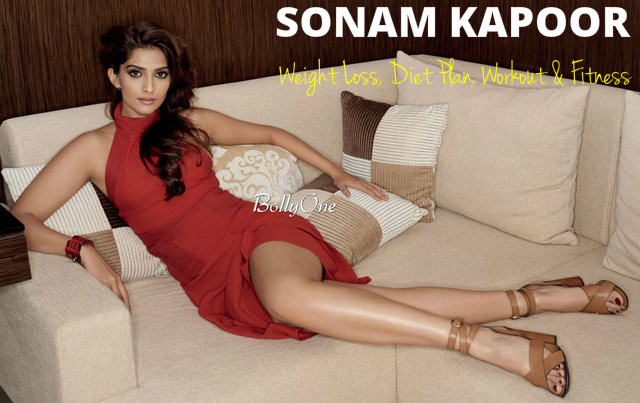 Diet Plan and Weight Loss Journey of Sonam Kapoor:
Sonam Kapoor Workout Routine:
when she was 90kg:
Sonam Kapoor was not always as slim and fit as she is now. In her early 20s, she is said to have weighed about 87  90 kgs. The reason for her increased weight was sedentary lifestyle and unhealthy eating habits.
How she lost weight:
She started thinking seriously about losing her weight after she had signed for playing the lead role in the Sanjay Leela Bhansali's film 'Saawariya'. She started working out for losing weight with the help of her mother and her personal trainer. She says that her mother had contributed a lot during her struggle for losing weight. Her mother was very strict about her diet and kept her away from fatty and sugary food items like chocolates, ice creams, fried food and sweets.
In this way she succeeded in losing as much as 35 kg of weight. It was a combination of planned workouts and the correct diet. She not only visited the gym, but also practiced swimming, kathak, power yoga and cardio to lose weight. These activities helped in toning her body and giving her the right curves.
Her personal trainers are from various fields, like:
It is Zarine Watson for her general fitness.
For Power yoga, it is Bharat Thakur.
For weight training it is Shervir and Monisha.
For Pilates it is Yasmin Karachiwala.
During her school days she was very much involved in sports. This helped in keeping her body flexible. Rugby, basketball etc are some of the sports she loves.
Sonam focuses on one part of her body each day. For overall calorie burn, she does cardiovascular exercises. She also does weigh training exercises and makes it a part of her workout regimen as it helps in burning calories and building up the muscles.
Sonam Kapoor's workout regimen:
She works-out daily to maintain her slim and trim figure. Here is a sample of her workout regimen.
Jogging: Every day in the morning she makes sure that she goes for jogging.
Yoga and meditation: Stress is one of the main reasons for gaining weight. Meditation can help you get rid of stress. So, Sonam practices yoga and meditation daily for about 30 minutes. This keeps her away from stress.
Cardiovascular exercise: Sonam does cardiovascular exercise for 30 minutes. This helps in burning the extra calories and keeps her fit.
Dance: Dancing is an easy way to burn calories without straining your body. Dancing also helps in toning the body.
Swimming: swimming is great for giving a good workout for the body and very effective for the upper body. It is also good for the shoulders.
Squash: Engaging in sports is an excellent way to remain fit and healthy. She plays squash at least twice a week.
Sonam makes it a habit to drink green tea without adding sugar every other day.
Sonam Kapoor Diet Plan:
Sonam takes small meals many times a day instead of taking large meals three or four times a day. She eats every two hours. This helps in giving a boost to her metabolism. She says that heavy physical workouts throughout the day make her hungry. This is the reason why she eats every two hours. She also consumes dry fruits and nuts to satisfy her hunger pangs. The drinks she prefers to have are coconut water, cucumber juice and buttermilk. She takes care not to include excess of sugar and salt in her diet because both these can cause a gain in weight and water retention.
Sample diet of Sonam Kapoor:
Sonam Kapoor starts her day by drinking a glass of lukewarm water to which honey and lime juice are added. This combination is said to be a good way to lose weight effectively.
She takes five meals a day. She makes sure that the meals she consumes are highly nutritious and supply all the nutrients needed for the body.
Sonam's Breakfast:
For her breakfast, Sonam Kapoor includes toast, egg omelette, enough fluids, one seasonal fruit and water. She also drinks green tea without adding sugar.
Her pre-lunch (Mini meal):
For this she takes brown bread with egg white or protein shake. This helps in satisfying her pre-lunch hunger pangs.
Sonam's lunch:
For lunch she prefers to have roti, vegetables, curd, chicken and fruits. She tries not to consume red eat because this can lead to a gain in weight.
Her pre-dinner/supper (Mini meal):
To curb her evening hunger pangs, Sonam takes in brown bread and egg white omelette. Often this part of the diet can mess up a carefully planned diet of the day. So, make sure that this part of the duet is properly planned.
Sonam's dinner:
Sonam Kappor takes her dinner as early as possible. She takes care to keep a gap of at least 3 hours between her dinner and bed time. For dinner she usually has grilled fish, salad and chicken sandwich. She also drinks a glass of protein shake.
This is how Sonam Kappor transferred from fat to fit. She still maintains her figure with the right diet and exercises. You should understand that weight loss 70% nutrition and 30% working out. To lose weight effectively, you should maintain discipline. Workout systematically and plan your diet carefully. It is also important that you stay motivated. All these help in losing weight effectively and easily.