Sridevi Beauty, Makeup, Diet and Fitness Secrets
Sridevi is a diva of the film industry and has worked in Hindi, Tamil, Malayalam, Telugu and Kannada movies. She is considered as the first female superstar because o f her beauty and acting skills. She has millions of fans across the globe. Despite being in her early 50's she manages to look 10 years younger than she actually is.
She is known for her beauty and upbeat fashion sense. Only a few women can incite instant envy like this gorgeous lady. Every time she stepped out, the beauty world imploded. If you want to know what makes her so outstanding, read on and you will get the answer.
Sridevi Beauty and Makeup Secrets: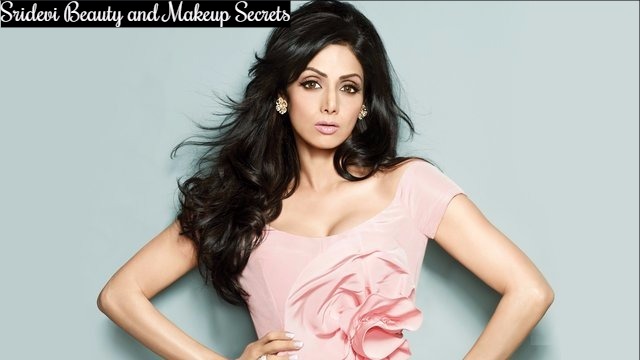 Sridevi avoids hair care products that contain chemicals in them. Like most Indian women, she has long and lustrous hair. She follows a regular hair oil massage to increase blood circulation in her scalp. This makes her hair look healthy and beautiful. She keeps her hair natural and never dyes them with different colours. She also avoids different sorts of hair treatments and styling as it can be bad for hair.
The only makeup products that she needs to get ready for the day are eyeliner, lip gloss and her La Prairie Platinum Cream.
She likes to wear different shades of lipsticks, but she never goes overboard or makes any makeup blunders. She has been seen in different shade of lipsticks like red, brown, dark pink. Al these look good on her. She is also seen in lip glosses that are mainly in pink and brown. They help in giving her a cool look when she goes out.
She loves to make her eyes smoky. This gives her a sunken appearance. She is seen to put a lot of stress on black eye shadows. She lines her eyes perfectly with kajal and applies light colours on the lids. She uses shimmer and pearlescent sheen to pop them up. This grad the light on the lid and below the brow bone.
She recommends people to get head massage as frequently as possible to increase blood circulation. She also suggests using only fruit packs.
She prefers to keep everything simple in her day to day life. She says that the ultimate beauty blunder is to sleep with makeup on. She says that the makeup products can contain chemicals in them. If you sleep with them on, it can damage your skin.
Mother of two young girls, she follows her beauty regime regularly with dedication. She makes sure that she eats healthy food five times a day. To keep her body fit, she practices yoga regularly. She also drinks lots of water and liquids. This helps in keeping her well hydrated.
Sridevi uses glycerine mixed with rose water to treat her skin. This is in fact her first beauty product.
Sridevi's major rule for beauty is living with grace. You can see this by looking at her. She never overdoes on makeup or fashion. She is not one who uses too many products on her face or on her hair. If she does apply a little extra makeup, she takes extra care.
Sridevi Diet Discipline: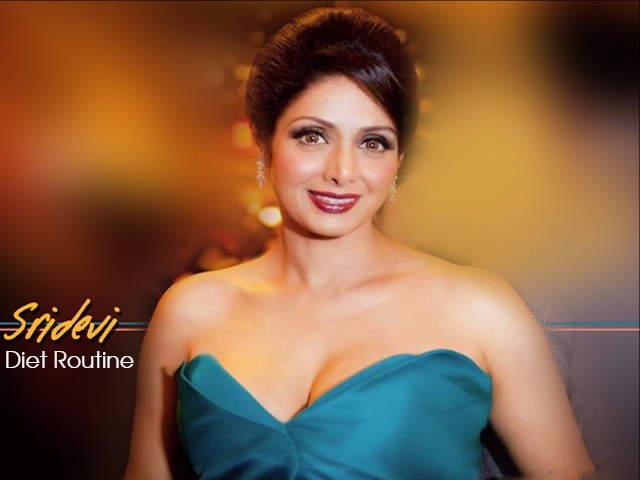 Sridevi does not follow a specific diet. She starts her day in the morning with two glasses of lukewarm water to which honey and lemon are added. After a while she takes a cup of herbal tea. Before she has her breakfast, she makes sure that she takes her vegetable juice. For breakfast she prefers to have oatmeal or a bowl of muesli with skimmed milk and honey. She also adds lots of dry fruits to it.
For lunch she takes smoked or grilled salmon with feta cheese and lots of veggies.
For dinner she prefers to have vegetable soups, roti and curry. Sridevi takes care to eat every two hours between her lunch and dinner. The snacks she prefers include sautéed peanuts, a whole fruit to keep her metabolism function well, lots of goat cheese with multigrain crackers etc. Sometimes she cheats with dark chocolates.
Sridevi Fitness Files: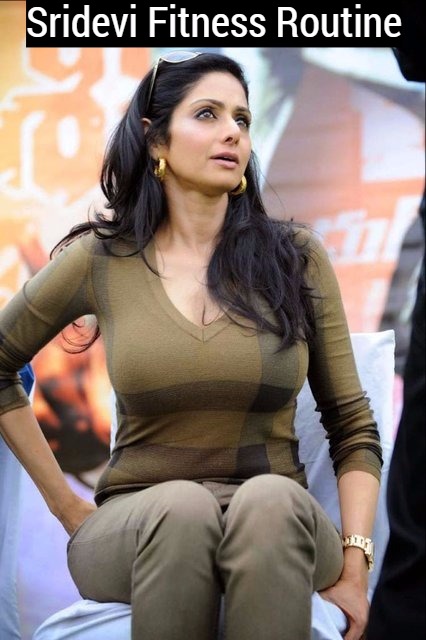 Image Credits: Google+
For sridevi, it is all about positivity, power yoga, spending time with family, tennis and so on. She says that if you are happy inside, it will reflect on your face as well.
Sridevi loves playing outdoor games like tennis. The credit for this goes to her kids Jahnavi and Khushi Kapoor. She is also a great believer of power yoga. She practices this every day. She goes to the gym also. She makes it a practice to go jogging with her daughters.
Beauty Resolution of Sridevi:
According to Sridevi, just running to the salon for doing facial is not enough to take care of your beauty. She says that taking care of your skin is like taking care of other aspects of the body. You should be consistent with the routine. A beauty tip that she gives to every woman is to pamper your skin enough, because we deserve it.
She tries to look as natural as possible and keeps her makeup minimal. This makes her look younger. She recommends face packs of fruits for the skin to stay well nourished and beautiful. Everybody puts on makeup to look pretty. But Sridevi believes that being happy is most important.
Sridevi Spa Secrets:
Sridevi loves going for deep and intense massage at The Four Seasons Spa at Provence and Banyan Tree in Phuket. She also enjoys going to the Mariott, Pune for honey scrub, massage and special fruit facial.