Summer or Spring Makeup: Tutorial, Trends and Expert Tips
When summer comes, we love to experiment with vibrant and fresh colors, which range from dresses, to hats to nail shades. With everything bright, we should add it to our makeup too. Let us try the bright summer makeup, which will make you look gorgeous this summer.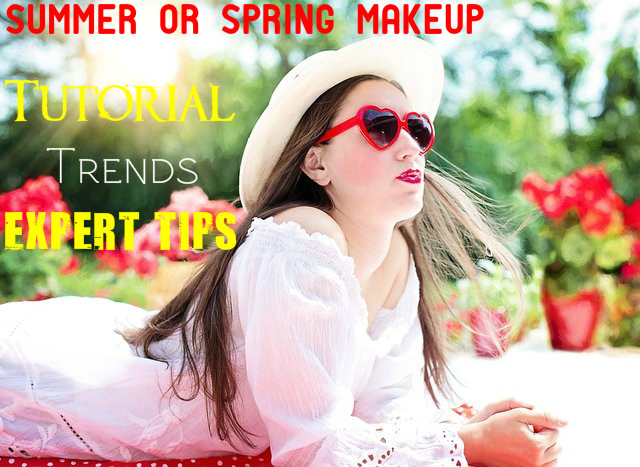 Fresh Summer Makeup Tutorial:
Applying eye primer and eye shadow:
Apply an eye primer first and then apply a taupe colored brown creamy eye shadow base to your eyelids. This prevents your eye shadow from melting or creasing off in the hot summer.
Enhance Colors:
Apply the same taupe brown eye shadow over the cream base so that the intensity of the color is increased. Soft shimmery taupe color eye shadow from Elf Day on the Beach eye shadow palette is a good choice. You can use flat eye shadow brush to get the maximum color.
Special effects turn eyes on:
Create peppy eye effect to the eyes. To get this effect, you have to apply a soft peach-like orange shade on the pouter corner of your eyes and slightly above the crease area of your face. This will create a vibrant effect to your eyes.
Select ideal gel liner and pencil:
Apply jet black gel liner on your upper lash line. You can apply thin or thick gel liner as you wish. Now soften the eye look using a pencil or smudge brush.
Create a sexy cat eye look:
You can create cat eye look or winged eye look. You can use the Kryolan black liquid liner to draw a small cat eye liner.
Add color to lower lash line:
Apply color to lower lash line with the help of a flat tip brush. This will help to inject some more color to the smokey eye.
Apply Mascara before false eyelashes:
Applying a little mascara help in making your eyes stand out. Adding false eyelashes completes the look.
Face Makeup:
Choose oil free base and blush:
In summer you can apply a lightweight formula base on your face. BB creams are good for summers as they are lightweight and do not melt when the temperature is high. Set it with a compact powder that is oil free. This will prevent shine and oiliness of the skin. On your cheeks you can apply a light peach-like pink blush to get a fresh and soft look.
Apply Bronzer for a Natural Sun-Kissed Look:
You can apply bronzer to the hollow areas of your cheeks. This will give it dimension and provide a sun kissed effect to your skin. Lakme Moonlight Bronzer is a good choice.
Lip Makeup
Apply bold and bright lipstick:
Apply a bright lipstick on your lips. You can choose orange color or lip color. You can use Inglot lipstick refill no. 10.
Now you are ready with your vibrant summer makeup!
Hottest Makeup Trends for this summer:
The Nude makeup look:
One of the trends in summer is applying very little or barely-there makeup. This is simple but makes your look gorgeous. It matches well with any style. You can have bronzed skin or translucent skin, according to your preference. Bronze skin tone is warm and ideal for summer. It provides and elegant look without the need for too much makeup. Adding a touch of peach blush provides a healthy glow to your skin. For translucent look, apply a foundation that is same as your skin tone. This makes you look fresh in the hot summers. Match your nude makeup with a little gloss or lip color, and you are done.
Expressive and Eccentric Colors for Eyebrows:
If you want to look trendy and fashionable, you are going to love eccentric eyebrows. You can apply different colors and shades and look stunning.
Blue eyeliners and shadows are so pretty!
Although black eyeliner is always in fashion, you can try blue eyeliners this summer. You can choose turquoise or light blue color. If you do not want to experiment too much with your eyeliner, just use blue eye shadows instead. This will make you look cool in summer.
Achieve the perfect Bold cat eye look:
Cat eyes are loved by all. But this summer you can make them bold by creating graphic swoops. This looks wonderful with any color. You may even use red eyeliner to get this look. Blue, taupe, orange and metallic colors are also good choice. Choose a color matching your style and personality.
Glitter to make your eyes sparkle!
This is in fashion once again. Glittery eye makeup makes you look trendy and smart. So, go glittery this summer.
Smokey eyes is timelessly sexy:
Smokey eyes look good in summers too. You can choose brown and black, or trendy colors like green, blue and yellow. You may also mix earth tones with metallic.
Red lips are forever:
If you want to highlight your lips rather than your eyes, then you can use bright lip colors. Red lipstick is always in vogue in summers. Look classy and chic with red lipstick in various shades. Both matte and gloss are in.
Wine-stained lips:
Lipsticks in berry shades are another hot trend for lips. This gives your lips a wine-stained look. Wearing this in any style makes you look stunning and catch everyone's attention.
Light and Bright Lipstick Colors:
If you do not like dark lipsticks, then you can have light and bright lips. Choose lipsticks in bright shades of orange and pink. This will make you look stunning and youthful. Pastel pinks provide a softer look.
Expert Summer Makeup Tips to Look Gorgeous in Summer:
Use pink and nude lip colors for a clean natural looking face. Use face powder instead of blush.
Substitute pink shade for mocha blush to get a sun kissed glow.
Wearing a bright color on your cheeks makes you look healthy and fresh.
Use mineral makeup in summers to look fresh and natural. It is gentle on the skin and does not cause any breakouts.
Keep your lips hydrated in summers by using tinted lip balms or hydrating lipsticks. Avoid glossy lips. Your lips should look moist but not glossy. Lip products with SPF protect your lips from the UV rays.