Tamannaah Bhatia Diet, Exercise and Workout Plan
Tamannaah is one of the most beautiful actresses in South India. She is very humble too. She has a slender figure, starry eyes, porcelain skin and dark locks. She is breathtakingly beautiful and takes good care of herself to maintain her figure and beauty. She looks beautiful on screen as well as off screen. Her healthy lifestyle makes her look fresh and energetic.
Tamanna Bhatia Diet Plan: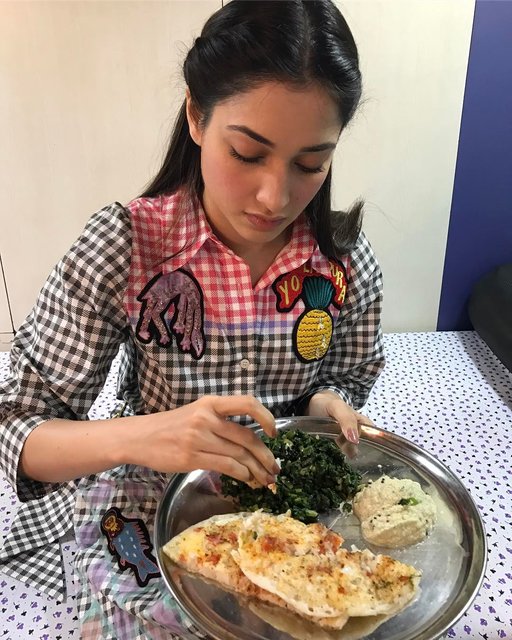 Tamannaah takes care to have simple and healthy food. Her diet chart is prepared by the famous celebrity dietician, Pooja Makhija. She follows it strictly. Here is an example of her diet chart.
Early morning – 1 cup of lukewarm water with lemon juice and honey, and 6 soaked almonds.
Breakfast – idli/dosa/oatmeal
Lunch – 1 cup of steamed rice, 1 cup dal and veggies
Dinner – egg whites/chicken/fish, veggies/sahi bhaji
Why does this work?
Lukewarm water with honey and lemon juice helps in removing toxins from the body. Almonds are rich in healthy fats and this helps in reducing the inflammation of body. In the morning Tamannaah prefers to have foods rich in carbohydrates in the morning. So, idli or pancake (dosa) is one of the best choices. This taken with chutney or sambar makes it very delicious and healthy. Oatmeal is a rich source of dietary fibre. This prevents the absorption of fat by the body and increases satiety. White rice or brown rice with vegetables and dal is a well balanced food with proper amounts of nutrients in it. For diner Tamannaah likes to eat foods rich in protein. This helps in giving a boost to her metabolism.
Tamannaah Weight loss Rules:
Tamanaanh takes care to eat every 2 to 3 hours. This helps in keeping her metabolism active.
She remembers to drink at least 3 litres of water every day.
Tamannaah also drinks fresh coconut water and freshly prepared fruit juices.
She loves to snack on yogurt. This helps in ensuring that her digestive functions are carried out smoothly.
She loves to eat pasta, chocolates and rice. But she takes them in moderate amounts.
She tries to have home-cooked food as far as possible.
She tries to avoid sugary foods.
In addition to following a simple and tasty meal plan, she also stresses how important it is to keep you fit. According to her, as she said in an interview, fitness is like brushing your teeth and you must include fitness in your daily life. So, below is given the workout plan of Tamannaah that helps in maintaining her svelte figure.
Tamannaah Bhatia Workout Plan: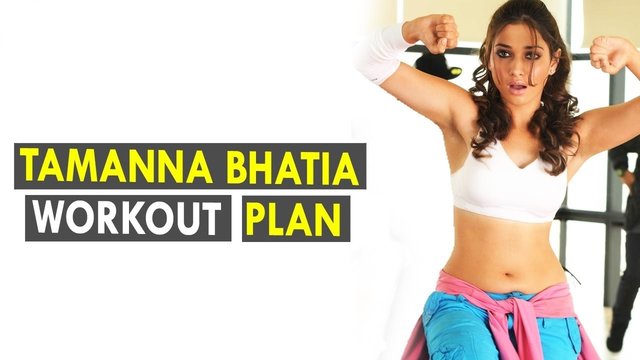 Functional training – She does this to boost flexibility of her body and also to boost balance, stability, endurance and strength.
Cardio – Cardio workout helps in burning the calories. So she does it to get rid of the extra fat in her body.
Weight training – This she does to improve her muscle power, endurance and muscle strength.
Running – Running provides a good workout for her whole body when she cannot go to the gym.
Yoga – Yoga helps in detoxifying her mind and bringing positive energy.
Apart from having a healthy food and working out for keeping her body fit, Tamannah also gives stress to a healthy lifestyle. According o her, if your lifestyle is not fit, then you cannot work properly. An unhealthy lifestyle can reflect on the screen. So, she follows a healthy lifestyle and this plays an important role in enhancing her beauty. Here is what you should do.
Lifestyle Changes That Will Help You Get Healthier:
Avoid junk foods and have home cooked food:
Junk food is not good for your health and can lead to many diseases if you have it regularly. It better that you have home cooked food as it is devoid of any artificial flavourings and colures. You can prepare it according to your requirements and make sure that you use good quality ingredients.
Drink water when you get up:
Try to drink 2 to 3 glasses of water as soon as you get up in the morning. You can develop this habit gradually. Water helps in flushing out the toxins from your body and also helps in improving your bowel movements. Drinking water in the morning also helps in stimulating and waking up your brain, vital organs and cells, thereby enabling the cells to function in a better way.
Eat breakfast:
Never skip your breakfast. Our cells and organs cannot function properly without food. Your metabolic rate can go down and there is also a decline in your brain functioning if you do not have food. So, make sure that you have a healthy breakfast.
Identify the triggers:
All habits have triggers. So, the first step to leading a healthy lifestyle is to find out the trigger. Try to figure out what is it that starts your craving for junk. Are you eating uncontrollably when you are sad, etc? This way you can train yourself not to give in to temptations.
Say hello to morning sun:
Morning is a time that is pure and beautiful. According to research made, those who wake up in the morning are more productive, active and successful. So, make it a practice to get up early in the morning and inhale the fresh morning air. This will help you start your day with new enthusiasm and hope.
Stretch and turn:
After you drink water, remember to warm up, stretch and exercise. You need not do weight training. Just do some simple exercises that help in waking up your bones and muscles. Yoga and meditation are also good.
Sleep:
Make sure that you sleep for at least 7 hours per night to allow your body to repair and heal. Keep fixed times for sleeping. Sleep about 2 to 3 hours after dinner.
Write your goals:
Try to write down your goals in a journal and give yourself a deadline. This will make you stick to the plan and reaching your goal. So, maintain a journal and make sure that you write down your short-term and long-term goals and remain motivated.
In addition to this, eat green and leafy vegetables and healthy fats. Another thing is to do something that you love for at least half an hour a day.