Tips to Get Fair & Glowing Skin in Summer Season at Home
You have to take proper care of your skin during the summer times as the warmth of the sun, heat and hot wind can lead to various skin problems. It can make your skin look dull and rough. It not only makes your skin tanned, but also clogs the pores due to too much of sweating. The sweat coupled with dust and grime can clog the pores. So, you must pay special attention to your skin in summer. Here are some home remedies that will help you have healthy glowing skin in summer.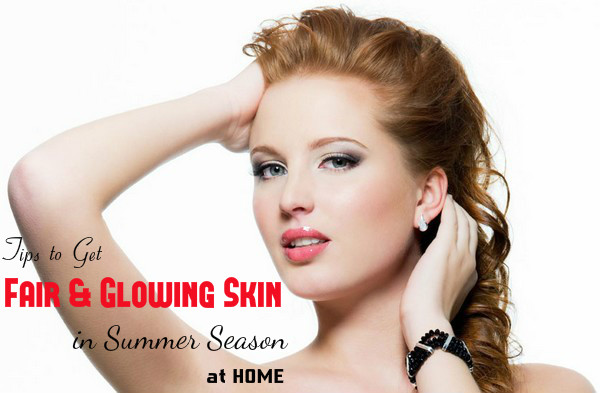 How to Get Glowing Skin in Summer?
Cleansing:
It is important that you cleanse your skin two times a day with a good quality cleanser. If you have an acne prone skin, choose a cucumber and aloe vera gel based cleanser. You can also prepare cleanser at home using natural ingredients. Mix plain yogurt with honey and this makes a good cleanser. It cleanses as well as moisturizes your skin. Apply it on your skin and wait for about 10 minutes. Wash off with water.
Exercise:
Exercise helps in removing toxins from your body and giving you healthy and glowing skin. You can do simple workouts or yoga in the morning. If you feel lazy to do workout, walk as much as you can. This will make you energetic and help you lose extra pounds, providing you healthy and fresh skin. Exercise is also good for increasing the blood circulation and provides your skin a natural glow.
Exfoliate:
Exfoliating the skin is very important if you want to get a glowing skin. So, along with using a moisturizer, make sure that you exfoliate your skin regularly. Exfoliation helps in removing the dead skin cells that get collected on the face and other parts of the body. You can use an exfoliating sponge or a massager to get rid of the dead skin cells. You can make a body scrub at home by mixing a paste of oatmeal, besan and milk. Rub this on your entire body for 3 minutes and then wash off with water. Using this 2 to 3 times a week can help your get rid of the dead skin and get a glowing skin.
Food intake:
Your skin reflects what you eat. Make sure that you do not have too much of snacks and salty products as salt may have a dehydrating effect on your body. You can consume fruits and vegetables with high water content like watermelon, oranges, cucumber and lettuce. These will provide you the nutrients you need as well as the anti-oxidants needed for the body. Have lots of grin vegetables. These help in improving your immune system and also help in decreasing the stress levels. If you are a non-vegetarian and hardly take any vegetables, try to reduce your meat intake. Meat takes time to get digested and it also causes a rise in the body temperature. This can lead to the appearance of ugly pimples.
Moisturize:
Whatever the weather condition, make sure that you moisturize your face and the body. Try to use water based moisturizer and massage it gently on your body. This will give you soft and smooth skin. The best time to use it is after the shower, when your body is still damp. Moisturizing your skin at night will make it glow and protects your skin when you sleep.
Steaming:
Steaming helps in opening the pores that are clogged and removes all the dirt that has collected on your skin. Make it a habit to steam your face once in a week. Steaming is suitable for all types of skin and it provides you a skin that is softer and clearer.
Sunscreen:
Whenever you step out in the sun, never forget to apply a sunscreen with high SPF on your skin, about 30 minutes before you go out. This helps in protecting your skin from darkening and skin damage and also protects you from the harmful UVA rays, which can cause skin cancer. If you spend long hours in the sun, reapply the sunscreen every two hours. Choose a waterproof sunscreen. It is better if you can stay indoors during the time between 10 am and 4 pm, when the rays of the sun are very harsh.
Toning:
Toning the skin is necessary to moisturize your skin and balance the pH level of your skin. Toner removes all traces of makeup, dirt, and toxins, and rejuvenates your skin. You can make a toner at home by combining equal amounts of rose water and glycerin. Apply this very night on your face and you will see that there is a reduction in the blackheads, pimples and other marks that are on the skin.
Tan:
To remove the tan on your skin, you can make a mask at home. Grind 2 to 3 almonds to get a paste. Mix it with 1 teaspoon of lime juice and 2 teaspoons of milk. Apply this on your face and leave it overnight. Wash your face with lukewarm water the next morning. This removes the tan and also provides you a skin that is healthy and glowing.
Another effective remedy for removing tan is to mix honey and lemon juice in equal quantities. Apply this on your face and wait for 20 minutes. This is very effective for removing tan. Cucumber juice is also good for removing tan.
Mix one teaspoon if gram flour with a teaspoon of milk and a few drops of lemon juice. Apply this paste on your face and wait for 30 minutes. This is very effective for removing tan and providing glow to your face.
Water therapy:
Nothing can work better for you skin than water. Water not only helps in quenching your thirst, but it also helps in removing all toxins and waste that get accumulated in your body. So, you need to take in enough of fluids. Have fruit juices, coconut water, buttermilk, green tea or plain water in good amounts to make your body cool and well hydrated. Green tea is rich in antioxidants, which have the ability to get rid of dead skin cells. It also has anti-inflammatory and anti-carcinogenic properties, which protects your skin from various disorders. Fluids are very beneficial for detoxifying your skin and keeping it fresh, clear and dewy.