Tips to Get Silky Hair in Simple and Natural ways
To have silky and straight hair is a dream of each and every woman. They always strive to get straight hair and silky as well. Some female have straight hair naturally and they are silky too but some are unfortunate in this regards and have to obtain artificial ways to gain straight and silky hair. To get it done is easy but the maintenance part is difficult because maintaining straight hair to its best of conditions is not an easy task to handle, it requires lots of safety measures to be taken care of and should be followed regularly. For the same reason there are few tips and steps which need to be followed and considered in order to maintain that straight, beautiful and silky hair.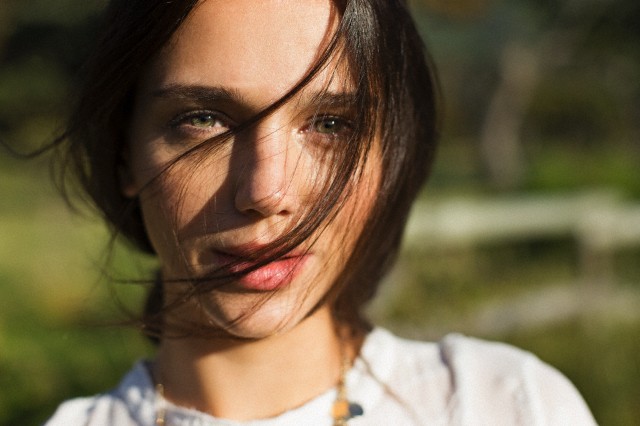 Cold water Treatment:
Hot water snatches the moisture from your hair and reduces the shine in it. Make it a must to rinse your hair with cold water after it is shampooed and conditioned as this would help in retaining the moisture of your hair making it soft, shiny and silky too.
Eating Healthy Food:
The best way to keep yourself healthy and your hair is to eat healthy food which would directly nourish your hair from the roots. Nutritious food like eggs, fish, sprouts, milk, nuts, green vegetables, etc. are a must in the daily diet plan. Their consumption helps in less hair fall problems and even nourishes your hair in a much better way. Consumption of healthy food purifies the blood and beautifies the body from within. Drinking 2-3 litres of water is also important part of the diet plan considering the health of hair.
Get the right equipment:
If you use a lot of heat related equipment, then use the ones which have heat protectors as it would help in causing little damage as much as possible.
Get the right products:
Investing in the right hair product is a major decision to be taken for silky and smooth hair because it plays a very important role for the health life of hair. Always try and avoid shampoos which have alcohol content as it would deplete the natural oil from the hair. Always buy shampoo which has natural contain present in them like the presence of coconut in it.
Hair Combing:
Combing your hair is kind of a daily activity for al, but to comb it in a correct way is also important. Applying little pressure on the cob while combing will increase the blood circulation in the scalp and eventually help in hair growth. Avoid doing this when you are facing hair related problems or hair fall or even when your hair is wet. Doing this routine twice in a day would eventually help in hair growth and transfers the natural hair oils to the tip of your hair. This nourishes the hair till the tip of it.
Hair conditioning and a little more:
Only hair conditioning is not enough to nourish your hair, try applying serum too. If not affordable then use the home-made products which act as a natural serum or conditioner for your hair.
HONEY – This is the simplest way of conditioning your hair and acquiring smooth silky hair which are not already damaged. The way to apply honey is to mix 1 tablespoon of honey in 4 cups of warm water and rinse your hair with this mixture only after you are done removing the conditioner from your hair. Avoid this if your hair are already damaged way too much.
WHITE VINEGAR FOLLOWED BY CONDITIONING AGENTS – Make a solution with a proportion of 1:1 of white vinegar and water. Pour this mixture on your hair and then wait for almost 10 minutes and then wash it off. This would remove the extra product build on your hair. After that you can do the extra condition with the help of egg yolk, jojoba oil or olive oil. Any of the conditioning agents would work, apply it on the scalp and then rinse if after a few minutes.
LEMON AND EGGS – squeeze fresh lemon juice of about 7-8 drops into the egg yolks. Beat the mixture well and apply it to hair and wash it off after 15 to 20 minutes. Use mils shampoo after this.
LEMON AND ONION – Make onion paste and add lemon juice it the paste. Apply this on the scalp and leave it for half an hour. Wash this off with a herbal shampoo because we are using onion in this method and as it contains some acidic content, we are trying to avoid any chemical reactions with other shampoos.
YOGURT – Beat the yogurt and coat it to your hair, even tie a towel for 15 minutes and then wash it thoroughly.
BANANA – Mix egg, banana, half avocado, honey and olive oil and apply it your hair for about half an hour. Wash this with any mild shampoo.
EGG WHITE, CASTER OIL AND GLYCERIN MASK – Apply this mixture on hair as well as scalp and leave it for 20 minutes. Rinse it after sometime and observe the instant change.
Oil massaging:
In earlier times, it was mandatory to have an oil massage once or twice a week. Woman should make it a point to do the same in order to make their hair live for a longer time. Oil massage will rejuvenate the hair strands from the tip of it and help in nourishing as well. It will also help in increasing the blood circulation in the scalp and thickens the hair quality too. Usually sesame, olive oil or coconut oil is used for massage and heating it up before application and if you have hair fall issues then avoid the application directly on the scalp a it may increase the hair fall instead of decreasing it. It helps in keeping way the dry hair problems.
Trimming:
Regular trimming is essential for healthy hair growth. Length as well as the quality of your hair will be well maintained if it is trimmed every 4-5 months.