How to Use Mustard Oil for Hair Loss and Growth: Benefits
In today's busy life most of the people suffer from various hair problems. Various factors can affect hair problems.  It can be internal or external. Mustard oil is a good remedy for various problems of hair. It is popularly known as 'sarso ka tel' in Hindi. Applying this oil can do wonders on your hair as well as your skin. It has been used by people for ages and is found to be very effective.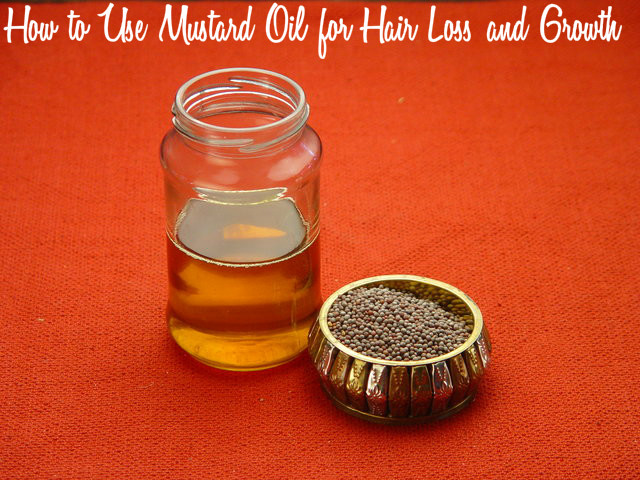 Image credits: wikimedia
Benefits of Mustard Oil for Hair Growth:
You get a lot of different oils in the market. Mustard oil is considered as one of the best among these oils for your hair. This is because of its large number of benefits and qualities. Some of the below factors will help you to understand why mustard oil is considered good for your hair.
You get mustard oil from the seeds of mustard plant. This oil is full of vitamins and minerals. Some of the minerals that are present in high quantities in this oil are selenium and zinc. Beta-carotene is also found in mustard oil. Vitamins A, D, E and K are found in high amounts in this oil.
Mustard oil is very beneficial for the growth of hair because of the presence of vitamin A in it. Vitamin A said to stimulate hair growth, thereby giving you long, thick and healthy hair. In addition to vitamin A, mustard oil is also rich in iron, calcium, magnesium and fatty acids, all of which aid in proper hair growth.
Mustard oil is a perfect choice for anyone who wants to have strong and beautiful hair. Protein, fatty acids, vitamins A and E, and omega 3 fatty acids help in strengthening your hair naturally and protect your hair from falling off.
Fatty acids in this oil are also effective for getting back the natural beauty and shine of your hair.
These are only some of the benefits of this wonderful oil. It also has a lot of other benefits for hair.
How to Use Mustard Oil for Hair?
Now that you have seen the benefits of mustard oil, here is how you can use this natural oil on your hair.
If your hair is dry, mustard oil is one of the best options for your hair. It has great hydrating powers and keeps your hair naturally hydrated and well moisturized. This way it gives your hair natural bounce and shine. By applying mustard oil regularly on your hair, you will soon have long and beautiful hair that you will be proud of.
It is more effective if you warm the oil and then apply it on your hair. Warm it moderately and then apply it on your scalp and hair. Gently massage your scalp for a few minutes after applying the oil. Remember not to use your nails for massaging your scalp, as this may hurt the hair roots and may cause damage.
For girls with long hair, a turban massage can give best results. Continue massaging your scalp until all the oil that you have applied is absorbed by the hair roots. As you massage your hair, start from the roots and go up to the tips of the hair. This way all parts of your hair will get the oil. By applying it at the tips of the hair, you can prevent split ends.
The amount of mustard oil that you need on your hair depends on the condition of your hair. If you have very dry and damaged hair, take more oil and apply it well on your hair and scalp. Leave it on your hair for at least 2 hours. This will deep condition your hair and makes it soft and hydrated. You can also apply it at night and let it remain on your hair overnight. Wash off with a mild shampoo next morning.
You can use mustard oil for treating baldness. Take 259 gm of mustard oil and boil it with 100 gm of henna leaves for about 15 minutes. Strain it and let it cool down to room temperature. Take some of it in your hands and apply it on your hair and scalp. This will helps hair to grow well.
When you leave mustard oil on your hair overnight, tie your hair with a band and then cover your head with a shower cap. This will prevent the oil from staining your pillows. Next day you can wash your hair with a good quality shampoo. Repeat it once more. By massaging your hair and scalp with mustard oil once a week, you will soon start getting positive results. This not only prevents hair loss, but also keeps your hair healthy and beautiful, imparting a natural shine to your hair.
Important Tips before Using Mustard Oil for Hair Fall Control:
Mustard oil is excellent for your hair and one of the best options for hair therapy. But you have to keep certain things in mind when you use this oil for treating dull and lifeless hair. By using mustard oil in the correct way, you will be able to reduce hair fall and split ends, and add ore life to your hair.
Before you go outside, always make it a point to wash your hair. If not, the oil in your hair may cause dirt and dust to accumulate on your scalp and thus make your hair greasy and dull looking.
Do not apply mustard oil daily on your hair. Applying it three times a week is enough to keep your hair beautiful and to provide it a natural bounce.
Now that you have seen the various benefits of mustard oil and how to use it on your hair, try it and see the difference it makes to your hair.