Why You Should Use a Sunscreen and How Often
With the summer around the corner, one thing that we all take care to buy is the sunscreen lotion. We all know that the harmful UV rays of the sun can damage the skin and cause premature ageing and even skin cancer. So, applying sunscreen is a must. But you must apply a sunscreen even on other seasons like monsoon, winter and spring. During these times also your skin can be exposed to the sun and you need to take proper care of your skin by protecting it from the harsh rays of the sun. Sunscreen is best to protect you from sun.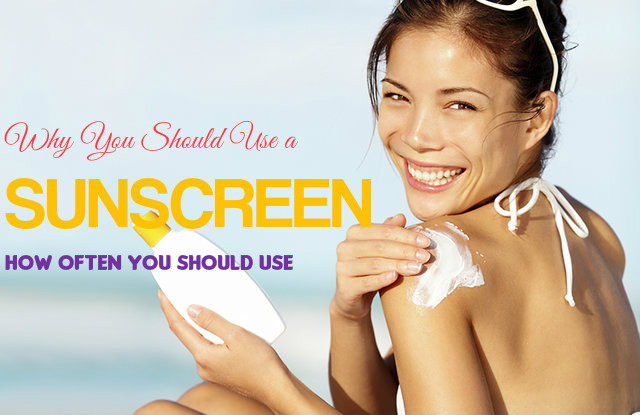 Reasons Why should you wear Sunscreen Everyday?
Here are some reasons why you should wear a sunscreen all through the year.
A good cosmetic option:
Now you get sunscreens that can also be used as a cream. All you need to do is to apply it on your skin and leave it. You need not apply any other cosmetic on your face. Your skin will look fresh and glowing. If you have a dry or sensitive skin, apply a coating of the sunscreen every now and then. This will give more protection to your skin.
A wide variety to choose from at affordable rates:
A variety of sunscreens are now available in the market now and that too at affordable rates. You can also search of sunscreen recipes online and make it at home, which makes it even cheaper.
Enhances health of the skin:
Sunscreen helps in protecting the essential proteins in the skin like collagen, elastin and keratin. These proteins are needed for keeping your skin healthy and smooth. Ensure that the sunscreen you use contains titanium oxide to enjoy these benefits.
Lowers the risk of skin cancer:
Wearing sunscreen daily throughout the year is an effective way to protect your skin from various types of skin cancers, especially melanoma. Melanoma is considered as the worst type of skin cancer. It can be life threatening for women, especially those who are in their 20s.
Lowers blotchiness on face:
Applying sunscreen liberally on your face is an effective way to prevent blotchiness and eruptions of red veins. It is also god for preventing acne breakouts and other damages caused by sunrays.
Prevents tanning:
Tanning is still considered healthy by many people. But when you are sunbathing to get a tan, you are exposing your skin to the harmful rays of the sun. So, choose a sunscreen with at least 30 SPF in it to prevent any harm that may be caused by UVB when you tan your skin. It is also a must that you apply your sunscreen again every two hour intervals, especially if you have a sensitive skin. Even after you sweat, you must reapply it as sweat can wash it away.
Prevents premature ageing:
It is natural that we all love to have young looking skin that is healthy and glowing. To have such a skin, you must take care to use a sunscreen when you go out in the sun. It protects your skin from developing signs of ageing like wrinkles, fine lines and age spots. According to studies made on people less than 55 years, it was shown that those who used sunscreen had 24% less chances of developing the signs of ageing than those who did not use it or used it only occasionally.
Prevents sunburns:
Sunburns can make your skin weak and more prone to bruises. It can cause peeling, redness, swelling, hives and itching on the skin repeatedly. This is because of the UVB rays that fall on your skin. The blisters formed can give rise to skin cancer. If you suffer from sunburns repeatedly, you may be at a higher risk of developing lethal melanoma. So, you need to apply sunscreen regularly and stay on the safer side.
Sunscreens provide you better protection than full sleeve dress:
Wearing a full sleeve dress cannot be an effective way to get protection from sun. Cotton dress, especially when it gets damp, can hardly offer you any protection from sun. You have to apply sunscreen under the dress also.
Shields from harmful UV Rays:
The ozone layer in the atmosphere is continuously getting depleted and as a result we are more at a risk of getting affected by the UV rays of the sun than ever before. It is true that you need sunlight for getting your daily Vitamin D supply. But you must make sure that you do not get it risking your health. To escape from the harmful effects of the sun, you have to apply a good sunscreen on your skin. This will block the harmful rays from penetrating deep in to your skin and causing various skin disorders.
You may not need to apply it again after a swim:
Most of the sunscreens that you get now are waterproof. So, you need not reapply it after you spend time in water.
How to Use Sunscreen:
Make sure that your sunscreen contains the following:
Titanium dioxide
Avobenzone (also parsol)
Octyl methoxycinnimate (OMC)
Zinc oxide
Try to select a broad spectrum sunscreen lotion or gel, which is non-comedogenic and hypoallergenic. This can block UVA and UVB rays and protect your skin from rashes, clogged pores, sunburns and acne.
Your sunscreen must contain a minimum SPF of 30.
Always apply your sunscreen about half an hour before you go out in the sun.
How Often to Use Sunscreens:
It is recommended that you use sunscreen every day. This way you will get its benefits in the long run. If you spend long time in the sun, then it is important that you apply the sunscreen after every 2 hours. This will protect your skin form sunburns and other damages that are caused by the harmful rays of the sun.