What is Siddha Samadhi Yoga – How to do it and its Benefits
Doing yoga and other exercises at home are one of the best ways of relieving stress. While yoga is necessary for body, meditation helps you to connect with your inner soul and the God. In this way, the person can give time to himself and his inner conscious. Here are some of the yoga styles which will help you to get rid of the stress and feel fresh like never before. If you practice meditation on a regular basis, then it will help you to stay healthy and reach a nice level of self- realization.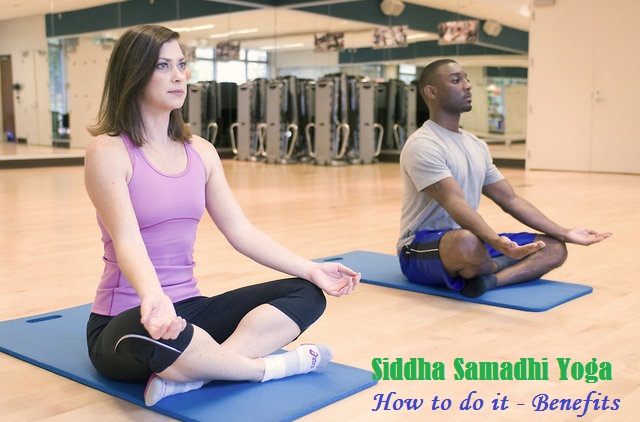 Siddha Samadhi yoga is a form of yoga which makes the body as well as the mind fit and fine. Anyone can learn and practice this anytime since it is very easy to remember the steps. Here the main aim is to awaken the soul and get rid of the bodily comforts. It is to rise above the worldly happiness and attain calmness. Anyone can practice Siddha Samadhi yoga as it is very simple to learn. People belonging to any age group, coming from any place and belonging to any caste are welcomed to start this yoga session.
Steps to do Siddha Samadhi Yoga Pranayama:
Sit in a warm and well ventilated place. Keep your legs in a cross position. Rest your hands on your knees. Your palm should touch the knee. This position is called drone mudra.
Meditation means controlling the flow of thoughts. Thus, close your eyes and keep your mind stable. Don't let any thoughts enter your mind. It will be tough initially but try to clean your mind of all the thoughts.
Imagine the picture of your God or guru whom you worship. This will help you to divert your mind on the good and will remove the bad thought away.
Try to concentrate on the picture. This will help you to wash away all the unwanted thoughts. Good vibes will surround you.
Concentrating on the image continuously, imagine that the picture is placed in the middle of your eyebrows. Focus more and more on the picture. Try to see every other detail of the picture with the eyes of your mind. This will increase your concentration and calmness of your mind.
Mantras have a prolonged effect on our body and mind. Keep your eyes shut. Don't distract yourself from the meditation and start chanting mantras if you know any. Any small or big mantra will do well. If you are new to all this and don't know any mantra then simply chant OM. This will also have a very positive effect.
Continuously chanting of mantras will charge you well. You start experiencing the vibrations surrounding you. This is because of the effect of mantras. These vibes have a very good affect on our body and soul. This process is very important as it will make you clean internally. Not only this, you will feel good about the body and the experience. This step is very essential as you are now internally pure to reach the level of divine feeling.
You can feel all the good vibes and are able to feel calm. This means that you are ready for the next step. This is the stage when you have full control over your mind and its thoughts. You are in charge of your mind now and can command it the way you want. This is a very good sign. Here it means you are on a spiritual path now and have achieved that level of spirituality.
Since your mind is stable now, try to maintain its calmness. Don't change your posture or state of mind. Meditate for as long as you can. The more you do, better will be the state of your mind.
If you enjoy this state of bliss then continue remaining until you feel like stopping it. When you are done with enough meditation, get back to normalcy slowly. The reverse process should also be calm and relaxed.
When you are on the way back to normal form remember that you have to be slow. Coming out of the divine feeling is a slow process. Follow accordingly. Now let the thoughts come into your mind naturally. Don't help the situation. Get consciousness slowly and get back to your normal form. Make yourself aware of the material world you are living in. Feel the elements of your surroundings.
After this, the next step is called palming, which means that you have to rub both the palms together and feel the heat. Take the warm palms to your eyes and cover them with the palm completely. Feel the warmth on your eyes.
Remove the palms from your eyes and open your eyes slowly. Move your hands and legs. Move all the parts one by one and feel the calmness.
Various Benefits of Practicing Siddha Samadhi Yoga are:
It helps the person to get rid of all the tension and stress due to work and makes him feel fresh.
It helps you to come closer to the God and makes you feel divine and uplifted.
It increases the stability of your mind as well as body. This in turn makes you feel fresher and charged up. It will also keep you away from all types of illness.
It very helpful for students as it increases their concentration. Above all, it brings in all the positivity in your daily life and makes you feel happy.
Try this new type of yoga. It is very beneficial and refreshing if you do it on a daily basis. Make it a point to practice yoga everyday and feel the difference after some days. The level of peace attained is unmatchable. This meditation can be learnt within a day and see the magic of this method of meditation. You will enjoy the whole process thoroughly.