White Hairs on Face: How to Remove Them Permanently?
As you age, many of you may get white facial hair. It is very common as the body's aging process reduces the level of melanin. Melanin is a pigment generator for the skin as well as the hair. This is reason for the appearance of white or gray hair. The texture of the white hair looks more translucent and it has a lighter appearance on the facial skin when compared to the black hair. White facial hair usually appears after a woman hits menopause. This hair is mostly found in the cheek area and the chin area. Removing these stray white hairs from the facial skin can be really difficult, but it can be removed with the right technique.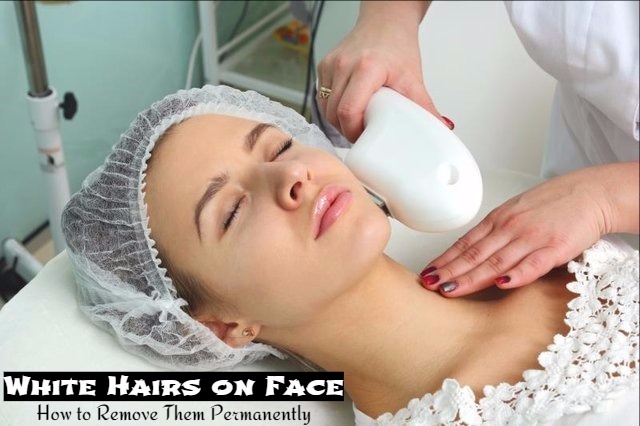 How to Remove White Facial Hair?
Epilation:
One of the popular forms of removing unwanted white hair is epilation. Many people think it is not a good choice because the hair may grow back faster. But it turns out to be a good option for some as the hair growth gets slow with aging. So, you need not do epilating very often. Once in four to five days is enough. Now facial epilating tools are easily available for women. They are easy to use and very effective. The benefit of using this tool for removing hair is that it is absolutely painless. Before you start it, you have to make your facial skin softer with lukewarm water. Then apply a thin coat of moisturising cream on the area of the skin where you want to remove white hair. Now use epilatory tool to get rid of white facial hair. Rinse your face and then pat dry. You will see that all white hairs have gone.
Electrolysis treatment:
If you have lots of white hair growth on your face, then electrolysis is the best option. It removes white hair permanently. You can go to a dermatologist or a cosmetologist for this purpose. In this method a pointed thin needle is directly inserted into each hair shaft and current is passed to the shoot through this needle. This helps in killing the hair root. This is permanent removal of white hair, but if you notice that some white hair is growing back again you may get an additional treatment. Since this method removes white hair permanently, it is more expensive as well as time consuming. If you have very sensitive skin, side effects like changes in skin colour and scar may be noticed.
Facial spring:
Facial springs are the latest method of removing white hair from the skin. It is easy to use and it is also painless. This tool has two rubber handles and a metal spring coiled in between the handles. The facial spring has the ability to remove hair from the roots. You can even remove the tiniest white hair from your chin, forehead, cheeks or upper lip. All you have to do is to hold the handle of the tool and bend it gently to form an inverted U-like form. Now roll it over the area where you have white hair in a gentle outward motion along the skin. It will remove the unwanted hair easily, and leave only a pricking effect on your skin.
Laser:
Using laser for white hair removal is one of the latest methods. In this method laser rays are used for unwanted hair removal. Laser machine produces a beam of light, which gets absorbed by hair follicles. As a result, these hair follicles lose their ability to produce hair. After using laser to remove white hair, cooling devices are used to prevent any damage that may be caused to the skin.
Threading:
Threading is one of the most common methods to remove unwanted hairs from the face. In this method a thread is twisted and moved against the unwanted facial hair surface. This removes the hair from that area. Threading removes white hair only temporarily. But if your white hair growth is slow, then this option can work well for you. Make sure that you do not allow threading on pimples, acne or irritated skin. If you have very sensitive skin, you may experience redness or slight skin irritation.
Tweezers:
If you have only a few white hairs on your face, then you can use tweezers to remove them. All you need is fine steel tweezers to remove the unwanted white hair from your face. To remove the hair, place the tweezers directly over each individual hair and then pluck it out one by one. This method of hair removal is very effective as here you are pulling out the white hair from its root. So, in this method the hair takes a longer time to grow back. Although the time taken for hair to grow back varies from one person to the other, it usually takes about four to eight weeks for hair to appear again. Make sure that you use well sanitized tweezers to prevent any bacteria from getting transferred to your skin, as this can lead to breakouts or cause any skin infections. You can sanitize the tweezers by just rubbing it with some isopropyl alcohol or sterilize it with hot water.
So, you can see that there are different methods to remove white facial hair. Choose a method that suits you and fits within your budget. You can decide whether you want something simple or permanent.