Yami Gautam Beauty, Makeup, HairCare and Fitness Secrets
Gorgeous northern beauty spotted in Bollywood, Yami gautam just after her first Bollywood debut in Vicky donor as Ashima Roy's character and her fabulous performance in badlapur has made her eye candy. She comes from a family related to the film industry. Her father, Mukesh gautam, is a famous director and her sister Surilie gautam is an actress too. She started her carrier in TV series like chaand ke paar chalo (2008), yeh pyaar Na hoga kam (2008).
Also identified as the fair and lovely girl, her girl next door avatar has bagged millions of fans. She is versatile, multi linguistictalented, young, enthusiastic   women who has worked in Hindi, Telugu, Tamil, Punjabimovies. She has been nominated in STAR DUST, FILM FARE PEOPLES CHOICE awards and has received IIFA and ZEE CINESTAR awards for various titles. She dreams to be an entrepreneur. She will be soon opening her restaurant in various locations. This beauty with brains is definitely charming the tinsel town.
Her most appealing flawless skin tone has absolutely made many heads turn. She is the face of latest brand endorsements and magazines. Let us figure out this beauty's secret.
Yami Gautam Beauty Secrets: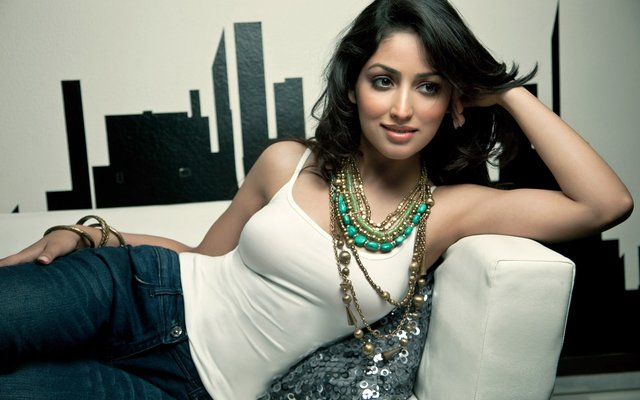 Face routine:
She does not believe in expensive parlour treatments as she feels these heavily price tagged treatments are just addictive made ups for every individual. Yami uses all natural and herbal products, mostly used at home, to enhance her beauty. She uses homemade face pack that helps to keep her skin rich and flawless. Himalaya and Ayurveda are one of her favourite brands. She tells that proper routine to exfoliate the dead skin is very important and regularly uses the cleansing, toning and moisturizer technique to enrich her skin regularly.
Balanced lifestyle:
She believes in a balanced lifestyle as it makes her calm, grounded and motivated. It is very essential for finding her balance and inner peace she believes. Yami likes to distress herself by going on holidays with her family and her dog. Her perfect way to relax include spending time with her friends. She always likes to plan for trips every few months. Taking small breaks engages your mind in thinking better and positively, so that you can concentrate better in your work and life. She likes to relax at beaches and be close to nature. Destinations like Kerala, Miami, bail, are her favourite locations to relax. It can be her secret to her overwhelming smile and poised nature.
Explore new looks:
Yami being a versatile actress, likes to experiment with new looks. She likes to try change her clothing by experimenting on fresh and trendy colours. She also likes to get a new hair cut to enhance her beauty. This actress likes to get a new hairdo that adds a spark of life to her hair. She stated that you should always be with spunk and keep exploring new trends. She likes to wear all kinds of clothing as she enjoys many fashion trends and explores both national and international look. Her favourite designers include Rocky S, Sabaysachi and Masaba.
Yami Gautam Makeup and Hair Care Secrets: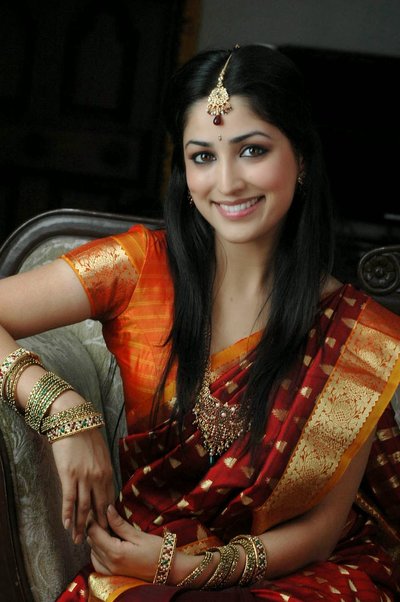 Image credits: Pinterest
Makeup:
Being in the film industry makes it difficult to avoid makeup, but she does not prefer wearing makeup all the time. In fact, most of the time she is seen without any makeup. She says that sunscreen is a must.  She moisturises her skin regularly for she hates wearing concealers and heavy foundations on a regular basis. If necessary, then she prefers water base foundation than oil base as it doesn't harm the skin even after long hours. She uses all natural makeup products that do not have chemicals. Her favourite look of the day would be simple moisturizers, gloss and a dash of mascara. During the night she likes the smoky eyed look very much. Her favourite beauty product brands include body shop, MAC etc.
Hair Care Routine:
Her hair is naturally very silky and long.  Her hair routine includes proper coconut oil massage. She follows natural hair spa once every week. She deep conditions her hair with olive oil to get that extra shine. She likes to apply egg white and olive oil to get that radiance naturally. Using exorbitant products for hair is a complete no no for her.
Yami Gautam Fitness Secrets: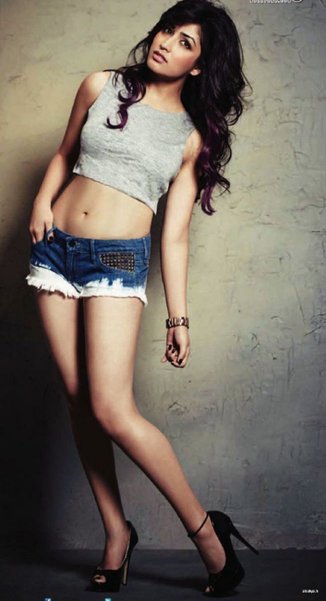 Diet:
It is proven that what you eat is always what u reflects on your body. Yami follows simple diet. She loves homemade food. Eating a healthy meal is her motto. She believes in fuelling up the body in every two hours as it keeps the metabolism high and keeps the stomach engrossed so that you can burn extra calories. Her diet includes all fresh fruits, vegetables, chicken and fish. She follows eating in regular intervals, breaking her meals into small proportions. Along with her breakfast she drinks pomegranate or any other fruit juice. After equal intervals she eats egg white, banana and almond shake. For lunch she prefers eating veggies, chicken, soups and salads. For dinner she enjoys grilled fish and salads.
Exercise:
Yami is very consistent when it comes to workout .She manages her time even in this busy shoot schedule .Her workouts consist of both cardio and yoga. To boost up her stamina and enhance her flexibility, she does an alternative workout with combinations of workouts. She practices yoga for attest 90minutes every alternate day. She prefers to do hot yoga.Working out in gym with a combination of circuit training helps in toning.
Meditation:
She is a huge fan of meditation from a very young age. "Meditating regularly for at least 5-10 minutes helps", she adds. She has adopted meditation to help her maintain peaceful bonding between her mind and body. Meditation helps her to deal with all the work even at a stressful environment. Her poised nature and calm personality explains it all.
Looking at yami I am sure we can always learn to adapt her healthy lifestyle for healthy living.