Beauty Blogger Interview Anshita Juneja – VanityNoApologies
Today at Stylishwalks I'm going to present you an interview with one of the popular beauty and makeup bloggers from India – Anshita Juneja, founder of Vanity No Apologies. I've been following her blog from quite a long time and have no hesitation in saying that she is one of those persons who is well known for her comprehensive reviews on Lipsticks and Nail products. Ask her what's the best Eye liner or Lip Gloss or Mascara; she helps you choose the best product which compliments your skin type. To her credits she bagged many awards in the Beauty & Make up Category as well.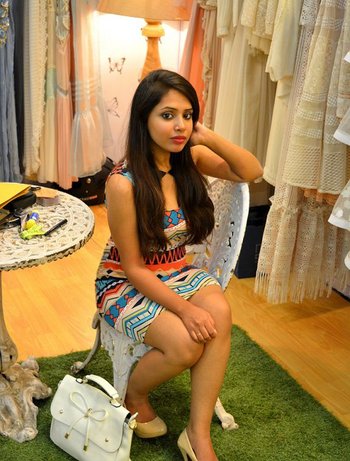 Recently I had an opportunity to interview her about her blogging journey, her likes, interests and beauty secrets. The complete interview is presented here for you below.
1) Hi Anshita, could you start by telling us a bit about yourself?
I am an Aquarian, foodie, movie buff, serial shopper, economics graduate, MBA and a bookworm. Right now I blog at "Vanity No Apologies" and "Petite Peeve" which keep me busy all day. I swear by work hard and party harder thats why you would see me going on vacations quite frequently.
2) How did u enter into Blogging and what inspired you to start a Blog?
It was in fact lack of inspiration in my daily life that I turned to the world of beauty blogging. It was just a weekend thing then. Slowly I started enjoying it more than I thought I would and now I post at least twice a day!
3) Can you describe us your own personal style?
Its classic with a boho touch
4) Where do you tend to buy your Cosmetics, clothes, and why?
I now buy everything online. Discounts!
5) Where do you find the inspiration for your blog posts?
Presently its my instagram feed
6) Any person that inspires your Fashion?
For indian fashion I quite like Sonam Kapoor
7) What are your favorite must have beauty products?
a) Eye liner – not an eyeliner girl
b) Eye Makeup – Inglot
c) Eye pencil – Colorbar I glide
d) Lipstick – MAC
e) Lip gloss – Lakme and Maybelline
f) Lip balm – Nivea Tinted Balms and Burt Bees
g) Mascara – Loreal Volume Million Lashes
h) Nail product – Maybelline Colorshow
8) Name few Beauty Blogs that you love to follow regularly?
I love Indian Vanity Case and Peaches and Blush which have been my all-time favorites. Recently I have started liking Heart Bows Makeup and Sjlovesjewellery youtube channel
9) Do you have any tips for anyone looking to start a fashion blog or website?
Sounds cliched but don't follow the herd and never compromise on your principles
10) Your photographs are cool as well. How/Who capture them?
I take all the pics for VNA. For Petite Peeve, its usually my family and friends.
11) What is the biggest challenge about beauty/fashion blogging yo face/faced?
To make a place for myself when there are atleast a 100 beauty blogs being added to the interest everyday
12) In a day/week how many articles or reviews do you post? and How do you manage your time on and off blogging
I am quite lazy. Takes me around 2 months to even start taking the pictures. I'm a full time blogger so it's easy for me to manage my time
13) Can you tell us What's the secret behind your beautiful skin as well 🙂
Use of natural and organic products whenever possible. I swear by aloe vera.
14) What according to you is beauty and how you describe it in your own words?
Beauty is being humble, compassionate and confident all at the same time.
15) Winter is catching up. Any beauty tips for our readers to follow you suggest?
Get an aloe vera plant at home and use it as your daily moisturizer
16) Finally. Can you leave your social profiles for our readers to connect?
Facebook: https://www.facebook.com/vanitynoapology
Twitter: https://twitter.com/anshitajunejaa
Pinterest: https://www.pinterest.com/vanitynoapology/
Instagram: http://instagram.com/vanitynoapologies
Hope you have enjoyed reading this interview. Now you can share your feedback on the interview through the comments section below.
If you to like to suggest me any famous personality in the Beauty/Makeup/Fashion/Lifestyle category for an interview, then please do share their details as well below. Will try to get them interviewed too