60 Beauty Tips or Secrets Every Teenage Girl Should Know
Everybody wants to look fashionable and stylish. To get those looks there are endless ways to get there. However, teenagers are on constant lookout for useful information on the internet to keep up with the current and future trends, which are not only affordable but worth saving the time for them. Here are a few tips and tricks for you that cost nothing but will help you in the long run. These fashion tricks are a must for every stylish girl in town. Read on to know what they are.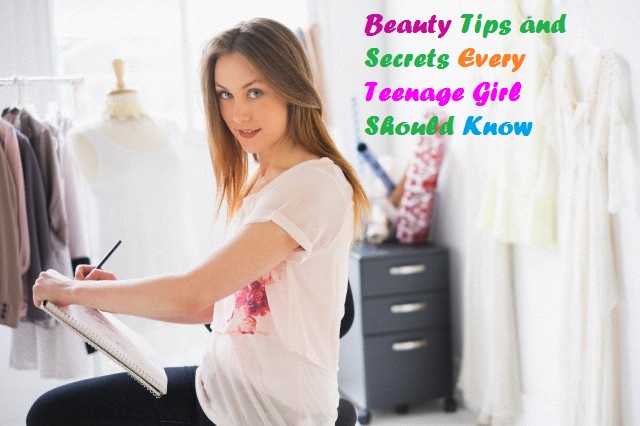 Wash the cashmere with your hand, and dry using a salad spinner.
Remove red wine stains using white wine.
Jeans shrink when washed, so before you take it to the tailor, wash it twice.
Fold the angora or mohair and use a zip top to place it in and freeze. This will prevent shedding.
Use a mixture of two parts of water and 1 part of vodka to prevent odors on clothing.
Use the foam used on hangers on your fabric to get rid of the deodorant stains.
For oil stains on handbags, apply a coating of baby powder and allow it to stay through the night. Repeat this till all the stain is gone.
Use an old toothbrush and liquid dishwashing detergent to keep the sparkle of your diamonds.
 Use t-shirts containing 95% cotton and 5% Lycra, and use 2% Lycra for jeans. This will fit well.
When arranging clothes, when you go from left to right, make the color shades go from light to dark.
For checking ht equality of cashmere, stretch it well and check if it snaps back. If it does, it is good.
Try the neck method to check your jeans – place the waist of the jeans along your neck. If the ends meet well, the jeans will fit.
When arranging your closet, ask yourself it you would buy the product if you were shopping right. If you answer a "no", remove the item.
Only hand-dry your swim suit. This will preserve elasticity.
Avoid whole grains and dairy five days before a very important occasion to drop the weight.
You can always buy fake diamonds. They can hardly be noticed by the eye.
Do not experiment trends on dressy occasions. When you know what you look good in, use that only.
Wait some time after ironing to put on your dress to let the press set.
A pumice stone will de-fuzz your sweater.
Use your clip on earrings on your shirt collar or flat shoes for a new trendy look.
For treating wax on fabric, put a wax paper and iron above it. The wax will come off with the paper.
Vodka in water will increase the life of your favorite flowers.
Spraying with hairspray helps avoid runs and holes on your tights.
 Leave a piece of bread to stale, and then use it to rub the dirt and stains of your suede.
When you go shopping for a wedding, put on makeup, correct under garments and your hair well set. This will show clearly how you will look.
Double stick tape work will work as a hem in a jiffy temporarily.
Never rub stains, always blot them.
Use seamless, nude underwear only.
When buying a dress, aligning the shoulder seam with your shoulder bone will let you know if it will fit you.
Make a chair seat, stool cover or throw pillow using old sweaters and blankets.
Lipstick stains can be removed using hairspray.
When washing your jeans, maintain the wash by adding half a cup of distilled water in the last rinse.
Take 2 freezer bags full of water and place inside your shoes to leave it overnight. The water expands your shoes as the water freezes.
To remove oil and grease from clothes, use dawn dish detergent.
Take out the buttons and stitch out something innovative to give a new look to your old coats.
Re-attach the original hem when you are shortening the length of your jeans.
Use pre-moistened makeup removing wipes to clean any powder due to breaking of bronzer or blush in your bag.
Put on socks and use a hairdryer on your feet to fit them inside shoes that are too snug.
Hold toiletries, hair ties and brushes on an old shoe bag hung to the back of your bathroom.
Use an old trunk to keep clothes that you wear very rarely and your house shoes, and also double up as a coffee table.
Take a bowl of water and add a few drops of vinegar to scrub stains on leather boots.
Take out the insole of shoes and replace only after applying Vaseline. This prevents the squeaking.
Rub pearls over your teeth to test them. Real pearls will be textured or gritty and not smooth like fake ones.
Before buying a blazer or coat, make sure they fit your shoulders well. This is one thing that cannot be altered.
When you wear pants, they must graze over the shoe top and be just half an inch above the ground.
To preserve fabrics and get rid of moths, make sure you dry clean your coats before storing.
Line your shoes on the floor and do not use shoe boxes.
Use a fur vest as a top, and add on a ribbon or belt with a long skirt when you go for a formal event or a wedding in winter.
Use a hairbrush and then steam your fur to get volume, bounce and shine.
Replace your bras every three to six months.
Air-dry your pants that are too tight and stretch the waistband while damp.
Use winter coats that fit well and are stylish.
Use windex on leather to restore the sheen.
Use a silk pillow case as it is soft on your hair and skin and also prevents sleep creases.
Lemon wedge helps remove tans.
A hair dryer removes all mist in your bathroom after you have had a bath.
Fold clothes in plastic dry cleaning bags to prevent them from wrinkling in a suitcase.
Use the same hangers for all your clothes. It makes your closet more organized.
Always buy the smaller jeans size, as jeans stretch with time.
Shaving cream and washcloth help remove the makeup from shirt collars.
These tips are sure to help you go a long way. Try them out and even come out with your own tips. If you've tried something and want to share with us drop a comment here. We will include the best tips into the existing list.