Best Summer Makeup Tips to Stop Melting in Hot Weather
Makeup when done in summers can often turn into disaster with the sweat melting it and making your face look messy. You take so much care to do your makeup and when you step out, all your makeup starts melting. It is very disappointing. So, here are some tips make your makeup stay intact even in hot summers.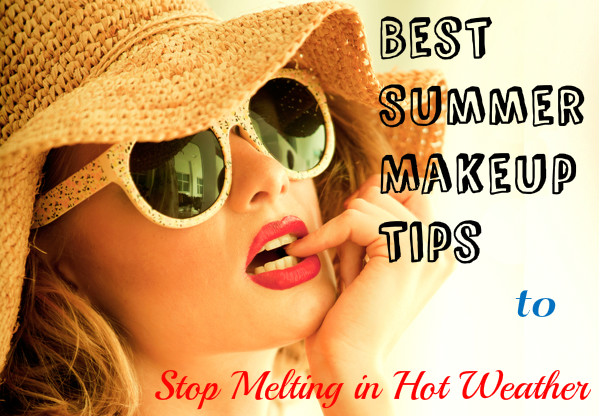 How to Stop Makeup from Melting in Hot Weather:
Apply sunscreen generously:
Always remember to apply a sun screen on your face and other exposed areas of the skin when you go out in the day time. You can choose a gel based sunscreen or a lotion based sunscreen to apply on your face. Do not choose a cream based or a heavy cakey sunscreen.
Apply minimal makeup:
When the temperature outside is really hot and melting everything, then it is of no use adding layer after layer of makeup on your skin. Choose a stick concealer and a gel based lightweight foundation during such times. You can also use lighter formula face products like a tinted moisturizer, BB or CC cream etc instead of foundation as they do not melt very easily. Just keep it sheer and light. You can take a light tinted moisturizer with SPF and top it by applying a compact powder and a light blush. You can also apply a light coat of mascara on your eyes and use a tinted lip balm or a light hydrating lip gloss for your lips. These will make you look natural and also protect your skin from the sun.
Apply antiperspirant at night:
Apply your favorite antiperspirant before you go t sleep at night. This gives the ingredients in it enough time to work on your before you get up in the morning. This way you can smell really good when you get up in the morning.
Blush Cream Gel or Powder for Warm Weather?
Well, Use a powder blush instead of creamy or stick blush.
Bronzers should be long lasting:
Dust bronzer on your forehead, cheek apples, and chin only, with a big blush brush. If you do not want to use bronzer, apply lose face powder all over your face. This will allow the makeup to stay for longer time.
Choose waterproof mascara and kajal:
When you choose kajal, compact powder or mascara, try to choose waterproof formulas as this prevent your makeup from getting smudged with your sweat and keep your makeup intact for a longer time. All you need to do is to take an eyelash curler to lift your eyes and apply mascara. You can also apply waterproof eyeliner to enhance your eyes.
Don't ignore lip makeup for summer:
Your lipstick can come off when the skin just above your upper lip sweats or you smack your lips often. So, apply the lip liner all over your lips and then the lipstick and the gloss. When the lipstick comes off after you sweat, the lip liner will stay for at least 2 or 3 hours.
Extend the longevity of lip makeup:
Even if you apply light and subtle makeup on your whole face, try to keep your lips brighter to give your face a fresher look. Try choosing long staying formulas, which will last longer in the hot sun. Apply a thin layer of lipstick and then blot it with a tissue paper. Now apply another layer of lipstick. This is one of the best makeup tips for hot and humid weather. It allows your lipstick to stay longer.
Forgot to use primer?
Always wear a primer underneath your makeup whether you are going for a subtle daytime look or a dramatic look with heavy makeup. This can provide you lots of benefits. Wearing face and eye primers are very beneficial for preventing your makeup from melting down. This is one of the top makeup tips given by any makeup experts. The primer will provide an excellent base on which your makeup will remain for long without melting. If you sweat a lot or if your skin is very oily, it is important that you apply the primer on your T-zone area. Apply it well on your T-zone, besides of your nose and the chin. This helps in making your foundation and concealer stay for more time. Another benefit of the primer is that it allows your BB or CC cream to glide on smoothly and evenly. Moreover, you will require only a small amount of this cream when you apply primer. When you choose the primer for summers, remember to pick one that does not add extra shine to your skin or make your skin look too dewy.
Ice your face: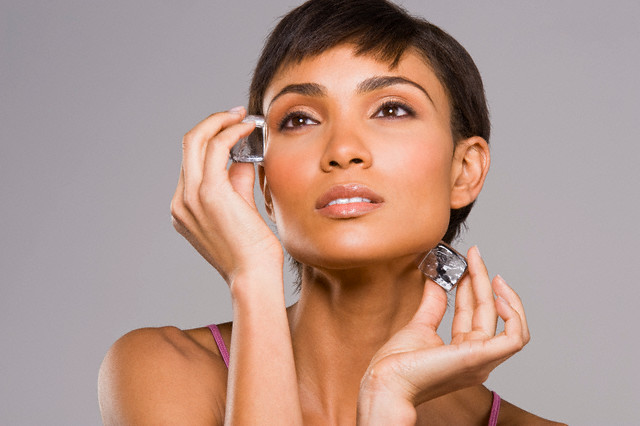 Most of the makeup experts use this trick. Take a fresh ice cube and rub it gently on your face, except the under eye area, which is delicate. Make sure that you massage your face with the ice cube gently, without applying too much pressure, as the coolness of the ice can irritate the capillaries in your skin. Do this for about 2 seconds and then remove the ice from your face. Take a clean towel and pat dry your face. Now you can start applying your makeup. Ice helps in cooling your skin and closing the large pores in your skin. As a result, your makeup will melt less when you go outside.
Keep Oil Absorbing Sheets:
Even after you take all measures to control sweat and oil, you may still sweat when the weather is really too hot and humid. To counteract this situation, you can keep oil blotting blotting sheets with you. Blot your forehead, T-zone and the under eye area with this sheet. This will absorb the shine and make you sty matte.
Powders are best:
For your blush and eye shadow, it is better to choose them in the powder form. This can control oil and sweat better than liquid forms.
Use face wash to control oily skin:
Use a gentle face wash that can soak up all the extra oil present on your face and make your skin look fresh and well toned. After washing your face, you can pat dry with a towel or a tissue.
Use a toner: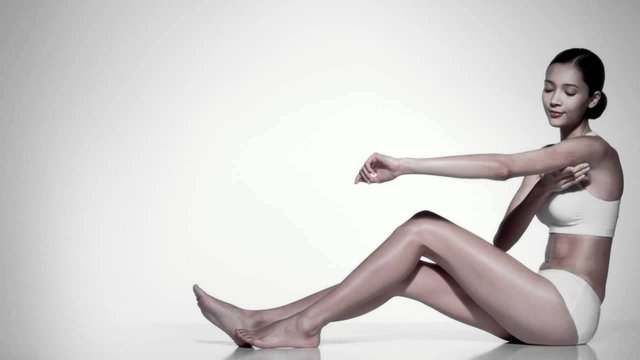 Apply a good toner on your face and neck area using a cotton ball. This helps in making your skin rejuvenated and fresh.
Use a Finishing spray:
Celebrity makeup artists doing red carpet events makeup use this finishing spray. After applying the foundation and concealer, and before the blush or bronzer, lips and eye shadow, this spray is finely spread on the skin. This helps in preventing the makeup from getting melted with perspiration, especially the foundation, which comes off first when you perspire.