Crash Dieting Tips for Weight Loss in One Week: Best Plan
Since teenage, weight loss and problems related to it has always been my topic of concern. I started thinking about weight loss when I noticed an extra bulge and since then I have been struggling with weight loss. Most of the times I fight a lost battle and it feels really bad and disappointing to when you work hard and get no results. But I was adamant and worked hard continuously. Sometimes I was able to see some initial results but that was not enough to be satisfied. It is easy to say but very tough to practice. After so many efforts, I finally decided to go for a crash diet. You should go for a crash diet if you want to lose weight quickly.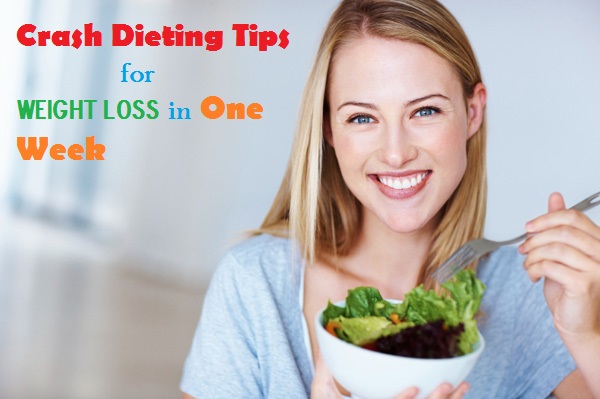 Why Crash Diet Works:
Same was the case here; I had my friend's marriage next month so it was very important for me to be in shape by then. I thought of trying crash diet earlier too, but there are many restrictions here. You are allowed to intake only a limited amount of calories. This makes the diet tougher. But this time losing weight was a prime concern. So going for a crash diet was the only option I was left with.
How much Weight you can Lose with Crash Diet:
Before actually starting with the crash diet, I went to many of the websites and got some ideas like grape juice diet, cucumber diet, soup diet etc. At last after a lot of browsing, I went for cabbage soup diet. This diet helps you to lose almost 10 pounds in a week. This was the best diet for me as you don't have to exercise here. Cabbage soup consists of many other healthy ingredients in addition to cabbage. Spring onion, black pepper, fresh tomatoes and salt were some of the main ingredients. Consuming cabbage soup is not so temping or tasty, but if you really want to lose weight, then going for it is not a bad idea. After all, losing weight was the only aim I had this time.
Cabbage soup is very healthy especially because this increases your metabolic rate to a very high extent. Drinking lots of water is very beneficial for you. And if you are consuming 8-10 glasses of water while doing the crash diet, then it will be more effective and you will lose weight in a healthy manner. I divided the complete week into following day's time table.
How to do 1 Week Crash Diet Program:
Day 1:
I drank lots of water in the morning. Then I had a cup full of cabbage soup. Only soup will not help. You also need to consume fruits to keep the balance of nutrients and keep your hunger away. Refrain from eating banana as it has high calorie content.
Day 2:
This day I kept myself away from fruits. I only ate vegetables. Boiled or sometimes dry roasted vegetables are preferred. Coming to lunch, I baked the vegetables. Boiling the vegetable and eating a cupful of them for dinner was a must. One large sized baked potato can also be included in the dinner. Adding a medium sized dollop of butter won't harm you.
Day 3:
Coming to third day, I continued eating vegetables. With this I also added fruits in my diet for this day. Again the same rule, staying away from banana as well as potato was a must to balance the calorie intake.
Day 4:
Fourth day arrived and I was done with half of the crash diet. On this day, I was allowed to eat bananas as per the diet plan. There was a limit on this too. You should not consume more than 8 bananas in one day. Moreover, I can also consume skimmed milk today. There were no restrictions here.
Day 5:
Day five meant coming to almost the end of the crash diet. A feeling of accomplishment was there. I was very happy today as I was allowed to eat meat today. And this was a part of the crash diet. But I can consume only 10 ounces of lean beef this day. Other option was to eat skinless boiled chicken along with six fresh tomatoes. I any time preferred the first option as that was more tempting. Drinking water is one common thing which was to be followed every day. Thus, today also I consumed a lot of water so that all the boy toxins were flushed out.
Day 6:
Coming to day 6, I was again forced to become vegan this is because I was allowed to eat only green leafy vegetable like spinach, fenugreek and others. I can also eat other fresh vegetable today. There was no restriction on this. To make the meal edible and enjoyable to I was allowed to add lean beef steaks in my lunch as well as dinner. Today menu was not to boring. This was almost the end of the crash diet, so keeping any sort of restrictions didn't make me feel bad.
Day 7:
This was the last day of all the hard work I have been doing since a week. Today I was allowed to eat brown rice. Normal rice was not allowed to consume due to high fat content in it. I can also eat vegetables and fresh fruits. If I were consuming fresh fruit juice, then that should be taken without sugar to maintain the calorie content in the body. I was happy that I could attend my friend's marriage without any feeling of shame of inferiority.
My crash diet was over and I was done with all the hard work for seven days at a go. Now it was time to check the result. I was thrilled when I saw my reduced weight. I had lost 8 pounds and was feeling good and confident about myself. At times crash diets can be tiring because you get only limited calories and energy. Thus make sure you take rest during such days and don't go for any of the high energy exercises. Try out this weekly diet regime and see amazing results within a short time.