Do you love reading Blogs and are you very keen on starting your own Beauty or Health related blog? then you have come to the right place to do that.
Well to this without any further delay we ask you to put all your other works on hold for just 10-15 minutes and follow these three simple steps which we've compiled below that will help you to run your own blog! Yeah! Don't believe yet. Let's get into the business now to make it happen.
Disclaimer: Please take a note that a percentage of the links beneath are affiliate links and I will procure a commission on the off chance that you buy through those links. We have utilized the greater part of the items mentioned underneath and prescribed them on the grounds that they are useful for you as well. Yeah you can trust my words completely.
HOW TO START A BEAUTY OR HEALTH BLOG?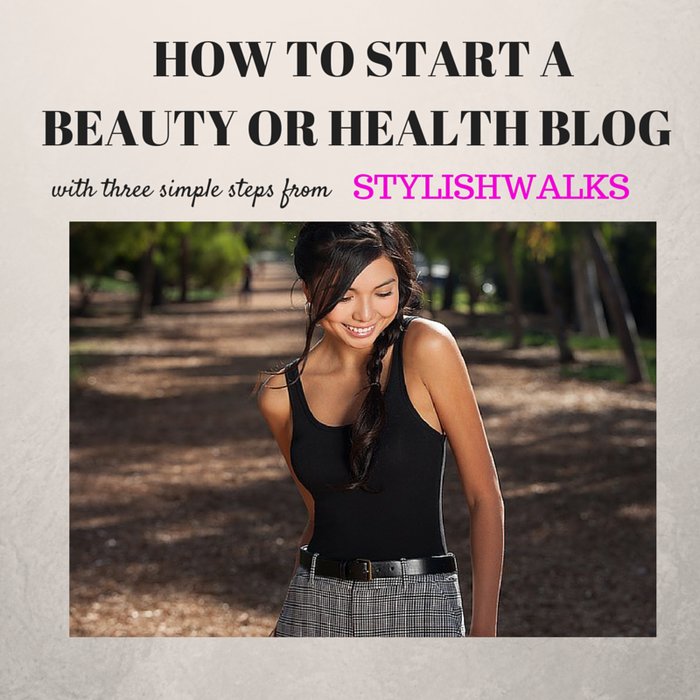 THREE SIMPLE STEPS to Set your Blog:
1) Choose a Domain Name and Hosting Wisely
2) Install WordPress
3) Making it Beautiful with your own Theme
1) Choose a Domain Name and Hosting Wisely:
This is the first step which you need to start off with very wisely. Always ensure you choose a domain which is catchy, interesting and that's related to your blogging niche. If you are interested in writing a health blog choose a name which relates to that. You cannot choose a fashion name for a health blog or vice versa.
Its always good to make a list of domain names as some may not be available when you actually go to buy one. To avoid this confusion personally we brainstromed a lot of ideas and finally settled with StylishWalks though we though of many other domain names which weren't actually available at that time. However Isn't this Stylishwalks catchy and good? 😉
So once you've zeroed on some names for your blog just go to dreamhost to create your account and see if that's available.
a) Enter your email id and password first: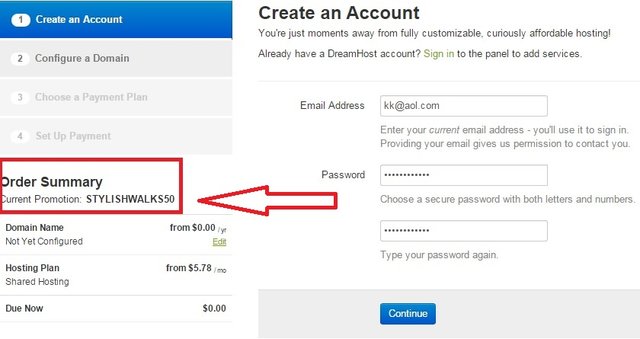 Note: If you've clicked on the affiliate coupon during signup process 50$ coupon will be applied automatically during signup process or else you can enter the coupon during filling the payment details as well
b) Now check if the domain name is available: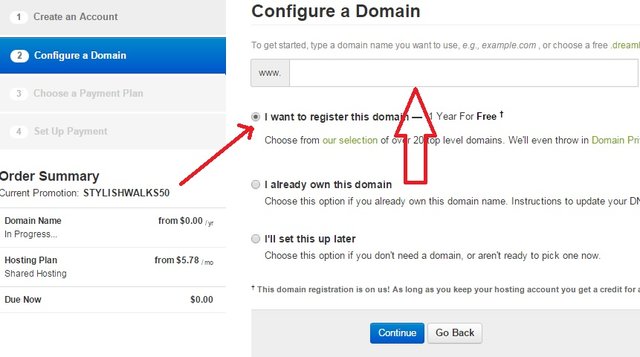 Now check if the domain is available or not
c) choose a payment option:
Now once the domain registration part is done. Another important process is choosing a hosting plan. Hosting is nothing but renting some space on the web to host your domain. Dreamhost has some good plans along with a FREE domain hosting if you choose to host with them your blog.
You can choose a monthly/yearly/2 years plan depending on your confidence 🙂 However I suggest you can start with a one year plan and there after renew it depending on the growth. I've done the same. Sounds good right 🙂
d) Now Set up your payment:
If you've forgot to signup using my affiliate link then you can apply this coupon STYLISHWALKS50 to get the 50% discount on hosting.
2) Install WordPress:
Once the process of domain registration is done on dreamhost you need to go to the next step of installing WordPress.
WordPress is a popular blogging software used by many popular bloggers as well. We personally love wordpress when compared to blogspot (another blogging software from google) as wordpress has many benefits and its SUPER easy to blog on. Yeah we felt it that way after using it for all these years 😉
To install wordpress on your domain. Login to your dreamhost account and find the "One-Click Installs" option and click on it. In this you need to click on WordPress logo. A window will be displayed like shown below.
Under Install to: Select the domain you've registered and leave the remaining options as it is for a smoother installation.
That's it you are done. After the final installation you will receive an email from dreamhost saying "Success installing WordPress on your site" Follow the instructions clearly mentioned in the email to create your admin username and password for logging into wordpress account. Don't forget to save your admin passwords always! if you forget them you need to start over all again.
3) Making WordPress Beautiful with your own Theme:
Now login to your WordPress account using the email and password you have saved in the previous step. Voila! you have done setting up your first blog beauties:) Welcome to blogging world my besties, how you are feeling now 🙂 ?
Here you will have the basic theme installed along with some recommended plugins. You can leave the plugins as it is and can change the themes as per your interests. WordPress has lots of free themes as well. You can check them here. However if you are looking for premium themes you can look at
1) The Thesis Theme
2) The Genesis Framework
3) Elegant Themes
Will update more about these themes as well soon