Permanent Hair Straightening: Cost, Types, Pros and Cons
Long and straight, healthy looking hair is loved by all women. Some are ready to do anything to get straight hair. Permanent straightening is one of the most effective methods to get straight hair.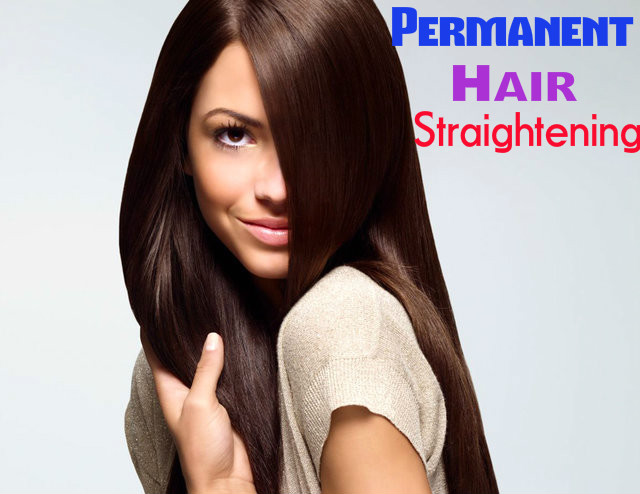 What does Permanent Hair Straightening Mean?
Permanent straightening makes your wavy hair straight by using chemical treatments, so that you need not use a styler every day. Even though there are many ways to do this, the following 2 steps are integral to the process of permanent hair straightening.
Salons use a sodium based product on your hair first. This helps in breaking the Keratin structure, so that it is more manageable.
An oxidant is added to neutralize the action of keratin and to set the fibres of your hair in the desired shape.
How much does Permanent Hair straightening Cost?
It costs about Rs. 4000 to Rs. 6000 depending on the salon and the brand you choose. L'Oreal treatment may cost more, but they last longer than other products.
Permanent Hair Straightening Types:
Keratin treatment
Japanese straightening
Chemically straightened hair
Hair Rebonding
Keratin Treatment or Brazilian Straightening Technique:
This is the most preferred hair straightening treatment, as it is safer for your hair and does not cause much damage to your hair like other methods. Keratin is the natural protein in our hair and it helps in keeping our hair shiny and straight. With reduction in keratin, your hair can become frizzy dry and tangled. Keratin treatment helps in replacing the protein content in hair making your hair straight and shiny.
Keratin treatment does not include use of any strong chemicals to straighten your hair. After the keratin solution is applied on your hair, a 450 degree flat iron is used to seal the formula into your hair. This prevents your hair from getting curly or frizzy, by creating a moisture barrier. It also gives shine to your hair.
Hair thus treated stays straight for about 6 months. Then your hair gets back to its original structure slowly. This treatment gives you better results with repeated usage.
Pros of Keratin Hair Straightening Treatment:
This treatment is safer for your hair.
It can make your hair super soft and silky.
It adds shine to your hair, so that you have a sleek and manageable hair. It makes it easy for you to go out without spending much time on your hair.
It is good for all types of hair.
The treatment is known to have no side effects.
Both men and women can go for this treatment.
No chemical hair products like sprays and mousse are used in this treatment.
This treatment gives you extra protection from the sun rays and the pollution.
You get a lot of compliments after you go for this treatment.
Cons of Keratin Hair Straightening Treatment:
This is an expensive treatment.
Pregnant women should not go for this treatment because some gases emitted may not be suitable for them.
After the treatment, you have to use shampoos and conditioners that are free from sodium chloride for treating your hair.
You will need a well trained hair stylist for better results, but this means an increase in treatment cost.
Your hair will be more prone to breakage and hair loss as it is chemically treated. So, you have to take extra care of your hair.
Use genuine products as there can be a chance of allergic reactions.
Japanese Straightening or Thermal Reconditioning:
In this treatment, both chemicals and heat are used. A chemical is applied on your hair for about 15 to 20 mites. This helps in breaking the bonds of the hair. After that, the hair is subjected to extreme heat to restructure the bonds and straighten your hair. Then it is again treated with chemicals to lock the bonds and protect the hair.
It is a time consuming process and takes about six to eight hours. The steps involved vary depending on the length and texture of your hair. Moreover, it may not give you 100% results. It your hair is already subjected to chemical treatments, you cannot go for this treatment.
Chemical Straightening:
This is also known as hair relaxing technique. This involves breaking the bonds rather than protein bonds in the hair. By breaking the right number of bonds, the curly or wavy hair becomes straight. So, you need a professional for this treatment. So you need a professional for this treatment. You need a test to find out the right combination because if too many bonds are broken, it may make your hair limp and if enough bonds are not broken, your hair will not become straight.
Hair Rebonding:
This is well suited for women who have trouble managing their wavy and dense hair. Although this method is popular, if your hair is rebounded or straightened several times, it can make the roots of your hair weak. After reboding your hair, you have to take extra care of your hair.
Rebonding involves treatment of hair with chemicals to make it straight, sleek and shiny. It is permanent and is also expensive. The cream softener or relaxant used on your hair helps in breaking the hair structure. Then a neutralizer is used to bond the structure and make hair straight. You get do it yourself kits in the market. You can use it to straighten your hair at home.
Various chemicals are used for permanent hair straightening. This can make your hair weak and frizzy. So, it is important that you pamper your hair with extra care after the treatment. Homemade hair masks like banana and avocado mask, hot oil treatments and so on are needed to keep your hair looking healthy and beautiful. Drink lots of water and eat healthy and nutritious food. You must also avoid scrubbing your hair hard with towel.