What to Look for When Choosing Sunscreen: Important Tips
Are you going to have a day out in the sun? Then don't forget to wear a sunscreen. Even if the weather is cloudy, you must take care to wear a sunscreen as the rays of the sun may harm your skin. Even if the sun is not shining and it is a cloudy or a rainy day, you must remember to wear a sunscreen to protect your skin from damages caused by sun. The UV rays of the sun not only tan the skin, but it also causes premature aging of the skin. In extreme cases even skin cancer may occur.
When you choose a sunscreen for you, make sure that it offers you the right protection. If you do not know which sunscreen offers you the best protection from the sun, read the tips given and this will help you to choose the correct sunscreen for your skin.
How to Apply Sunscreen Properly?
Remember to apply the sunscreen 30 minutes before you go out in the sun.
You can also wear the sunscreen beneath your makeup.
Make sure that you apply the sunscreen not only on your face, but also on other exposed parts of the body.
You can apply it at the back of your legs, feet, ears, lips and bald spots to prevent the skin from getting damaged.
After every two hours you have to apply it again.
When you use sunscreen, check the expiry date given on the bottle. If it is past the expiry date, don't use it as it will not be effective and may even harm the skin.
Even on a cloudy day you are to wear a sunscreen.
How to Choose the Best Sunscreen?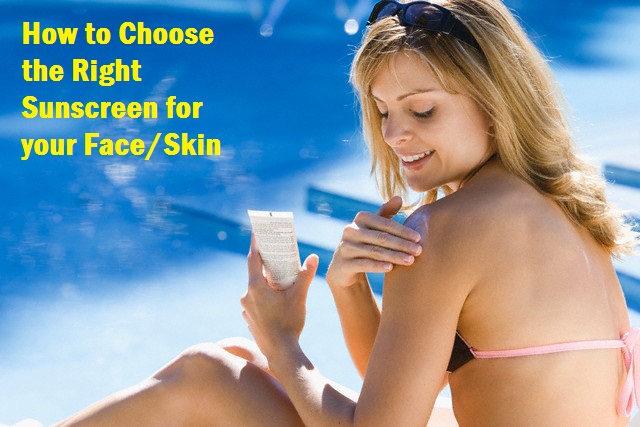 A sunscreen that offers you SPF 30 protection:
When you buy sunscreen for you, check the SPF range given on the package. If it is more than 15, then offers you ample protection. But if you want to have full protection from the sun, then choose sunscreens that offer you SPF 30 more than 30. These are the best to protect your skin from the harmful UV rays of the sun.
Acne-prone skin:
If you have a skin that is prone to acne or an oily skin, then you should use a sunscreen that is water based. This will not cause any breakouts as cream or oil based sunscreens do.
Choose a cream:
When you select a sunscreen, always go for a cream instead of sprays and powders. This is because sprays and powders are mineral based and contains nano particles. These may get in to your blood stream and cause a number of health problems. So always remember to buy cream based sunscreens.
Expiration date:
Whenever you buy sunscreen, or for that matter any product from the market, always check the expiration date given on the package. Make this a habit. If the product you choose is past its expiration date, then it can cause serious harm to your skin. This is because the ingredients start to degrade when the expiratory date is over.
Kid-friendly sunscreen:
Just like adults, kids also need sunscreens. But when you choose one for them, be very careful. The skin of children is very sensitive and some of the ingredients in sunscreens may cause allergic reactions on the skin. So, choose sunscreens made especially for kids and that too after a bit of research. See that the sunscreen does not contain para-aminobenzoic acid and is very gentle on the tender skin of kids.
No stinging:
The sunscreen that you use must not sting your body or face. If it happens, then it is not suitable for you. Throw it out and use a sunscreen that is suitable for your skin and with which you are comfortable.
Price doesn't matter:
Never think that if a sunscreen is very costly, it is good for your skin and provides the best protection. It is the quality that matters. Some cheap sunscreens are more effective than the costly ones. So, always choose a sunscreen after a bit of research.
Presence of Titanium dioxide or zinc oxide:
See that the sunscreen that you choose does not contain titanium dioxide or zinc oxide. These are not very costly and are often added to the sunscreen to protect your skin from the UV rays of the sun. But zinc oxide can make your skin look pale and even ghostly.
Sunscreen sprays:
As it was mentioned earlier, you must avoid using sunscreen sprays. You waste a lot of the product by using sprays. However, if you still prefer to use sprays then make sure that you do not inhale it after you spray the sunscreen. Sunscreens in the form of sprays are most suitable for those who have hairy bodies and bald spots.
Skin allergies:
If your skin is prone to allergies, irritations etc or if you have a very sensitive skin, then you must make sure that you do not use sunscreens that have alcohol, fragrances, preservatives or chemicals. So, it is important that you thoroughly check the ingredients on the package and then buy one that suits your skin.
Sunscreen should not contain any dangerous ingredients:
When you check the ingredients given on the package of the sunscreen, see whether oxybenzone is mentioned. This compound disrupts hormones and may cause allergic reactions on the skin.
Water and sweat resistance:
The sunscreen you buy must be resistant to sweat and water. If not, it will be of no use for your skin. So, if you are going to the beach or for a walk, it is a must that you wear a water resistant and sweat resistant sunscreen.
Additional Tips to be safe in the Sun:
Even if you wear a sunscreen, carry an umbrella or wear a cap to get extra projection from the sun.
Wear cotton clothes as it has SPF of 4.
Try to avoid going out in harsh sunlight.
During the noon times and early evenings, when the UV radiation is highest, try to stay indoors.
So, buy a good quality sunscreen and protect your skin from the harmful actions of the sun. This helps your skin to stay young and beautiful.